Steelers Beat Ravens 13-10; Falcons, Giants Win: NFL Week 13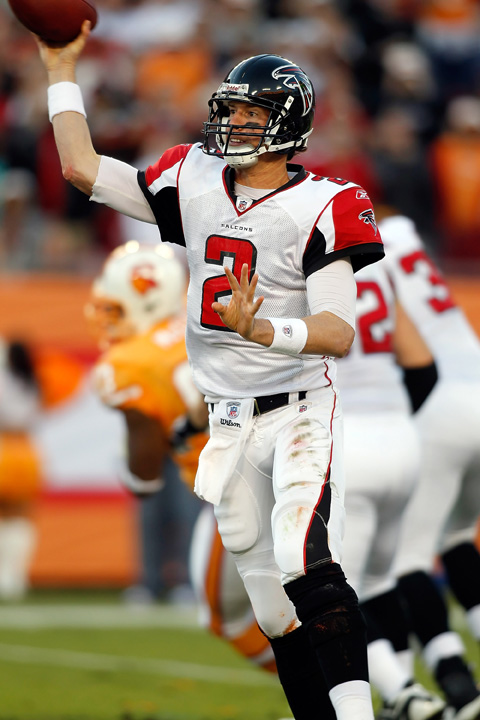 Dec. 6 (Bloomberg) -- The Pittsburgh Steelers beat the Baltimore Ravens 13-10 in a showdown of division co-leaders as Troy Polamalu forced a fumble that set up the winning touchdown with 2:51 remaining.
Ben Roethlisberger threw a nine-yard touchdown pass to Isaac Redman, three plays after a blitzing Polamalu stripped the ball from Ravens quarterback Joe Flacco and LaMarr Woodley recovered it just inside the Baltimore 10-yard line.
The Steelers improved to 9-3 and take sole possession of first place in the American Football Conference's North Division. The Ravens fell to 8-4 and lost for the first time in six home games this season.
"This whole team is all about fight, we do that from start to finish," Roethlisberger, who suffered a broken nose during the first quarter, said in a televised interview.
The Steelers' comeback win capped a day in which the Atlanta Falcons improved to a National Football League-best 10-2 by scoring two fourth-quarter touchdowns to beat the Tampa Bay Buccaneers 28-24. The New York Jets or New England Patriots can join the Falcons at 10-2 when the division rivals meet tonight in Foxboro, Massachusetts.
The New York Giants beat the Washington Redskins 31-7 yesterday to keep pace with the Philadelphia Eagles atop the National Football Conference East Division at 8-4.
"It's December in the National Football League -- it's the time," Giants coach Tom Coughlin said during a news conference. "If you're going to have an opportunity to get into position, it's now."
Saints, Bears Win
The Super Bowl-champion New Orleans Saints and the Chicago Bears rallied in the fourth quarter in other Week 13 matchups to lift their winning streaks to five games and improve to 9-3. The Saints scored a touchdown with 31 seconds to play to beat the Cincinnati Bengals 34-30, while the Bears downed the Detroit Lions 24-20.
Minnesota Vikings quarterback Brett Favre made his record-extending 297th consecutive NFL start before being knocked out of yesterday's 38-14 win over Buffalo with a shoulder injury. The 41-year-old quarterback left in the first quarter after being hit by Buffalo Bills linebacker Arthur Moats and throwing an interception on his first pass attempt.
Favre was replaced by Tarvaris Jackson, who threw two touchdown passes and three interceptions as the Vikings had their highest-scoring game of the season.
The Dallas Cowboys beat the Indianapolis Colts 38-35 in overtime, while the Kansas City Chiefs improved to 8-4 with a 10-6 win over the Denver Broncos. In other games, it was Green Bay 34, San Francisco 16; Jacksonville 17, Tennessee 6; Seattle 31, Carolina 14; Oakland 28, San Diego 13; Cleveland 13, Miami 10; and St. Louis 19, Arizona 6.
Steelers Win
In Baltimore, the Steelers held on for their third straight win as Flacco threw an incomplete pass on a 4th-and-2 play from the Pittsburgh 32-yard line with 33 seconds left.
Seven of the last eight meetings between the teams have been decided by six points or less, including the Ravens' 17-14 win in Pittsburgh in October.
In Tampa, Florida, the Falcons extended their winning streak to six games as Eric Weems scored on a 102-yard kickoff return and Matt Ryan threw a nine-yard touchdown pass to Michael Jenkins with 4:31 remaining.
"Resiliency is our trademark," Falcons coach Mike Smith said in televised comments from the locker room. "We never, ever blinked."
The Falcons maintain a one-game lead in the NFC South over the Saints, who won in Cincinnati on Drew Brees's 3-yard touchdown pass to Marques Colston with 31 seconds left. New Orleans (9-3) blew a 20-6 third-quarter lead before extending the Bengals' losing streak to nine games.
Six Turnovers
At New Meadowlands Stadium in East Rutherford, New Jersey, the Giants won their second straight as Ahmad Bradshaw and Brandon Jacobs each had two rushing touchdowns. New York's defense forced six turnovers, the team's most since 2005.
The Giants stay tied with the Eagles, who improved to 8-4 by beating the Houston Texans four days ago. The Giants host the Eagles on Dec. 19.
McNabb threw two interceptions and was sacked four times for the Redskins, who fell to 5-7. Manning, who hasn't been sacked in five games, completed 15 of 25 passes for 161 yards and one interception for the Giants. Jacobs finished with 103 rushing yards and Bradshaw added 97.
The Giants have now won five straight games against the Redskins, their best run against division rivals since six consecutive victories between 1993 and 1995.
"It was an important win for us, a very dominating win on our part, four quarters of football again," Giants cornerback Terrell Thomas said. "I'm proud to say that we're back on track."
To contact the reporter on this story: Erik Matuszewski in New York at matuszewski@bloomberg.net
To contact the editor responsible for this story: Michael Sillup at msillup@bloomberg.net.