Eurostar Services Delayed; Scottish Airports Affected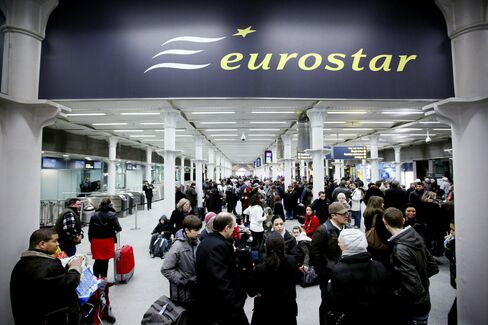 Dec. 6 (Bloomberg) -- Eurostar Group Ltd. canceled two trains between London and Brussels and delayed other Belgian services as ice formed on power lines, while Scottish airports were shut by fresh snowfalls as Europe's cold snap continued.
Eurostar scrapped one Brussels-London service this morning and an evening train in the opposite direction as a consequence of disruption over the weekend. Other departures were delayed after three Thalys International SCRL trains broke down because of iced-up overhead lines, blocking the route, Eurostar said.
"There is an infrastructure problem that meant that Thalys trains were stopped and this is causing a knock-on effect," leading to delays on some Brussels services, said Richard Holligan, a spokesman for Eurostar. The company's London-Paris services were running at a "near-normal" standard, he said.
Eurostar has been canceling services to avoid a repeat of last winter, when five trains carrying 2,000 people were stranded in the Channel Tunnel after snow disabled their electrics. Airports closed across Europe last week as the unseasonably cold weather caused blizzards across the continent.
Eurostar scrapped seven trains yesterday and 10 on Dec. 4.
Thalys, which runs the high-speed link between Brussels and Paris, suffered delays of up to 2 1/2 hours because of the power-line problems in Belgium, according to spokeswoman Patricia Baars. The issue has been resolved, although passengers should still expect delays, she said.
Edinburgh, Glasgow
Edinburgh Airport reopened just before 6 p.m. local time following a closing because of snow, it said on its website. Glasgow Airport reopened at 2 p.m. today with delays expected for the rest of the day, said Neil Richardson, a spokesman for the airport. Wick and Inverness airports are shut, according to the British Broadcasting Corp.
London City Airport reported some "delays and cancellations." Dublin Airport may see disruption if weather conditions deteriorate further, according to its website. Heathrow Airport said "most" flights are operating, with some airlines experiencing cancellations because of snow disruption at other airports. Belfast and City of Derry airports are now closed, according to the BBC.
Snow will mainly affect Scotland and Northern Ireland today with England likely to remain "snow free" for the rest of this week, Helen Chivers, a spokeswoman for the U.K.'s Met Office, said.
Blizzard Conditions
The Met Office warned of "widespread icy roads" across Scotland this week. Blizzard conditions on many roads are making driving treacherous as more snow falls. Rail services in Scotland are experiencing "significant" disruption, Chris Mitchell, a spokesman for Network Rail Ltd., said. The East Coast main line between London and Edinburgh has a reduced service.
Snow and sludge caused some train delays in Germany this morning, although traffic is running "much smoother" than in previous days, said Kathrin Fellenberg, a spokeswoman for Deutsche Bahn AG.
Hundreds of accidents have taken place on Germany's roads overnight and this morning, with at least two people killed, after highways iced up, Der Spiegel reported, citing police.
To contact the reporters on this story: Rudy Ruitenberg in Paris at rruitenberg@bloomberg.net; Peter Branton at pbranton@bloomberg.net
To contact the editor responsible for this story: Colin Keatinge at ckeatinge@bloomberg.net