Cocoa Surges on Ivory Coast Concern; Sugar Falls; Coffee Rises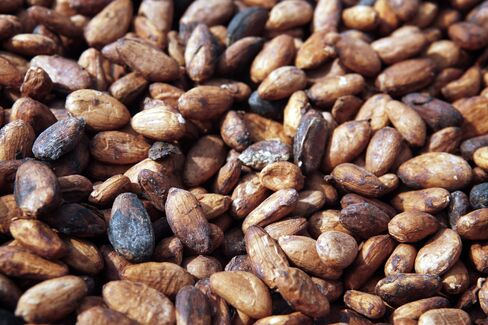 Cocoa jumped to a four-month high on speculation that unrest may delay exports from Ivory Coast, the world's largest grower. Sugar fell, while coffee gained.
An election intended to unite Ivory Coast has turned into a standoff, creating an increasingly violent political crisis. Cargill Inc., a cocoa shipper in the country, said the unrest is causing "challenges both in terms of delivery of beans and logistics on the ground." Prices jumped 5 percent last week, the most since mid-July.
Political instability "could hold cocoa exports up for quite a few weeks or a few months," said Eric Sivry, the head of the agriculture-options brokerage at Marex Financial Ltd. in London. "The market has the potential to shoot up."
Cocoa for March delivery added $130, or 4.4 percent, to settle at $3,065 a metric ton on ICE Futures U.S. in New York. Earlier, prices rose to $3,084, the highest since Aug. 6.
The commodity may climb to $3,100, after closing above $2,973, said Boyd Cruel, a senior analyst at Vision Financial Markets in Chicago.
'Technical Buying'
"We are seeing some technical buying as well," Cruel said.
Cocoa prices have declined 6.8 percent in 2010 on signs of ample supply. Global production may exceed demand by 100,000 tons in the season started Oct. 1, the International Cocoa Organization said on Oct. 13.
"On a fundamental, supply and demand basis, there's more cocoa around than in the past five years as the crop is promising to be very, very good," Marex's Sivry said.
In London, cocoa futures for March delivery gained 86 pounds, or 4.4 percent, to 2,045 pounds ($3,215) a ton on NYSE Liffe. Earlier, prices surged to 2,046 pounds, the highest since Aug. 26.
Raw-sugar futures for March delivery fell 0.49 cent, or 1.7 percent, to 29.01 cents a pound in New York. On NYSE Liffe, refined-sugar futures for March delivery added $3.80, or 0.5 percent, to $743.80 a ton.
Arabica-coffee futures for March delivery rose 4.15 cents, or 2 percent, to $2.0895 a pound on ICE. In London, robusta-coffee futures for March delivery declined $4, or 0.2 percent, to $1,860 a ton.