Airbus A380 Lines Up Two More Buyers for VIP Version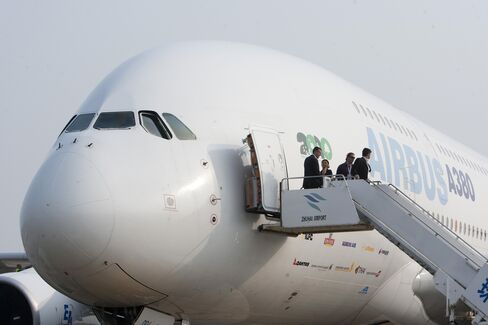 Dec. 6 (Bloomberg) -- Airbus SAS, the world's largest planemaker, is talking with two private customers about the sale of its A380 superjumbo, the planemaker's president for the Middle East region said.
"We're preparing offers," Habib Fekih said today at a briefing in Dubai. "The offers will be submitted in coming weeks and months for two private operators."
Prince Alwaleed bin Talal, the Saudi billionaire whose net worth is $19.4 billion according to Forbes magazine, is so far the only party to order the A380 outfitted in so-called VIP specification. Airbus has won 234 orders for the plane, which normally seats about 525 people in a three-class configuration. Fekih declined to identify the private operators with which Airbus is talking or say where they're based.
The list price for A380s is $346 million, though private buyers could spend considerably more than that after choosing furnishings. The plane can house as many as three bedrooms, private lounges, bathrooms, offices, a steam bath and exercise machines in a VIP set-up, for example.
Al Jaber, a transport group based in the United Arab Emirates, signed a preliminary agreement in 2007 for the purchase of two A380s for corporate use. Mark Pierotti, chief executive of Al Jaber, said in a telephone interview today that the company changed that agreement, buying two Airbus A319 corporate jets instead of the superjumbos.
Air Show
Fekih, speaking on the eve of the Middle East Business Aviation air show, running Dec. 7 through 9 in Dubai, also said that Airbus has several prospective customers in the region for the A320 Neo. The Neo is a version of the planemaker's single-aisle plane that will be available in 2016, offering new engines for greater fuel efficiency.
"Many airlines have already expressed an interest, many airlines also from the Middle East," he said. "We're optimistic to have a lot of customers in the region."
Fekih identified Qatar Airways Ltd. as a potential buyer of the Neo. Qatar Chief Executive Officer Akbar Al-Baker said Nov. 25 in Paris that the carrier may be "one of the launch customers" for the model.
Airbus expects to deliver 16 corporate jets this year, he said. The jets are single-aisle A320 planes that seat 19 to 90 passengers, compared with the usual 107 to 185 passengers carried when the planes are configured for commercial airliners. Airbus has sold about 170 corporate planes to date.
"If we get the level of orders we're expecting in 2011 and 2012 we can sustain this level of deliveries for the coming five years," Fekih said.
The planemaker today said Rizon Jet of Doha, Qatar, will become a new operator of its corporate jet, managing the plane on behalf of a Gulf customer that ordered it earlier this year.
To contact the reporter on this story: Stefania Bianchi in Dubai at sbianchi10@bloomberg.net Andrea Rothman in Toulouse at aerothman@bloomberg.net.
To contact the editors responsible for this story: Benedikt Kammel at bkammel@bloomberg.net.