Adafruit Targets Tinkerers With 'Open-Source' Electronics Kits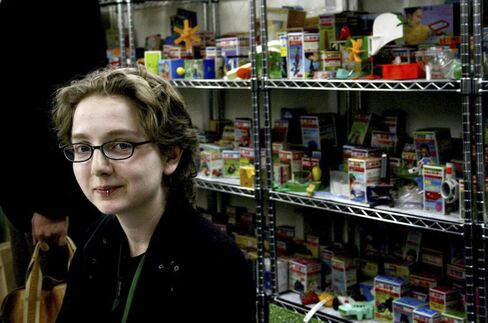 Last month, when Microsoft launched Kinect, an accessory that lets players control Xbox 360 games by moving their bodies, Limor Fried posted a challenge on her company's blog. Adafruit Industries, which sells do-it-yourself electronics kits, would give $1,000 to the first person to unlock Kinect's sophisticated motion sensors from the Xbox so that any tinkerer could repurpose the technology for such projects as building robots. In a week Adafruit had a winner, a Spanish engineer who got Kinect to work with his laptop just hours after it was released in Europe. "Now it's unlocked for creativity," Fried wrote.
That could be the tagline for Adafruit, the company Fried founded in 2005 while getting her masters in electrical engineering and computer science at the Massachusetts Institute of Technology. The electronics kits she sells are "open-source hardware," meaning that Adafruit shares the designs that companies usually keep secret. "We're giving away all our intellectual property for free," says Fried, 31. The eight- employee company will ship more than $3 million worth of kits this year from its top-floor loft four blocks north of Wall Street in New York's financial district.
The software industry has embraced open source over the past decade, with such companies as Red Hat built around code that is public and free for others to modify. The idea is newer to manufacturing. About 50 companies worldwide are selling open-source hardware, estimates Ayah Bdeir, who helped organize the first Open Hardware Summit in September at the New York Hall of Science. The business case for publishing product designs is "counterintuitive for any person [who] invests or works in product development," she says. These companies succeed by providing support and service to customers that distinguishes them from competitors who could make identical products using their designs. "The world knows they are experts in what they do, and [customers] want to purchase from them," Bdeir says.
LEANING TOWARD THE FANCIFUL
The strategy helped Adafruit double its revenue from 2009 to 2010, and Fried projects it nearly to double again next year, to $5 million to $6 million. With no outside investment, Fried launched the company with $10,000 her parents designated for her MIT tuition to buy parts for her first kit, a synthesizer. "As soon as we made a profit, I had to take it out to pay tuition," she says. Adafruit now sells two dozen unique electronics kits to hobbyists and students and ships some 100 orders a day. The projects, which range from about $20 to $100, tend to be fanciful, such as the MintyBoost, a portable charger for cell phones and other devices that fits inside an Altoids tin, and the TV-B-Gone, a remote that can shut off televisions in a 150-foot radius.
For each kit, the company publishes the computer-aided design files, schematics for circuit boards, and the firmware or software code that runs inside a device. Anyone can use this material under a Creative Commons license, provided they credit the source and publish any related works under a similar open-source license.
In addition to publishing designs, the company offers online tutorials, and Fried co-hosts a weekly video chat with Adafruit designer Phillip Torrone to teach lessons and answer questions. "She's really educating people. It's almost like she's running a school in addition to everything else she's doing," says Alicia Gibb, another organizer of the Open Hardware Summit who works as "gadget wrangler" at Bug Labs, an open-source hardware company developing wireless devices.
BORN OF FRUSTRATION
Fried's first kit was born of frustration with a company that would not sell her the design for a synthesizer she wanted to build, even though the product was no longer on the market. "This is completely nonsensical," she says. "You're not selling it, you're not building it, but you won't let us build our own. ... We said fine. We're going to design our own. We're going to design it much better than yours. And we're going to release it open source so that nobody ever has to go through that again."
A similar spirit animated Adafruit's campaign to unlock the Kinect, a move Microsoft initially condemned with a statement saying the company "does not condone the modification of its products." In response, Adafruit raised its reward for unlocking Kinect to $3,000. Microsoft later changed its tone, noting that Kinect had not been modified. "Someone has created drivers that allow other devices to display the raw data that is output from Kinect for Xbox 360. We are perfectly comfortable with hobbyists taking advantage of that raw data," the company said in a statement to Bloomberg.
Adafruit's effort resonated with engineers, who have used Kinect to power virtual puppet shows, record video in three dimensions, and control vintage Super Mario Brothers games. Instead of investing thousands of dollars and hours to develop sophisticated sensors that detect light, depth, motion, and sound, they can take Kinect off the shelf for $150. Fried says her mission as an entrepreneur is to spread the kind of innovation that flows from opening up electronics and learning how they work. "We have so little connection to what's in these plastic boxes," she says. "The point of the company is to teach people and to learn. It's not just to buy and consume."
Before it's here, it's on the Bloomberg Terminal.
LEARN MORE