S. Korea Sees 'Limited' Impact on Cars Trade Deal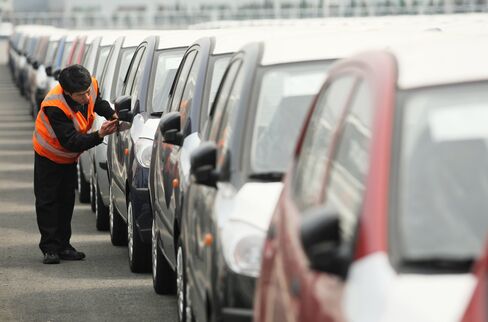 South Korea said the revised free trade agreement with the U.S. is mutually beneficial and won't hurt the nation's carmakers.
The countries agreed on Dec. 3 to revise the stalled free- trade accord and change provisions for automobiles and pork. The U.S. will now end its 2.5 percent tariff on automobiles in five years, instead of immediately or after three years, as was previously agreed. South Korea will cut its 8 percent tariff on U.S. automobile imports to 4 percent immediately, instead of eliminating it entirely, according to a White House fact sheet.
"South Korean car sales to the U.S. will see limited impact from the revision," Trade Minister Kim Jong Hoon said in a briefing from Seoul yesterday.
With almost $68 billion in trade between the nations, a deal would be the U.S.'s largest since the North American Free Trade Agreement in 1994, and would help President Barack Obama meet his goal of doubling American exports in five years. It was backed by U.S. companies including Citigroup Inc., Caterpillar Inc., General Electric Co. and JPMorgan Chase & Co.
Shares of Hyundai Motor Co., South Korea's biggest carmaker, declined 2.2 percent to 180,000 won at 12:35 p.m. in Seoul. Hyundai Mobis, an auto-parts maker that will benefit from the complete removal of tariffs, was set for a record close after rising 2 percent to 301,500 won.
The U.S. will maintain a 25 percent tariff on truck imports for eight years instead of beginning to phase it out immediately. In addition, each U.S. automaker will be able to send South Korea 25,000 cars a year that meet U.S. safety standards. They would be exempt from separate South Korean standards.
Opposition Party
South Korea's main opposition Democratic Party said the deal is "humiliating" and vowed to block its passage in the National Assembly.
"The unfair revisions would open our domestic market wider while allowing the U.S. to close theirs," the Democratic Party, which has 87 seats of 299 seats in the parliament, said yesterday on its website.
The ruling Grand National Party, which controls the National Assembly with 171 seats, welcomed the deal.
"The agreement will remove uncertainty, helping boost sales and competitiveness of South Korean cars in the U.S.," the Korea Automobile Manufacturers Association said in an e-mailed statement.
The industry group estimates South Korean car sales in the U.S. will reach 950,000 this year, including 500,000 shipped from South Korea and 450,000 produced in U.S plants.
European Cars
U.S. market share in South Korea slid to 10.1 percent of imported car sales last year, from 11.3 percent in 2008, according to Korea Automobile Importers and Distributors Association. European cars held a 62 percent market share in 2009, with Japanese brands on 28 percent.
"Korean consumers prefer premium sedans from Europe and Japan, or small Korean-made cars to U.S. brands," Song Won Gun, a senior research fellow at the Korea Economic Research Institute in Seoul, said before the announcement.
The U.S. agreed to higher tariffs on its pork products for a longer time period. The 25 percent tariff on U.S. pork imports will be eliminated in 2016, two years later than the previous deadline, Kim said.
"The revision is not a result of our one-sided concession, but supports benefits for both countries," he said.
Korean Farmers
The extension of the deadline is a significant achievement for the nation's farmers, the Korea Swine Association said in a statement on its website. "We're very relieved."
Kim said the accord makes no new provision on beef. U.S. Senate Finance Committee Chairman Max Baucus, a Montana Democrat, who demanded that South Korea drop restrictions on U.S. beef imports from older cattle, said he was unhappy with the agreement.
"Beef was not on the agenda during the talks and not included in the revision," Kim said.
American beef producers lobbied to get the deal completed quickly to gain an advantage over competitors in Australia by securing cuts in a 40 percent South Korean tariff. Once the deal is in place, U.S. pork and beef exports to South Korea could increase by $2 billion a year, the American Meat Institute estimates.
Economic Benefit
"The free trade deal with the U.S. will bring huge economic benefit to both countries," South Korean President Lee Myung Bak said in a statement on the website of the presidential office. Lee said the agreement will help the alliance between the two countries move a step forward, according to the statement.
The trade accord is a "win-win for both our countries," Obama told reporters in Washington. It will level the playing field for automakers, boost U.S. exports by as much as $11 billion, support job growth and enhance the U.S. partnership with South Korea, Obama said.
The pact will significantly boost South Korea's exports through industries from autos, textiles and electronics to chemicals, South Korea's Ministry of Knowledge Economy said in an e-mailed statement.
South Korea's trade surplus with the U.S. will widen by $463 million annually over 10 years, helped by increased exports of automobiles, electronics and textiles, after the pact, according to a 2007 study by South Korean think tanks, including the Korea Institute for International Economic Policy. Agricultural imports from the U.S. will grow by $370 million annually over 15 years, led by pork and beef, according to the study.
South Korea reported a trade surplus of $8.6 billion with the U.S. in 2009, with $37.6 billion in exports, according to the Korea International Trade Association.
Before it's here, it's on the Bloomberg Terminal.
LEARN MORE