Fischer Is Central Banks' Model for Soft Landings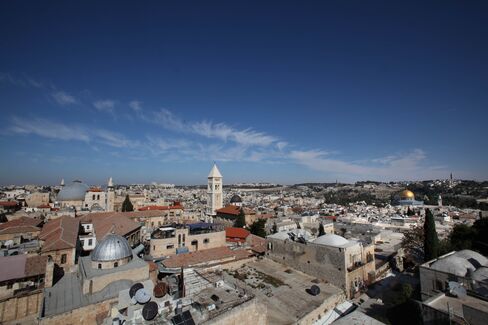 Israel's Stanley Fischer hopes to do something with the country's housing market that central bankers in the U.S., Ireland and Spain have tried and mostly failed to do in the past four years -- bring it in for a soft landing.
House prices in Israel climbed 19 percent in the past year, fueled by a shortage of properties and record low interest rates, the Bank of Israel estimates. Fischer, the central bank governor, has tried to slow growth by raising borrowing costs six times and requiring higher bank provisions for some loans.
Israel is attempting to use the benefit of hindsight to avoid the contagion sparked by the collapse of the U.S. subprime-mortgage market in 2007, said Ayah El Said, a research analyst for Roubini Global Economics in London. Fischer, who was Federal Reserve Chairman Ben S. Bernanke's thesis adviser, has warned that continuing house-price gains risk creating a bubble that could shake Israel's financial system.
"He will do whatever it takes," said El Said, who studies the Middle East and Africa. Still, "it won't be enough to cool down housing prices: What has to be done is to reduce the gap between supply and demand."
Israel was the world's fifth best-performing housing market in the past year, according to Knight Frank LLP, a London-based property broker. Only Latvia, Hong Kong, the combined markets of Beijing and Shanghai, and Singapore rose more. In Hong Kong, where home values soared more than 50 percent since January 2009, officials have also attempted to cool demand.
Prices have risen 27 percent in Israel since the first quarter of 2009 to an average of 1.05 million shekels ($286,000), according to the Central Bureau of Statistics. They have jumped 38 percent in Tel Aviv.
Old City
A penthouse in Jerusalem's Musrara neighborhood, a five-minute walk from the historic Old City, is listed for $5.8 million at RE/MAX Vision, according to the broker's owner, Alyssa Friedland. The property has 350 square meters (3,800 square feet) of space, a swimming pool, a spa and a balcony with views of the Dome of the Rock landmark.
Demand is coming partly from wealthy North American and European Jews wanting vacation homes or an ideological investment in the Jewish State. These buyers have favored Jerusalem, the Tel Aviv metropolitan area and the coastal resort city of Netanya, though they are moving further afield as homes get more expensive, according to Amir Shaltiel, chairman of the Eldar Group real estate company.
Like France and Germany, Israel so far has avoided the global housing slump because it didn't undergo the same credit booms that countries such as the U.S. and Spain did in the years leading up to 2008.
Land Supply
Fischer's use of monetary policy to keep the market from overheating can only go so far, because the price gains stem largely from a lack of land for building, said Ben-Zion Zilberfarb, professor of economics at Bar-Ilan University outside Tel Aviv.
"The real problem is a shortage of housing in the country's center and the solution is increasing the supply, which is up to the government," said Zilberfarb, a former director-general of the Finance Ministry.
About 70 percent of Israel's 7.5 million people live on a strip about 20 kilometers (12 miles) wide between the Mediterranean Sea and the West Bank.
Some 93 percent of land in Israel is controlled by the government, including property claimed by Palestinian residents displaced during the country's birth in 1948. Successive administrations have kept a tight leash on real estate in the central coastal plain in a largely unsuccessful attempt to populate the Galilee region in the north and Negev desert in the south.
Netanyahu's Efforts
Prime Minister Benjamin Netanyahu introduced a series of measures on Nov. 15 to increase housing starts, including offering a discount on property sold to developers who complete most of their construction within 30 months.
"It's virtually impossible to build anything in Israel," Netanyahu said in an interview on Nov. 9, citing the World Bank's 2011 Doing Business Survey, in which his country ranked 121st out of 183 in dealing with building permits.
The government has also proposed measures to reduce bureaucratic procedures for new buildings, including setting tighter deadlines for planning committees. According to the World Bank survey, it usually takes about 235 days to build a warehouse in Israel. That's more than two months longer than the average of 166 days for members of the Organization for Economic Cooperation and Development.
Last year, Netanyahu pushed through legislation to free up about 200,000 acres of government-owned land for private development.
Hong Kong's Boom
Hong Kong officials have taken similar steps to rein in a market fueled by a recovering economy, low interest rates and an influx of mainland Chinese buyers. They include boosting land supply, raising some down payment requirements and no longer offering residency to foreigners who purchase property.
For his part, Fischer is trying to balance concern over rising home prices and inflation against maintaining an expansionary monetary policy during the global economic recovery. Economists including John Taylor of Stanford University, a former Treasury undersecretary, have said that low rates under former Fed Chairman Alan Greenspan helped fuel the U.S. housing boom and bust.
"One day people will go, 'Gee, how did we ever get to pay so much for housing, wasn't that a mistake,' and all of a sudden you find yourself with a burst bubble," Fischer, 67, told journalists on Nov. 15. "That we've got to avoid."
M.I.T. Professor
Fischer, who became Bank of Israel governor in 2005, earned a doctorate in economics at the Massachusetts Institute of Technology in 1969 and taught there over the next three decades. From 1988 to 1990, he was chief economist at the Washington- based World Bank. At the International Monetary Fund in the 1990s, he worked to resolve financial crises in Mexico, Russia and Southeast Asia. From 2002 to 2005, he was vice chairman of Citigroup Inc.
As the global financial crisis erupted in 2008, the Bank of Israel began slashing the benchmark interest rate from 4.25 percent to an all-time low of half a percent by April 2009. It has raised the rate by 1.5 percentage points since August last year to 2 percent.
The central bank also issued directives on Oct. 25 to tighten conditions on mortgage loans higher than 800,000 shekels. Obtaining a mortgage in Israel generally requires a down payment of between 30 percent and 40 percent.
Conflicting Data
There is at least some evidence that Fischer's efforts are starting to pay off. The Finance Ministry said on Nov. 23 that new home prices dropped 2.9 percent in the third quarter from the second and the number sold was the lowest since 2006. At a banking conference in Tel Aviv last month, Fischer said it was too early to draw conclusions about the current market because of conflicting data.
While speaking in New York on Dec. 2, he said the central bank will continue to take measures until housing prices are under control.
"Stanley Fischer in a very short amount of time managed to get Israel out of a near recession, so there's this element of commitment on his side," said Roubini's El Said. "They will not allow another rise of 20 percent in housing prices in one year."