Cathay Pacific's Slosar to Focus on 'Huge' China Opportunity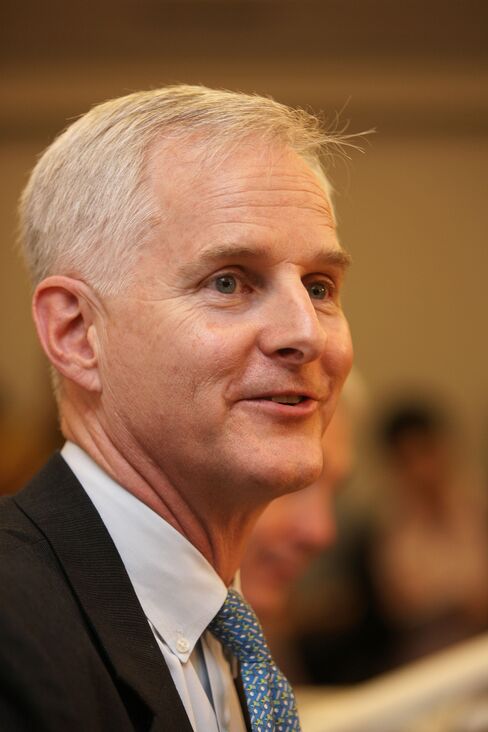 John Slosar, Cathay Pacific Airways Ltd.'s incoming chief executive officer, said boosting China operations would be a priority for the carrier as economic growth spurs travel in the world's most populous nation.
"We're going to have a very big focus over the next few years on developing our business in China," Slosar, who will become CEO of the Hong Kong-based carrier on April 1, told reporters today. There is a "huge" opportunity there, he said.
Slosar is set to take over the world's third-largest carrier by market value as it prepares to begin a cargo venture with affiliate Air China Ltd. and works to add as many as two more passenger routes in the country. The airline, which gets about half of its sales in China and Hong Kong, boosted passenger numbers 11 percent through October, helping put it on course for a record annual profit.
"The airline has been performing well this year," said Francis Lun, general manager at Fulbright Securities Ltd. in Hong Kong. "Slosar will help ensure continuity."
Slosar, 54, has worked for Cathay Pacific parent Swire Group for about 30 years, the last three of which he has spent as the airline's chief operating officer. He will take over as CEO from Tony Tyler, who is leaving to become head of the International Air Transport Association trade group, Cathay said in a Dec. 3 statement.
The airline fell 1.1 percent to HK$23.35 in Hong Kong trading today, compared with a 0.4 percent decline for the Hang Seng Index. The carrier has surged 61 percent this year, the biggest gain among the 45 companies in the benchmark index.
New Products
Cathay is planning to roll out new products through 2012 to lure travelers, Slosar said at the Hong Kong press briefing. He declined to elaborate ahead of an event tomorrow. The airline intends to add premium-economy cabins and replace coach-class seats in long-haul planes, three people familiar with the plan said in October.
The carrier also said today that it will begin flying to Chicago and Abu Dhabi next year, as well as boost services to New York and Toronto. Overall, it intends to increase passenger capacity about 11 percent next year.
Still, the global economic instability in past few weeks "gives us some concerns going into 2011," Slosar said.
China Venture
Cathay's cargo venture with Air China is due to begin services around the end of the year, Slosar said. The tie-up will give the carrier access to freight hubs in Shanghai and Beijing. Cathay also wants to increase its 19 percent stake in Air China, the world's largest carrier by market value, in the long term, Slosar said.
"One of our key priorities in Cathay is working with Dragonair and our partner in China to improve our access and footprint in the China market," Slosar said. Air China owns 30 percent of Cathay.
Cathay plans to add capacity to mainland China and new routes, Tyler said at the press briefing, without elaborating. The carrier's mainline and Hong Kong Dragon Airlines Ltd. units fly to 15 mainland cities, according to the company's website.
As COO, Slosar helped steer the airline through a worldwide travel slump during the global recession that contributed to the airline's first annual loss in a decade in 2008. The carrier pared services and offered staff unpaid leave to slash costs during the slowdown. Slosar, Tyler and Chairman Christopher Pratt also waived bonuses.
"Slosar has been very much a hands-on man," said Andrew Orchard, an analyst at Royal Bank of Scotland Plc in Hong Kong. "He's not a stranger to the business."
Slosar, who studied at Columbia University and the University of Cambridge, ran Swire's beverage unit before becoming Cathay's COO. The drinks arm bottles Coca-Cola Co. beverages in China and Hong Kong, and Slosar often drinks Cokes at conferences and company events.
Fleet Expansion
The airline is due to receive a record 15 new planes next year, including nine widebody passenger aircraft and six Boeing Co 747-8 freighters. The company also ordered 36 Airbus SAS and Boeing widebody planes in August. It had a fleet of 166 planes as of June, including its Dragonair unit and a cargo venture with DHL.
Slosar said he was optimistic that the carrier would reach a pay agreement with pilots, without a labor dispute. Cockpit crew last month voted to allow union leaders to possibly recommend a work-to-rule, which would see them shunning overtime. At the same time, they rejected beginning such steps on Dec. 1.
"A big task for Slosar is managing relations with the air-crew unions," Lun said. "The air crew are the bread and butter of operations at an airline."
China Competition
Cathay also faces increasing competition as China Southern Airlines Co. and China Eastern Airlines Corp., the two largest mainland carriers, add new planes and boost overseas services. U.S. carriers including United Continental Holdings Inc. and Delta Air Lines Inc. are also expanding flights to Asia, lured by economic growth in China that's triple the U.S. rate.
Cathay expects to more than double profit this year to at least HK$12.5 billion ($1.6 billion) because of the travel pickup and the sale of stakes in an air-cargo handler and a maintenance company.
Slosar has worked with Swire's aviation division in Hong Kong, the U.S. and Thailand since joining the group in 1980. He became managing director of maintenance unit Hong Kong Aircraft Engineering Co. in 1996. Two years later, he became managing director of the group's beverages arm.
He moved to Cathay in July, 2007, succeeding Tyler as COO. The airline hasn't said who will replace Slosar in that role.
Before it's here, it's on the Bloomberg Terminal.
LEARN MORE