Palin 'Absolutely' Electable, Republican Governor Jindal Says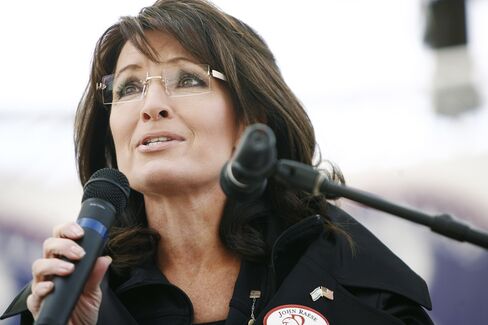 Louisiana Governor Bobby Jindal said that Sarah Palin is "absolutely" electable as president, a topic of debate among Republicans even though she has yet to announce her intentions for 2012.
"It's up to her to make the case to voters," Jindal said in an interview on "Political Capital With Al Hunt" on Bloomberg Television.
Jindal, 39, was asked about recent comments by Joe Scarborough, an MSNBC commentator and former Republican congressman from Florida, who said it was time for Republicans to "man up" and recognize the former Alaska governor is a reality TV show star who cannot be elected.
"I think there are several strong contenders," said Jindal, who stopped short of endorsing Palin.
Palin, the Republican Party's 2008 nominee for vice president, has said that she is considering a campaign for president in 2012.
Besides Palin, a number of Republican governors and former lawmakers are already considering presidential bids. Former House Speaker Newt Gingrich, led the "Republican Revolution" in 1994 when the party gained 52 House seats, said he's leaning toward running for president in 2012 and may decide as soon as February.
Gingrich 'Inclined' to Run
"We're much more inclined to run than not run," Gingrich, 67, said yesterday on the "Fox News Sunday" program. Gingrich said Mitt Romney, the former Massachusetts governor, is "probably the front-runner" in the race for the Republican nomination while former Arkansas Governor Mike Huckabee is ahead "in popularity." He called former Alaska Governor Palin "a phenomenon in her own right."
Jindal said he is "biased towards governors and those that have run organizations and executives who've had to balance budgets, make tough choices."
Jindal said he still believes that government bailouts of financial services firms and automobile manufacturers were a "mistake," even though the programs have returned tens of billions to taxpayers. The Congressional Budget Office said last week that the Troubled Asset Relief Program will cost taxpayers about $25 billion -- far less than initially expected.
"When the government's picking winners and losers, you have the potential for politics to interfere and determine who gets the money and who benefits," Jindal said.
Better Approach
He said a "much better" approach would have been for government to set broad "rules of the road," instead of spending hundreds of billions on the rescue programs that top officials at the Federal Reserve and the White House said were necessary to save the U.S. economic system from collapse.
"The government could do more to stimulate the economy by providing a predictable, transparent environment, not trying to pick winners and losers," Jindal said.
Jindal, the son of immigrants from Punjab, India, said he opposed legislation now before Congress that would grant legal status to some younger undocumented immigrants.
"It's a mistake to start with anything other than securing our borders," he said. "Let's secure the borders, and then let's move on to the other pieces."
Immigration Bill
Democrats are pushing to take up the bill, known as the DREAM Act, in the final weeks of the year. The legislation would allow people who arrived in the U.S. before age 16 and have remained in the country for at least five years to gain legal residency after completing two years of college or military service.
Asked whether his party might be perceived as anti-immigrant, Jindal said Republican principles -- the party's "core conservative principles" -- are "applicable to people of all different backgrounds."
"We talk about the American dream of homeowner, of building and owning small businesses, offering better education for all of our children regardless of their geography or zip code, the idea that it doesn't matter what your last name is or where you come from," he said.
Contrary to reports, Jindal said he would not slash funding to state college campuses by 35 percent. The governor reportedly told campuses to prepare for state funding cuts of up to that amount, ranging from $290 million to $500 million.
'Do More with Less'
"We have cut higher education by about 4.5 percent," he said. "We're all going to have to do more with less."
Jindal was seen as a rising star in the Republican Party soon after becoming the first Indian-American elected governor in the U.S. in 2007. He emerged as a leading critic of the Obama administration, refusing to take some of the money earmarked for his state in the 2009 federal stimulus bill that Obama signed.
His profile dimmed after he was criticized by both Republicans and Democrats for delivering what some commentators called a "cheesy" televised response to Obama's first State of the Union address last year.
In a new book, Jindal accuses the Obama administration of leading an ineffective and overly politicized response to the oil spill in the Gulf of Mexico. The White House rejects the charges.
The July release of the book, "Leadership in Crisis," was pushed back five months due to the summer spill.