WikiLeaks Flees to Switzerland as U.S., France Options Narrow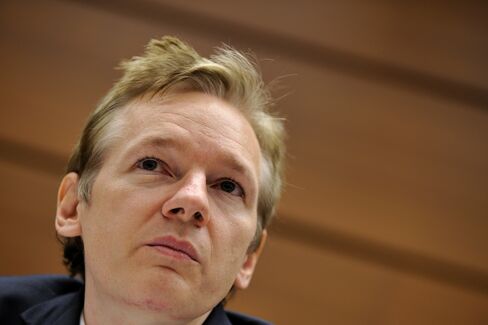 Dec. 3 (Bloomberg) -- WikiLeaks.org, the whistle-blowing website forced to move its domain name to Switzerland after its U.S. service was withdrawn, may be banned from French servers.
It is "not acceptable" for servers in France to host the site, French Industry Minister Eric Besson said in a letter to the CGIET technology agency. The minister asked for measures to bar WikiLeaks from France, where it is partially hosted by Roubaix, France-based OVH SAS.
WikiLeaks, which is releasing about 250,000 U.S. diplomatic cables, began directing readers to the Swiss domain WikiLeaks.ch rather than WikiLeaks.org, it said on a Twitter feed. EveryDNS.net, a U.S. service that translates online addresses to Internet Protocol numbers to provide access, ended WikiLeaks's service at 10 p.m. New York time, its website shows, leaving the site inaccessible for several hours.
The shutdown in the U.S., which WikiLeaks confirmed, occurred because electronic attacks on the site threatened the stability of access to other clients' websites, EveryDNS said. Since it began releasing the cables on Nov. 28, WikiLeaks has faced so-called denial of service attacks, where hackers attempt to overwhelm a website with repeated requests for data.
While fully removing information on the Web is "almost impossible," repeated attacks can reduce its reach, said Stephen Wolthusen, a researcher in the Information Security Group at Royal Holloway, University of London. "What you want to present is a real website," he said. "These entry points can be, essentially, forced off the net. It becomes much less user-friendly for the average person."
Active Investigation
The Swiss Pirate Party, a political group that supports copyright and patent law changes, owns the domain name WikiLeaks.ch, which reroutes to WikiLeaks.org content, Denis Simonet, a spokesman, said. Simonet said he was unsure if WikiLeaks had also moved to Swiss servers.
The U.S., France, the U.K. and other countries have condemned the cable releases, which they say could endanger the lives of field personnel and hurt relations with allies. Besson, the French minister, today said that WikiLeaks "is endangering diplomatic relations, but also people who thought they were legitimately protected by diplomatic secrecy."
U.S. Senators Dianne Feinstein, chairman of the Senate Intelligence Committee, and Christopher Bond, the committee's vice chairman, asked Attorney General Eric Holder in a letter dated yesterday to prosecute the site's founder, Australian-born Julian Assange, 39, for espionage.
Assange is also wanted by Swedish authorities for questioning in connection with rape charges. Swedish prosecutors said yesterday that they provided U.K. police with additional information pursuant to an arrest warrant for Assange, who has denied the allegations.
Test Case
Amazon.com Inc., the Seattle-based online retailer that also hosts websites on its servers, dropped the leak site from its system this week. In a blog post, Amazon said that while it had not been influenced by the U.S. government, WikiLeaks could be "putting innocent people in jeopardy" by posting confidential documents, and was violating terms of service by posting material it doesn't own.
"At the end of the day, (WikiLeaks's) biggest asset is being able to post to the sites of the New York Times and the Guardian and Der Spiegel and Le Monde," said Ross Anderson, a professor of security engineering at the University of Cambridge.
At the same time, "this is the first serious test-case for a censorship-resistant system," he said. "If WikiLeaks were just angering the U.S. government that would be easy; it could just go get hosted in Venezuela or Cuba or somewhere similar. But it's angered a lot of different governments."
Other websites have experienced so-called denial of service attacks like those on WikiLeaks, which are a common tool of hackers. In July last year, attacks in South Korea caused the shutdown of sites including those of the presidential Blue House and the foreign and defense ministries. The South Korean government blamed North Korea for the electronic assault, which infected an estimated 20,000 computers.
To contact the reporter on this story: Matthew Campbell in Paris at mcampbell39@bloomberg.net.
To contact the editor responsible for this story: Vidya Root at vroot@bloomberg.net.