UBS Says Naratil to Become CFO, Ermotti to Run Europe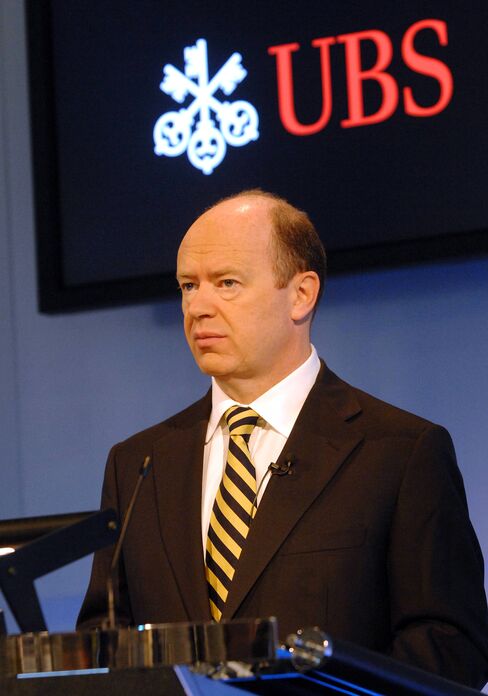 Dec. 3 (Bloomberg) -- UBS AG, Switzerland's largest bank, said Tom Naratil will replace John Cryan as chief financial officer, while Sergio Ermotti will join from UniCredit SpA to run Europe, the Middle East and Africa.
Naratil, the CFO and chief risk officer of UBS's wealth-management Americas unit, will replace Cryan, 49, on June 1, the Zurich-based bank said in an e-mailed statement today. Cryan, CFO since September 2008, is leaving to "pursue other interests outside of UBS," the company said.
"John has made an outstanding contribution," Chief Executive Officer Oswald Gruebel, 67, said in the statement. "In the midst of the financial crisis in 2008 he accepted the role of group CFO and his knowledge and expertise were instrumental in the task of rebuilding UBS's financial strength."
UBS racked up more than $57 billion of writedowns and losses during the credit crunch, second among European banks after Royal Bank of Scotland Group Plc, and needed a government rescue. The bank returned to profit in the final quarter of last year, and recorded the first net client inflows at its wealth-management units in more than two years last quarter.
Ermotti, the investment-banking chief at UniCredit and a deputy CEO, is leaving the Milan-based company following the departure of former CEO Alessandro Profumo. He will start April 1 and be responsible for managing business in Europe, the Middle East and Africa and coordinating across units in the region, UBS said.
Asia Pacific
Cryan oversaw the EMEA region on an interim basis after Alexander Wilmot-Sitwell was appointed co-head of the investment bank with Carsten Kengeter in April 2009. Wilmot-Sitwell moved last month to co-head the Asia-Pacific region from Hong Kong.
Ermotti, 50, is a Swiss national and worked 18 years at Merrill Lynch & Co. before joining UniCredit in 2005 as head of its markets and investment-banking division. He was named a deputy CEO in July 2007.
"With this outstanding track record, in-depth industry experience and leadership skills, Sergio will be a great addition to my management team," Gruebel said. "UBS organization in EMEA will benefit from his broad knowledge in the financial-services industry."
As head of the investment bank, Ermotti had been in the running for the role of UniCredit general manager, the No. 2 executive position at Italy's biggest bank, which went to Roberto Nicastro. His plan to leave the bank was previously announced.
Finding a Replacement
A spokeswoman for UniCredit in Rome said the bank had no comment beyond what Nicastro said yesterday, when he told reporters the bank will find a replacement for Ermotti in a few weeks.
Naratil, a 49-year-old American, has been in his current role since 2009. Previous positions include head of the auction rate securities solutions group in 2008.
The U.S. Securities and Exchange Commission said in September it won't seek a fine against UBS after reviewing the bank's efforts to compensate investors in auction rate securities under a 2008 regulatory settlement. UBS purchased more than $18 billion in such securities from clients after the market for the instruments collapsed two years ago.
Naratil also held the role of global head of market strategy and development and served as a member of the executive committee of global wealth-management and the business-banking division.
He joined Paine Webber Group Inc. in 1983, the same year he received a bachelor's degree in history from Yale University in New Haven, Connecticut. He stayed with the company after UBS acquired the U.S. broker in 2000. Naratil also holds a master's degree in business administration from New York University, UBS said.
To contact the reporters on this story: Elena Logutenkova in Zurich at elogutenkova@bloomberg.net; Frank Connelly in Paris at fconnelly@bloomberg.net;
To contact the editor responsible for this story: Edward Evans at eevans3@bloomberg.net