U.S. Military Chiefs Urge Caution on Ending Gay Ban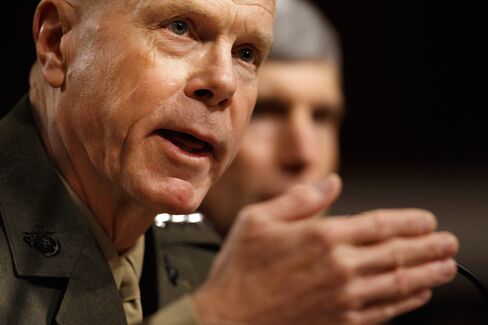 U.S. military chiefs urged caution on repealing the prohibition on openly gay service members, while saying the armed forces can implement a new policy if Congress changes the law.
"My recommendation is that we should not implement repeal at this time," General James Amos, the Marine Corps commandant, told a Senate Armed Services Committee hearing in Washington today. He advocated waiting until the Marines aren't focused primarily on combat in Afghanistan or preparing for it, as now is the case for more than 50 percent of his forces.
Army General George Casey and Air Force General Norton Schwartz said repealing the "don't ask, don't tell" policy poses a "moderate" risk to U.S. military effectiveness. Yesterday, Defense Secretary Robert Gates presented the committee with a Pentagon study and described the risk as low.
Considering the war in Afghanistan, where the U.S. plans to begin withdrawing troops in July, Schwartz said congressional repeal of the policy should be delayed until 2012 to allow time for education and training. Casey also backed a delay, saying the law "should be repealed eventually."
"It is difficult for me, as a member of the Joint Chiefs, to recommend placing any additional discretionary demands on our leadership cadres in Afghanistan at this particularly challenging time," Schwartz said.
Major Cultural Change
While Casey said ending the policy would represent a "major cultural and policy change in the middle of the war," he said that "it is my judgment we could implement repeal with moderate risk to our military effectiveness and long-term health of the force."
The members of the Joint Chiefs of Staff testified in the second day of hearings on this week's release of a Pentagon study showing that most service members said serving with openly gay soldiers wouldn't hurt the military.
The U.S. House approved the repeal of the don't ask, don't tell law earlier this year.
President Barack Obama and Democratic lawmakers need support from at least two Senate Republicans to reach the 60 votes needed to overcome a filibuster threat and bring the measure to the chamber's floor before their majority shrinks in January as a result of last month's elections.
Republican Views
Massachusetts Republican Senator Scott Brown today said he would support repeal of the law if it is "implemented only when the battle effectiveness of the forces is assured and proper preparations have been completed," according to a statement posted on his website.
Republican Susan Collins of Maine, who backed repeal earlier this year in a committee vote, said in a statement that "I remain convinced" the ban on service by openly gay soldiers "should be repealed." The issue "should be decided by Congress, not the courts," she said.
The legislation risks getting caught in the crush of business in the lame-duck session, which includes debates over tax cuts, unemployment benefits and a nuclear-arms treaty with Russia.
Most Republicans on the Armed Services panel, including Arizona Senator John McCain, said yesterday they weren't swayed by the arguments in favor of repeal by Gates and the chairman of the Joint Chiefs of Staff, Admiral Michael Mullen, in the first day of hearings.
'Divided Opinion'
"I think it's pretty obvious that there is significantly divided opinion," McCain said today. "It is very obvious there is a lot more scrutiny and work needed before passing this legislation."
McCain said he wanted more hearings to get testimony from senior enlisted personnel and regional commanders.
Opponents of repeal point to results in the Pentagon survey showing that members of combat units and Marines were more likely than other service members to say that letting gays serve openly would hurt military effectiveness.
Gates and Mullen testified that the study indicates that the risk of change is low and that "a solid majority" of service members said repeal wouldn't have a negative impact.
Marine Corps General James Cartwright, vice chairman of the Joint Chiefs of Staff, cited survey results that showed 92 percent of respondents who had worked with a service member they knew to be gay or lesbian saw no negative effect or described their experience as good.
Perceptions Versus Experience
That demonstrates the gap between perceptions of what might happen if the policy is repealed and the actual experience of soldiers in the field, Cartwright told the committee.
The service chiefs today rejected suggestions by McCain and other Republicans on the panel that the Pentagon study should have asked military personnel directly whether they favor repeal of the policy.
The Army is "not a democracy," Casey said. Amos said he was confident he understands the views of Marines based on the study and his own discussions.
"We did not need a referendum-type question," Amos said.
The service chiefs, like Gates and Mullen yesterday, said they worry more that a potential court order would force an immediate shift without time to prepare.
A federal trial judge in September ruled the ban unconstitutional. The Supreme Court last month allowed the law to remain in effect during appeals.
"Precipitous repeal is not, it is not, a place where your armed forces want to be," Schwartz said.
A survey that underpinned the Pentagon study found that while most military personnel said repealing the ban would have either a positive effect, little effect or no impact at all, 40 percent to 60 percent of respondents from the Marine Corps and largely all-male combat units said it would have negative repercussions.
"Repeal of the law will not fundamentally change who we are or what we do," said Admiral Gary Roughead, the chief of naval operations.
Before it's here, it's on the Bloomberg Terminal.
LEARN MORE