Slim's $2 Billion Net Wager Fuels Rally in Bonds: Brazil Credit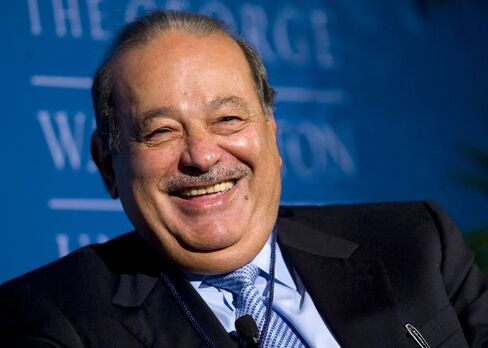 Net Servicos de Comunicacao SA's bonds are beating those of Latin American media companies after Carlos Slim, the world's richest man, boosted his stake in Brazil's biggest cable TV-provider.
Net's 7.5 percent bonds due in 2020 have returned 1.8 percent in the past two months, compared with a 0.1 percent gain in a regional index of media company debt compiled by Credit Suisse Group AG. The securities also outperformed Brazilian corporate debt, which sank 0.9 percent during the same period, JPMorgan Chase & Co. data show.
Slim's America Movil SAB, Latin America's largest wireless carrier, spent $2 billion on Oct. 7 to stockpile preferred shares in Net as the Mexican billionaire seeks to combine mobile-phone operations with home-phone, Internet and TV services in Brazil to lure customers from Madrid-based Telefonica SA. Embratel Participacoes SA, America Movil's Brazilian unit, had a 79 percent stake in Net as of Oct. 26.
"That was a very large investment, which signals to the market that they intend to fully support this entity," Chris Buck, a Latin America corporate debt analyst at Barclays Plc in New York, said in a telephone interview. "It's been partially priced and more of it should be priced in."
Net's bonds also beat U.S. corporate debt, which is down 0.9 percent in the past two months, according to Bank of America Merrill Lynch.
The yield on the Sao Paulo-based company's $350 million of bonds dropped 15 basis points, or 0.15 percentage point, since Oct. 1 to 5.43 percent, according to data compiled by Bloomberg.
'Financial Support'
Standard & Poor's changed the outlook on Net's BB+ rating to positive from stable on Nov. 16, saying America Movil's growing stake in the company may prompt it to raise the ranking by at least one level. Moody's Investors Service rates Net Ba1, in line with S&P and one level below investment grade.
"Until now, we have not incorporated any kind of financial support from Net's shareholders in our analysis," Flavia Bedran, an S&P analyst in Sao Paulo, wrote in a report.
In addition to the preferred shares that America Movil owns, it has a 49 percent stake in the holding company that controls Net through its common shares. Globo Comunicacao e Participacoes SA, Brazil's biggest television network, owns the other 51 percent. Under a five-year-old agreement, Rio de Janeiro-based Globo would transfer control of Net to America Movil should congress approve legislation allowing foreign ownership of Brazilian cable-TV companies.
The bill was sent to the Brazilian Senate in June after the lower house approved it. Senator Romero Juca, the leader of the ruling coalition in the upper house, said he expects a vote on the bill by the end of the month.
'Big Positive'
"It's important that we approve it soon because that defines an important sector for investments in the country," Juca said in an interview yesterday in Brasilia.
Moody's may review its rating on Net once the law on foreign ownership is passed, Ricardo Kovacs, an analyst in Sao Paulo, said in a telephone interview.
"It's something that has clearly a lot of political support and it's only a matter of it becoming more of a priority to actually get it done," Barclay's Buck said. "It's a big positive for Net bonds."
Net, with 4.1 million pay-TV customers, has expanded into phone and Internet service over its cable lines to lure customers from phone companies such as Telefonica's Telecomunicacoes de Sao Paulo SA. Gains in phone and Web clients helped boost earnings before interest, tax, depreciation and amortization to 1.11 billion reais ($654.1 million) in the first nine months of this year, up 24 percent from the same period in 2009.
Slim
America Movil bought Slim's Telmex Internacional SAB in a $23 billion deal in June to acquire control of land-line phone and cable networks throughout South America.
Slim, who passed Bill Gates and Warren Buffett for the top spot on Forbes magazine's annual list of billionaires, may be reluctant to guarantee Net's debt if he's unable to gain control of the company, said Eric Ollom, chief emerging-markets strategist at Jefferies & Co. in New York.
An America Movil official who can't be named under company policy declined to comment. Slim can only support Net's finances once the law changes and the performance of its bonds is due to its "strong operational results," Net said in an e-mail.
"Slim owns the majority of the company, but he doesn't have majority control," Ollom said in a telephone interview. "So it's hard to see him guaranteeing the debt unless he has control."
The extra yield investors demand to own Brazilian government dollar bonds instead of U.S. Treasuries narrowed 2 basis points to 176 at 6:27 a.m. New York time, according to JPMorgan's EMBI+ index.
Default Swaps
The cost of protecting Brazilian bonds against default for five years dropped 8 basis points to 109, according to CMA. Credit-default swaps pay the buyer face value in exchange for the underlying securities or the cash equivalent should a government or company fail to adhere to its debt agreements.
The yield on the overnight interest-rate futures contract due in January 2012 fell 12 basis points to 12.12 percent.
The real dropped 0.1 percent to 1.6974.
The yield on Net's bonds has tumbled 202 basis points since May, according to Bloomberg data.
"Embratel will receive adequate financial support from its ultimate parent company, which is America Movil, which is Carlos Slim," said Kovacs at Moody's.
Before it's here, it's on the Bloomberg Terminal.
LEARN MORE