Ronaldo Matches Madrid Pay as Brazil Soccer Players Return Home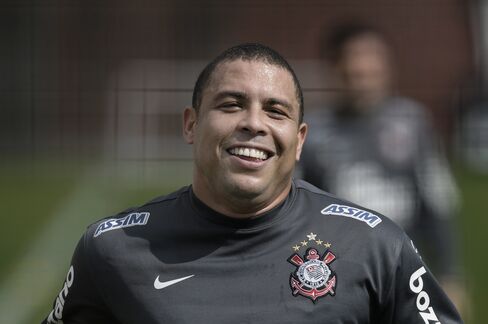 Dec. 3 (Bloomberg) -- Brazil's economic boom and strengthening currency are luring hundreds of globe-trotting soccer players home.
The 34-year-old soccer star Ronaldo is getting paid as much with Sao Paulo's Corinthians as in 2006 with Real Madrid, the biggest soccer team by sales, his agent Fabiano Farah said. That was $8.2 million, according to Spanish newspaper El Mundo. Teammate Roberto Carlos says he doesn't need to seek out bigger checks abroad after 15 years in Italy, Spain and Turkey.
As Brazil's economy expands at the fastest rate in more than two decades, wealthier clubs and a stronger currency are boosting the national league, which ends Dec. 5. The number of players traded to Brazilian teams from abroad rose to 707 last year, more than twice as many as in 2006, national soccer federation statistics show. Some 6,650 players had left Brazil between 2003 and 2009.
"Brazil nowadays is very different from the '90s, when I left for Europe,'' Roberto Carlos, 37, said in an interview. ''It's possible to play at a very high level in Brazil, make money and stay with my family.''
Players have emigrated since the 1980s as Brazil's league suffered from crumbling stadiums, fan violence and a calendar that changed so frequently most people couldn't keep track, said Richard Law, a consultant on Brazil for London team Arsenal.
Ronaldo Rejects U.S.
Now there's a boom. Revenue of the 20 top-tier teams rose 12 percent to 1.93 billion reais ($1.13 billion) last year on more television rights income, a study by research and consulting firm Crowe Horwath RCS in Sao Paulo found. The English Premier League, soccer's biggest with $3.6 billion of revenue, had 3 percent growth in the year to June 2009.
Spending by the 20 Brazilian clubs on transfers and salaries rose 14 percent to 1.2 billion reais, according to the study published in May.
Ronaldo was world player of the year three times. He rejected offers from the U.S., England and Germany when he signed with Corinthians in December 2008, said Farah, who declined to name teams that made the bids or disclose Ronaldo's income. Roberto Carlos, a World Cup winner in 2002, joined Corinthians from Turkey's Fenerbahce last December.
A stronger Brazilian currency is the main reason for marquee players coming back, according to Juan Figer, an agent in Brazil since the 1970s. The Brazilian real climbed 74 percent in value against the euro since May 2004, when Ronaldo and Roberto Carlos were at Real Madrid.
Tax Advantages
Brazil's lower top tax rate of 27.5 percent -- compared with 43 percent in Spain -- is another motive, says Law, who's based in Fort Worth, Texas. ''Playing in Europe isn't what it used to be if you're going to lose half your income" to tax authorities, Law said.
Corinthians, which increased spending on player trades and salaries by 65 percent to 133.6 million reais last year, is happy to pay more to Ronaldo because he helps generate sponsorship and ticket revenue, team President Andres Sanchez said. The club had net income of 5.8 million reais as sales soared 54 percent to 181 million reais, according to Crowe Horwath's research.
"Ronaldo is too cheap for me," Sanchez said in an interview. "Corinthians has never made so much money."
Ronaldo gets a share of ticket sales and sponsorship income, which doubled last year on deals with companies such as Sao Paulo-based BRF-Brasil Foods SA, the world's largest poultry exporter, Farah said. Ronaldo, who has six goals in eight league games this season, wasn't available for interview.
More Organized
As more money flows into the Brazilian league, it is becoming more organized, Law said. In 2003, end-of-season playoffs that were repeatedly amended in an effort to boost audiences were canceled. The championship now has the same format as Europe's top divisions.
League leader Fluminense of Rio de Janeiro is seeking its first title since 1984 this weekend, when Corinthians and Belo Horizonte's Cruzeiro can also prevail.
To be sure, Brazilians will still seek contracts in European leagues to boost their profile and earning power, according to Farah.
Real Madrid's payroll last season was more than three times bigger than that of Corinthians, helping it attract Sao Paulo native Kaka, 28, from AC Milan in 2009. Neymar, 18, said he plans to leave Brazil's Santos for the Premier League, the Sun newspaper reported Oct. 6. Neymar's agent Wagner Ribeiro didn't return messages seeking comment.
"Young players are still going to want to try out new experiences: different food, different languages," Farah said. "They want to test themselves."
Deco Returns Home
Brazilian soccer federation statistics show 1,017 players left to play abroad last year, a 14 percent decrease from 2008. That's because contracts are improving in Brazil, Figer said.
Clubs expect sales to climb 58 percent more by the time Brazil hosts the 2014 World Cup, according to Crowe Horwath's study. Some $2.8 billion of public investment in 12 stadiums will boost corporate hospitality sales, Crowe Horwath director Amir Somoggi said.
That's good news for players like 33-year-old Deco, a two-time Champions League winner who moved to Fluminense in August after 13 years in Europe.
"I have been far away from my country for too many years, I missed my family," Deco said. "It was time to come back."
To contact the reporters on this story: Alex Duff in Madrid at aduff4@bloomberg.net; Joao Oliveira in Sao Paulo at joliveira4@bloomberg.net.
To contact the editor responsible for this story: Christopher Elser at at celser@bloomberg.net