IMF Study Advocates China Property Tax, Higher Rates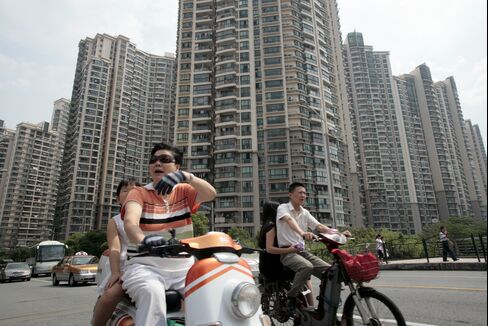 Dec. 3 (Bloomberg) -- China should raise interest rates further and impose a property tax to curb the risk of asset bubbles and a "disorderly fall" in home prices, according to a study by the International Monetary Fund.
Existing measures "at best only treat the symptoms of high residential real-estate inflation and not the underlying structural causes," the IMF working paper said today.
Luxury-home costs in Beijing and Nanjing and mass-market prices in Shanghai and Shenzhen have become "increasingly disconnected from fundamentals," authors including staff member Ashvin Ahuja said. At the same time, there is no sign of a broad-based and significant over-valuation of residential property in China, they said.
China has this year suspended mortgages for third-home purchases, pledged to speed up trials of a property tax, and raised interest rates for the first time in almost three years. Low borrowing costs and a lack of alternative investments contribute to "excessive house price inflation," the discussion document said.
China Vanke Co. became the first Chinese developer to post annual sales of 100 billion yuan ($15 billion), reaching a target it had set for 2014 and defying government measures to cool the real-estate market. The company reported revenue yesterday.
Vanke's "milestone" showed it was able to avoid China's efforts to restrain foreign capital and ease gains in the housing market, according to Credit Suisse Group AG. Chinese Premier Wen Jiabao said Nov. 14 that home prices "can't be pushed down" by government controls.
Shanghai's index of real-estate stocks has fallen 27 percent this year compared with a 14 percent decline for the overall benchmark. The property measure was up 1.1 percent as of the 11:30 a.m. local time break in trading.
It's too early to say whether government measures since April to cool the market will have a long-lasting effect, the IMF's paper said. Property prices across 70 cities rose 8.6 percent in October from a year earlier.
To contact the reporter on this story: Sophie Leung in Hong Kong at sleung59@bloomberg.net
To contact the editor responsible for this story: Chris Anstey at canstey@bloomberg.net