Bubble Gum Demand Helps Arcor Bonds Beat Peers: Argentina Credit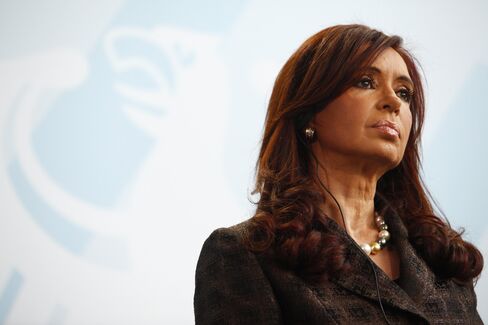 Bonds sold by Arcor SAIC, Latin America's biggest candy maker, are outperforming regional peers as Argentina's economy expands the most since 2005.
Arcor bonds due in 2017 returned 1.7 percent from when they began trading Nov. 5 through yesterday, compared with a 1.8 percent decline over the same period for Latin American consumer products companies in Credit Suisse Group AG's LABI index.
"Arcor is a consumer-product company and the economy is doing well in Argentina," Ruth Mazzoni, a corporate bond analyst at Standard Bank, said in a Nov. 24 telephone interview from New York. "People are consuming, they're buying candy."
Argentine companies sold the most debt in global markets this year since 2007, while President Cristina Fernandez de Kirchner restructured $12.2 billion in defaulted bonds in June. South America's second-biggest economy will grow 9 percent this year, according to the central bank, the most among major emerging markets. Growth will slow to 4.8 percent in 2011, according to the median estimate of eight economists surveyed by Bloomberg.
Closely held Arcor, based in Arroyito, Cordoba province, produces 3 million kilograms (6.6 million pounds) a day of candy including Topline chewing gum and Rocklets chocolates, according to its website. The company exports to 120 countries and has distribution centers in Brazil, Mexico and Chile. About 40 percent of its $2.2 billion in revenue last year came from sales outside Argentina, Pablo Marco, a spokesman, said via e-mail.
'Very Satisfied'
"We are very satisfied with the bond's performance," Marco said, without offering further details.
Since Nov. 5, Arcor debt is the second-best performer of five Argentine companies that have sold bonds this year, behind power company Empresa Distribuidora y Comercializadora Norte SA, which has climbed 2.9 percent over the same period. Debt with a similar maturity sold by real-estate developer IRSA Inversiones y Representaciones SA has risen 1.9 percent over the same period.
"There's a high degree of confidence, the balance sheet is outstanding," Eric Ollom, chief emerging-markets strategist with Jefferies & Co., said in a Dec. 1 phone interview from New York. "Arcor is considered a more premium type of credit than IRSA, Edenor and Impsa because it produces such a staple of Argentine life, baked goods and candies."
Yields on Argentina's dollar bonds tumbled to their lowest on Nov. 4 in almost three years and stocks rallied as investors bet that the Oct. 27 death of former President Nestor Kirchner, Fernandez's husband, would help an opposition candidate win next year's presidential election.
Argentine Spread
The extra yield investors demand to hold Argentine dollar bonds instead of U.S. Treasuries fell 5 basis points at 9:20 a.m. New York time today to 526, the highest among major emerging markets after Venezuela and Ecuador, according to JPMorgan Chase & Co.
The cost of protecting Argentine debt against non-payment for five years with credit-default swaps fell 30 basis points to 670 yesterday, according to data compiled by CMA. Credit-default swaps pay the buyer face value in exchange for the underlying securities or the cash equivalent should a government or company fail to adhere to its debt agreements.
Warrants linked to Argentina's economic growth climbed 0.04 cent to 13.50 cents today, according to data compiled by Bloomberg. The peso rose 0.1 percent to 3.9811 per dollar.
Relative to other Argentine companies, Arcor is a safer bet for investors given government oversight of utility and energy prices and turmoil in the global economy generated by concerns that Europe's debt crisis may spread, Mazzoni said.
Government Regulations
The government, in a bid to limit inflation, regulates the prices of electricity and oil, which affects Edenor, the country's largest power distributor, and Pan American Energy LLC, the largest crude exporter.
Consumer prices in Argentina are rising 26 percent per year, the fastest in the world outside of Venezuela, according to Buenos Aires-based research company Ecolatina. The government said prices rose 11.1 percent in October from a year earlier and has asked the International Monetary Fund for assistance in creating a new inflation index.
European bonds fell earlier this week amid concern that a debt crisis may spread beyond Greece and Ireland to Portugal and Spain.
"If we see some volatility out of Europe then it would continue to outperform next year," Ollom said about Arcor.
Before it's here, it's on the Bloomberg Terminal.
LEARN MORE