Greenaway Multimedia Spectacle Whets Appetite for 'Last Supper'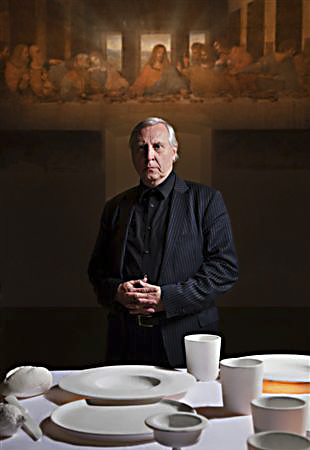 A few days ago, heavy machinery clunked around in New York's Park Avenue Armory, a plaster chicken leg lay on a table, Leonardo da Vinci's masterpiece glowed hugely, deceptively, and deafening organ music filled the air.
An Old Master hobnobs with modern technology in "Leonardo's Last Supper: A Vision by Peter Greenaway," the British filmmaker's multimedia spectacle that has its U.S. debut today.
Greenaway's visual dissection of the famous 15th-century mural in Milan's Santa Maria Delle Grazie church opens with a rapid survey of Italian art and architecture featuring 3-D white doves and a buff male dancer in loincloth gamboling from one to another of the installation's 19 screens.
Then it moves on to Christ's iconic meal with his 12 apostles, who respond with operatic gestures to the suggestion that a betrayer is among them.
The stunning cinematic effects enable close-ups almost molecular of the painting's many facets. One zoom-in on a hand rotates to pan over the surrounding surface that suddenly resembles a desert landscape.
Deathly Dinner
Other cinematic legerdemain traces the figures' outlines, like some classical Etch A Sketch. In a marvelous isolation, the painting darkens to veil all but the diners' hands, revealing their myriad positions and complex roles in the table talk.
In another visual trope, the passage of the sun and time is shone as light and shadows moving across the assemblage.
The installation is on view through Jan. 6 and includes a 29-foot-long dining table set with deathly white plates, oranges, bread and chicken bones, all modeled after the timeless elements in "The Last Supper."
Click here for a video of the installation prepared by reporter Katya Kazakina and video producer David Coffin.
(Jeffrey Burke is an editor and writer for Muse, the arts and leisure section of Bloomberg News. The opinions expressed are his own.)
Before it's here, it's on the Bloomberg Terminal.
LEARN MORE