Fed Won't Raise for Years, Gross Says: Tom Keene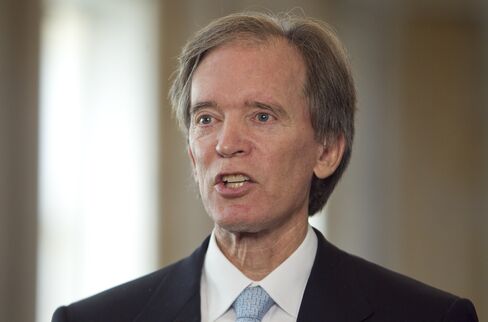 Bill Gross, manager of the world's largest bond fund at Pacific Investment Management Co., said the Federal Reserve is unlikely to raise interest rates for several years with employment growing less than forecast.
"The front part of the curve is the safe part of the curve" with policy makers forced to keep their target rate near zero to sustain growth, Gross, said today in a radio interview on "Bloomberg Surveillance" with Tom Keene. The difference between 2- and 10-year notes is known as the yield curve.
Employers added fewer jobs than forecast in November and the unemployment rate unexpectedly climbed. Payrolls increased 39,000, less than the most pessimistic projection of economists surveyed by Bloomberg News, after a revised 172,000 increase the prior month, Labor Department figures showed today in Washington. The jobless rate rose to 9.8 percent, the highest since April, while hours worked and earnings stagnated.
"The U.S. is being out-trained, out-educated and out-maneuvered in the global competition for employment," Gross said. "There are seven applicants for every one job that's available and today's report only reemphasizes that."
Pimco has championed the idea of the new normal, in which investors will receive lower-than-historically average returns as global growth slows and the influence of the U.S. is diminished.
Fed Funds Rate
Yields on two-year notes fell six basis points to 0.48 percent at 10:09 a.m. in New York, while 10-year note yields were little changed at 2.98 percent.
The Fed has kept its target rate for overnight loans between banks at a record-low range of zero to 0.25 percent since December 2008.
Pimco began offering equity funds in April to allow customers to diversify holdings as the global economy changes and areas such as emerging markets outperform developed regions. To maximize returns, Gross recommends expanding internationally.
"You've got to get outside of the U.S. in order to do that," Gross said. "That means real interest rates in Brazil, which is 5 and 6 percent. That's how you earn a real attractive return as opposed to be forced to earn negative real interest rates through the savings in the United States."
The Washington-based International Monetary Fund said on Oct. 6 that developing nations will grow 6.4 percent next year, almost three times the pace projected for industrialized economies including Europe and the U.S.
'Mom and Pop'
"Ultimately, the low interest rate and the negative real interest rate is a serious detriment to savings," Gross said. "During periods of time like this in which governments are forced to move to extraordinary measures, it's the saver that basically fronts a lot of the costs. That's just not mom and pop. It's the Pimcos of the world that invest a lot in bonds. We are earning a lot less than we used to."
Gross said in his November investment outlook that a renewal of asset purchases by the Fed will likely signify the end of the 30-year bull market in bonds. Gross published the comments before the $600 billion in asset purchases were announced by the central bank Nov. 3.
The $250.2 billion Total Return Fund, also the world's biggest mutual fund, handed investors a gain of about 8.1 percent in the past year, beating about 70 percent of its peers, according to data compiled by Bloomberg.
'Old Normal'
Overall payrolls were forecast to climb by 150,000, according to the survey median, with estimates ranging from 75,000 to 200,000. The October figure was revised up from an initially reported gain of 151,000.
The U.S. economy grew at a 2.5 percent annual rate in the third-quarter, a Commerce Department report showed Nov. 23. It emerged from a recession after having four consecutive quarters of negative growth beginning in third quarter 2008.
"The old normal was to 6 to 7 percent," Gross said. "The new normal is a 3 percent plus or minus nominal GDP. It speaks to 2 percent growth and 1 percent inflation. We are running at a half size paper airplane type of economy as opposed to one with stable wings and full thrusting jet engines."
The Total Return Fund, also managed by Gross held 12 percent of its assets in emerging market debt in September and October, the highest since at least September 2006. The fund's investment in government-related securities was lowered in October to 28 percent, from 33 percent the previous month, according to data published Nov. 16 on Pimco's website.
Pimco doesn't comment directly on monthly changes in its portfolio holdings. Pimco, a unit of Munich-based insurer Allianz SE, managed $1.236 trillion of assets as of September.
Before it's here, it's on the Bloomberg Terminal.
LEARN MORE