Failed World Cup Bid Head Says England, U.S. Shouldn't Try Again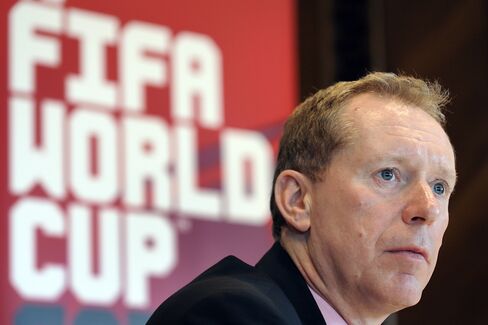 The U.S. and England shouldn't bid for the World Cup again until soccer's governing body changes the way it decides where sport's most-watched event is staged, the leader of England's failed effort for 2018 said today.
The two countries scored highest in technical and economic reports commissioned by FIFA, the body which governs the sport. Yet, the 22-member executive committee opted for Russia to host the 2018 event and Gulf state Qatar to stage it four years later. Both bids scored lowest in technical assessments in their respective contests.
"Don't bother if technical and economic evaluations are not going to matter," England 2018 CEO Andy Anson told reporters in Zurich today. "I would say right now, 'Don't bother until you know that the process is going to change to allow bids like ours to win.'"
England was eliminated in the first round of voting in a contest that also featured joint bids from Spain-Portugal and the Netherlands-Belgium. The U.S. and Qatar went into a final vote after the elimination of Korea, Japan and Australia for
2022.
The English bid and the way FIFA decides where the World Cup is going was criticized by the British press. Some FIFA members blamed England's defeat on the U.K. media.
The award of the world's most watched sporting event was marred by FIFA's suspension of two executive members last month after the Sunday Times published a story alleging Nigerian Amos Adamu and Tahiti's Reynald Temarii had offered to sell their votes. Earlier this week, the British Broadcasting Corp. made more corruption allegations against voters.
Let Down
Anson said he felt let down after voters who told him they would support England and chose a rival. He said he didn't believe their complaints about the English media was the reason behind the defeat.
"England, the U.S., Australia were clearly accountable to (the media)," Anson said. "We have to do things in straight, ethical way. The three bids will leave with their heads held high."
Anson feels the vote should be "more transparent and inclusive." He said FIFA should broaden the vote to all of its members.
"You have to open it up to all member associations and have transparency and open voting so everyone knows who voted for whom," he said. "With 22 guys having so much power it becomes very, very difficult."
FIFA President Sepp Blatter said before the vote that it was a mistake to hold ballots on two different World Cups on the same date.
Review
"I am sure FIFA is going to evaluate this process," U.S. bid President Sunil Gulati said. "The president has said in retrospect that they shouldn't have done two at the same time and given some of the other things that have happened along the way, I am sure they are going to review."
Marios Lefkaritis, a voter from Cyprus, said the sport's governing body may consider changing the way votes are held.
"If it needs changing, we have to sit down, discuss the advantages and disadvantages of the present system," Lefkaritis, who didn't disclose which countries he voted for, said in an interview. "I'm not in favor of one thing or other without looking closely at the systems. We are talking about whether it will be just the Exco (executive committee) or a referendum of all the members of FIFA."
Australia polled the lowest in its competition, securing just one vote. Anson said Russia and Qatar were "formidable competitors."