ECB Bond Buying Triggers Biggest Drop in Debt Risk Since May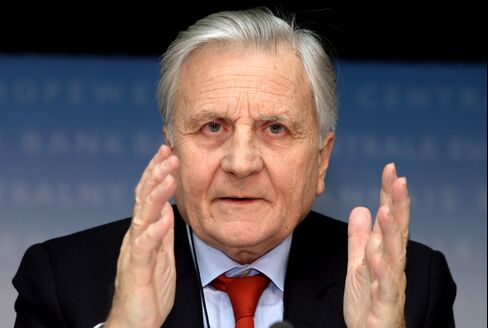 The cost of insuring against losses on European corporate bonds fell for a third day after the European Central Bank increased government bond purchases to stem "acute" tensions in financial markets.
The Markit iTraxx Crossover Index of credit-default swaps on 50 companies with mostly high-yield credit ratings declined 9 basis points to 470, according to JPMorgan Chase & Co. prices at 2:30 p.m. in London. The gauge is down from 526 on Nov. 30, the biggest three-day decline since May 12.
The central bank delayed withdrawing emergency liquidity measures and bought more government bonds yesterday, while stopping short of deploying new crisis-fighting tools. Pressure is increasing on ECB President Jean-Claude Trichet to halt contagion from the region's sovereign deficit crisis.
"Trichet is playing a dangerous game - the market demands action, and he has precious few cards left to play," said Bill Blain, the co-head of fixed income at Matrix Corporate Capital LLC. "But this week he's played his hand well."
The Markit iTraxx SovX Western Europe Index of swaps on 15 governments also fell for a third day, dropping to 174.5 basis points from a record high 200.75 on Nov. 30.
"It's been a one way street for the last month on very irrational contagion," said Laurent Fransolet, head of European fixed-income strategy at Barclays Capital in London. "It's only normal that at some point you stop that trend and reverse."
iTraxx Europe
Credit markets briefly pared the rally after the U.S. Labor Department said payrolls increased 39,000, less than the most pessimistic projection of economists surveyed by Bloomberg News, after a revised 172,000 increase the prior month. The jobless rate rose to 9.8 percent.
The Markit iTraxx Europe Index of 125 companies with investment-grade ratings decreased 1.25 basis points to 106.5, JPMorgan prices show.
The cost of protecting bank bonds from default also fell, with the Markit iTraxx Financial Index linked to the senior debt of 25 banks and insurers down 8 at 142 and the subordinated index 12 lower at 272.
A basis point on a credit-default swap contract protecting 10 million euros ($13.3 million) of debt from default for five years is equivalent to 1,000 euros a year.
Credit-default swaps pay the buyer face value in exchange for the underlying securities or the cash equivalent should a borrower fail to adhere to its debt agreements. A decline signals improvement in perceptions of credit quality.