Clinton Says Success of Nuclear Talks 'In the Hands' of Iran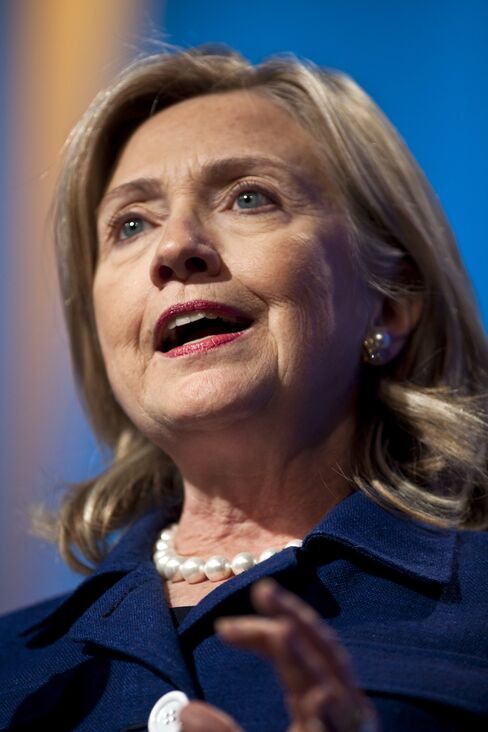 Dec. 4 (Bloomberg) -- U.S. Secretary of State Hillary Clinton said the success or failure of talks next week on Iran's nuclear program is "largely in the hands of the Iranians."
Speaking directly to Foreign Minister Manouchehr Mottaki and other Iranian delegates yesterday at a conference in Bahrain, Clinton said the U.S. hopes Iran comes to the Dec. 6 meeting in Geneva "as we will -- in good faith and prepared to engage constructively" on nuclear issues.
"We very much hope the negotiations in Geneva over the nuclear program will lead to breakthroughs," Clinton said in a wide-ranging speech at a meeting on Persian Gulf security hosted by Bahrain's International Institute for Strategic Studies. At the same time, she said America's willingness to talk comes with "an ironclad commitment to defending global security and the world's interests in a peaceful and prosperous Gulf region."
Iran is scheduled to meet Dec. 6 with the so-called P5 plus 1, a group that includes the United Nations Security Council's five permanent members -- the U.S., China, Russia, U.K. and France -- plus Germany. It will be the first time they've met since October 2009.
Emile Hokayem, senior fellow for regional security at the Institute for Strategic Studies, noted that Mottaki didn't look at Clinton while she spoke and didn't clap at the end of her speech. Still, Hokayem said it was a good sign that Mottaki didn't leave the room.
"There was an open hand there," he said. "I'm not sure what was there that would make the secretary more confident than a year ago that a nuclear deal is possible."
Middle East Priority
In her speech, Clinton said the U.S. won't remain in Iraq, asked Gulf nations to support Yemen's battle against militants and urged them to work together more actively. The talk reflected the priority that she and President Barack Obama have placed on the Middle East.
Obama reached out to the Muslim world early in his first term to repair relations strained in the Iraq war. On his second day in office, he appointed a special envoy to work on Middle East peace. The administration has worked to bolster international support to sanction Iran for its nuclear activities.
Clinton said the U.S. will treat Iraq as an equal after the U.S. pulls out its troops at the end of 2011. Without naming Iraq's neighbor, Iran, she said other nations must do the same.
"No country should pursue its own interests in Iraq at the expense of Iraq's unity and sovereignty," Clinton said. "And no country should threaten or intimidate or coerce Iraq or political stakeholders in Iraq."
Stable Lebanon
Clinton also stressed U.S. support for "a sovereign, independent, and stable Lebanon," where Hezbollah, the militant group funded by Iran, competes for political power.
Clinton said security partnerships can help Gulf nations cope with "the threat of states that pursue destabilizing actions against their neighbors."
Citing freedom of navigation as a security priority, Clinton called on Iran to cooperate with the Gulf and the U.S. to combat piracy. "All countries, including Iran, must do their part to cooperate in the common defense of the waterways," she said.
To contact the reporter on this story: Nicole Gaouette in Manama, Bahrain at ngaouette@bloomberg.net.
To contact the editor responsible for this story: Mark Silva at msilva34@bloomberg.net