Build America Extension Added to Senate Tax-Cut Bill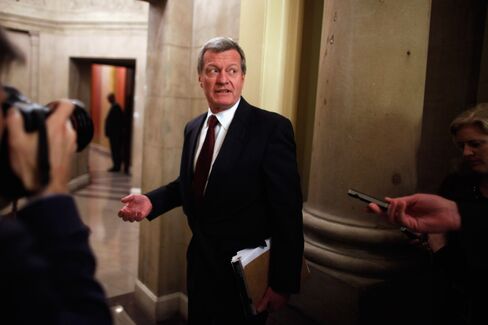 A one-year extension of the U.S. Build America Bond program, the fastest-growing segment of the $2.8 trillion municipal-debt market, was included in a Senate bill to maintain expiring tax cuts for middle-income Americans.
In the latest move to keep the subsidy alive, U.S. Senate Finance Committee Chairman Max Baucus, a Montana Democrat, included it with extensions of dozens of other tax breaks set to end. A continuation of the bond program hadn't been contained in previous bills to prolong the income-tax cuts, the dominant issue facing Congress before the current session concludes.
The subsidy, which expires Dec. 31, was created by President Barack Obama's 2009 economic-stimulus plan. More than $173.5 billion of the taxable securities have been sold, according to data compiled by Bloomberg. The U.S. pays 35 percent of the interest costs on the debt. The Senate bill would cut that rate to 32 percent. Republicans may oppose the measure because it doesn't extend breaks for the wealthiest taxpayers.
"It still all hinges on whether the president and Republicans in the Senate reach some kind of deal," said Jim Currie, the director of federal relations for the Lexington, Kentucky-based National Association of State Treasurers.
There's no guarantee the provision won't be dropped later, Currie said by telephone from his Washington office. "The Senate rules are that there are no rules," he said. "They can pretty much do whatever they want."
Republican Insistence
Republicans have insisted that tax cuts enacted during President George W. Bush's first term be extended across the board. They may have enough Senate votes to stall passage of the bill unless it is changed to include levies that apply to couples with incomes of more than $250,000 a year.
With Republicans poised to take control of the House of Representatives in January, local governments, banks and other advocates of the bond program are pressing to have it extended in the current, so-called lame-duck session.
Republicans including U.S. Representative David Camp, who is in line to become chairman of the tax-writing Ways & Means Committee, have been critical of spending under Obama's $814 billion stimulus package. Democrats, who now control the House, have passed measures to prolong the Build America program, only to see the bills stall in the Senate.
Speculation that the program would lapse has weighed on the municipal bond market because of concern that its demise would boost the amount of money state and local governments raise with traditional tax-exempt debt. Like taxable corporate bonds, Build Americas carry higher interest rates, making them attractive to investors beyond those seeking a shelter from U.S. income taxes.