U.S. Stocks, Commodities Gain as Dollar Drops After Jobs Data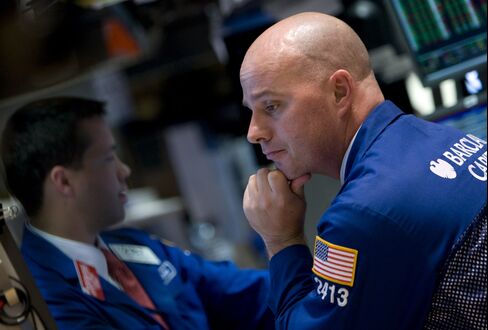 Dec. 3 (Bloomberg) -- U.S. stocks rose and commodities extended their biggest weekly rally in more than a year as a slide in the dollar boosted prices of oil and metals, helping equities overcome an early drop that followed an unexpected rise in the jobless rate.
The Standard & Poor's 500 Index climbed 0.3 percent to 1,224.71 at 4 p.m. in New York, adding to gains in the last half hour after CBS reported that Federal Reserve Chairman Ben S. Bernanke hasn't ruled out extending the central bank's asset-purchase program beyond $600 billion. The Dollar Index lost 1.5 percent for its biggest drop since July. Oil rallied to a 25-month high near $89 a barrel and the S&P/GSCI commodity price index climbed to the highest level in more than two years.
The Dow Jones Industrial Average and S&P 500 added to gains of more than 3.2 percent over the previous two days that came as optimism in the economy was boosted by home sales and retail purchases that topped projections and the Fed's assessment that the recovery was gaining steam in most regions. Earlier declines today came after the Labor Department said U.S. payrolls increased by 39,000 last month, trailing the median economist projection in a Bloomberg survey for a gain of 150,000 jobs.
"The fact that stocks rallied despite a bad jobs report is a good indication," said Michael Holland, who oversees more than $4 billion as chairman of Holland & Co. in New York. "People are starting to get focused on the other economic data points that show that the economy is going to surprise positively. It's a reason to buy into the rally. It's a bad place for anyone who's betting against stocks."
Weekly Rally
The S&P 500 rallied 3 percent this week, its biggest gain in a month, with Newmont Mining Co. and Schlumberger Ltd. pacing today's advance in commodity shares. The Thomson Reuters/ Jefferies CRB Index of 19 raw materials rose 1.3 percent today and rallied 5 percent this week, its biggest gain since October 2009.
The dollar weakened against 14 of 16 major peers, losing more than 1.7 percent versus the Swedish krona, the Swiss franc and the Norwegian krone. The slump came after government's November jobs report showed the unemployment rate rose to 9.8 percent, pointing to economic weakness that's likely to keep the Fed pumping money into the financial system.
"It's going to present a challenge to near-term views on the labor market, however at this point I don't think it's going to be disruptive to expectations for earnings in 2011," said David Sowerby, a Bloomfield Hills, Michigan-based money manager at Loomis Sayles & Co., which oversees $150 billion. "There's been a separation between the lack of health in the labor markets and very positive conditions for corporate balance sheets. Profits traditionally rebound before labor markets do."
Bernanke Interview
Bernanke, in an interview for CBS's "60 Minutes," defended the Fed's decision to purchase $600 billion in Treasury securities and didn't rule out expanding the program, the network said.
"He explains why the Fed announced its intention to buy $600 billion in Treasury securities, defending against charges the move will lead to inflation and not ruling out the purchase of more," according to a press release today from CBS.
Stocks recovered from their lows of the session in the first half hour after service industries expanded in November at the fastest pace in six months. The Institute for Supply Management's non-manufacturing index, which covers about 90 percent of the economy, rose to 55 last month from 54.3 in October. A reading higher than 50 signals growth.
European equities erased earlier gains, with the Stoxx Europe 600 Index slipping 0.3 percent. GN Store Nord A/S fell 4.4 percent after Telekomunikacja Polska SA filed a complaint over an arbitration procedure.
Portuguese, Irish Bonds
Portuguese and Irish bonds rallied after the European Central Bank bought the nation's debt today as policy makers try to combat the region's debt crisis, according to people with knowledge of the transactions. An ECB spokesman in Frankfurt declined to comment
The extra yield, or spread, that investors demand to hold 10-year Irish securities instead of benchmark German bunds fell 39 basis points to 529 basis points, while the Portuguese-German spread narrowed 25 basis points to 307 basis points.
The Markit iTraxx Crossover Index of credit-default swaps on 50 companies with mostly high-yield credit ratings declined 7.3 basis points to a mid-price of 469.5.
Ruble Rallies
The ruble appreciated 0.6 percent against the dollar after Russia was named to host the 2018 soccer World Cup. Russia's Micex Index advanced 1.1 percent to the highest level since July 2008 as OAO Novolipetsk Steel and OAO Severstal surged more than 3 percent. The MSCI Emerging Markets Index rallied 0.8 percent.
Copper extended its biggest weekly gain in four months, with March futures rising 0.5 percent to $3.999 a pound and gaining 6.3 percent over the past five days.
Cotton futures surged, heading for the biggest weekly gain in 39 years, on mounting concern that supplies will be limited from India, the world's largest exporter after the U.S. Prices rose the maximum allowed by the exchange for a third day, rising 6 cents to $1.3234 a pound to extend its weekly rally to 18 percent. Wheat rose to the highest price in almost four months on concern heavy rains in Australia will delay the harvest.
To contact the reporter on this story: Rita Nazareth in New York at rnazareth@bloomberg.net.
To contact the editor responsible for this story: Nick Baker at nbaker7@bloomberg.net.