Vodafone, Bharti May Gain in India Phone Market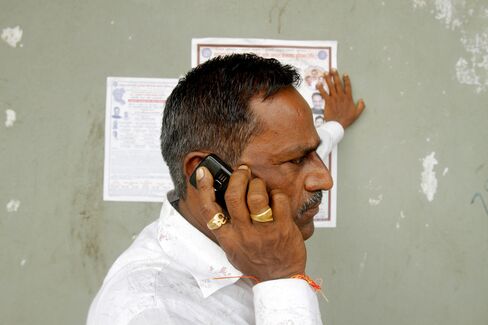 Vodafone Group Plc and Bharti Airtel Ltd. may gain customers because a scandal roiling the world's second-largest mobile-phone market is pressuring India to cancel licenses issued to smaller carriers, analysts said.
Phone users may defect to carriers other than those identified by an audit last month as having fraudulently bought licenses in 2008, said Rohit Maheshwari, an analyst at K.R. Choksey Shares & Securities Pvt. Idea Cellular Ltd., India's sixth-largest operator, may also stand to gain for similar reasons, he said.
The government said this week it will give the owners of 85 phone permits two months to prove they're entitled to keep offering services after India's top auditor found the 2008 sale of licenses deprived the treasury of as much as $30 billion. The probe has led to the resignation of the telecommunications minister and stalled parliamentary proceedings.
"If licenses for some players get canceled, it would certainly reduce the competitive intensity," said Maheshwari, who's based in Mumbai. "We could see their customers shifting to established players like Bharti and Idea, which I feel could add to their profits."
Bharti's 10 percent gain since Nov. 16, when the auditor's report was submitted to parliament, makes it the best-performing stock in the Bombay Stock Exchange's benchmark Sensitive Index. IIFL Capital Ltd. raised its investment rating on Bharti to "buy" from "reduce" this week, citing easing competition and reduced regulatory uncertainty.
'Unbelievably Low' Prices
Bharti fell 0.1 percent to 345.6 rupees while the benchmark Sensex Index declined 0.1 percent at 3:30 p.m. close in Mumbai.
India, the world's largest wireless market after China, had 687.7 million mobile phone users at the end of September. Billionaire Sunil Mittal's Bharti leads with 20.8 percent market share, followed by Reliance Communications Ltd.'s 17.1 percent, Vodafone's 16.8 percent and billionaire Kumar Mangalam Birla's Idea with 10.8 percent.
The Comptroller and Auditor General of India said last month that the telecommunications ministry awarded so-called second-generation licenses to 13 ineligible companies two years ago. The ministry sold 157 licenses at such "unbelievably low" prices that the government may have lost 1.4 trillion rupees ($30 billion) in potential revenue, according to the auditor.
The 13 companies had a combined 20.4 million customers as of the end of September, according to data from the Telecom Regulatory Authority of India.
'Not Stressed'
Telenor ASA and Emirates Telecom Corp. were among operators that purchased stakes in Indian companies whose license applications should have been rejected in 2008 because they were unqualified, according to the auditor's report.
Norway's Telenor, which owns a majority stake in Unitech Wireless Ltd., and operates under brand Uninor, said it hasn't received a notice from the government and is focused on expanding and adding customers in the country.
"We are not too stressed about this," said Glenn Mandelid, a Telenor Asia spokesman, on Dec. 1. "Our focus now is to keep the momentum in the market place."
Bharti declined to comment in response to e-mailed questions. Rajat Mukarji, chief corporate affairs officer at Idea, declined to comment. Etisalat's spokesman Ahmed bin Ali could not be immediately reached. Vodafone Essar Ltd. declined to comment on "speculative scenarios" in an e-mailed response to questions.
Investors such as Gernot Schrotter say that the benefits for the incumbent service providers may not be significant.
Penny a Minute
"The uncertainty still stands in the short term," said Schrotter, who helps manage about $320 million in Asian stocks, including Bharti, at Erste Sparinvest KAP in Vienna. "Risk premium needs to be added to the sector, and even to the larger names."
Bharti's profit fell 27 percent last quarter after it cut call rates to win a larger share of the market in Africa and compete with 14 other companies in India. Reliance's profit fell 40 percent as a price war that slashed tariffs to a penny a minute damped revenue.
A reduction in the number of operators in India, at a time when companies such as Bharti are getting ready to start offering more profitable third-generation network services, may help them raise call tariffs, Alex Mathews, head of research at Geojit BNP Paribas Financial Services Ltd. said.
The start of the so-called third-generation services may boost revenue for companies such as Bharti, Mathews said.
"3G growth will be enormous," said Mathews. "Those who have a contrarian view on the sector, this is the right time to pick telecom stocks."
Before it's here, it's on the Bloomberg Terminal.
LEARN MORE