U.S. Stocks Rise as Dow Has Biggest Two-Day Rally Since July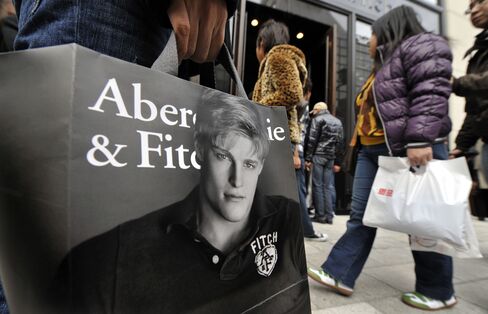 U.S. stocks advanced, giving the Dow Jones Industrial Average its biggest two-day rally since July, as purchases of existing homes unexpectedly jumped, retail sales topped analysts' estimates and Goldman Sachs Group Inc. recommended buying financial shares.
PulteGroup Inc., the largest U.S. homebuilder by revenue, advanced 3.2 percent after pending sales of existing homes increased by a record 10 percent in October. Home Depot Inc. climbed 5.5 percent, leading gains in the Dow, as retail sales rose the most since March. Bank of America Corp. and JPMorgan Chase & Co. drove financial shares to the biggest advance in the Standard & Poor's 500 Index after Goldman Sachs said the economic outlook is "supportive" for the industry.
The S&P 500 rose 1.3 percent to 1,221.53 at 4 p.m. in New York after gaining 2.2 percent yesterday. The last time the measure posted two straight advances exceeding 1 percent was in February. The Dow gained 106.63 points, or 1 percent, to 11,362.41. Both gauges are up more than 3.2 percent in December.
"The market is telling us that the economy is doing better than expected," said Hank Smith, chief investment officer at Haverford Trust Co., which manages about $6.5 billion in Radnor, Pennsylvania. "Buying financial stocks is one way to play the improvement in the macroeconomic environment."
The S&P 500 is up 19 percent from this year's low in July as companies reported higher-than-estimated earnings and the Federal Reserve increased its program of asset purchases to stimulate growth. The index had fallen as much as 3.9 percent from a two-year high on Nov. 5 amid investor concern that the European debt crisis would hamper economic growth.
S&P 500 at 1,450
The benchmark for U.S. equities rose 2.2 percent yesterday, its biggest advance since Sept. 1, amid improving data on the U.S. and China economies and speculation of a larger European financial rescue. Goldman Sachs' investment strategist David Kostin said the S&P 500 may rise to 1,450 by the end of next year, a gain of more than 20 percent from yesterday's close, as the economic recovery accelerates.
Earlier today, U.S. equities advanced as European Central Bank policy makers meeting in Frankfurt kept the benchmark interest rate at a record low of 1 percent and delayed the bank's exit from emergency liquidity measures as the debt crisis threatens to engulf Portugal and Spain. The ECB didn't announce new measures to halt the crisis.
U.S. stock futures maintained gains before the open of exchanges as fewer Americans filed claims for unemployment insurance payments over the past month, showing the job market is improving. The number of applications for jobless benefits averaged 431,000 a week over the month ended Nov. 27, the lowest level since August 2008, Labor Department figures showed. Claims increased by 26,000 last week, more than forecast, to 436,000, after reaching a two-year low.
'Picking Up Strength'
"We're picking up strength," said Tom Wirth, senior investment officer for Chemung Canal Trust Co., which manages $1.5 billion in Elmira, New York. "Almost every data point we get over here is telling us no double-dip recession."
A measure of 12 homebuilders in S&P indexes rallied 3.9 percent, as all of its companies gained at least 2.2 percent. Pending sales of U.S. existing houses unexpectedly jumped a record 10 percent in October, the National Association of Realtors said. The median forecast in a Bloomberg News survey was for a 1 percent decrease. The group's data go back to 2001.
PulteGroup rose 3.2 percent to $6.75. D.R. Horton Inc., the second-largest U.S. builder, advanced 3.7 percent to $10.92. Lennar Corp., the third-biggest, jumped 7.2 percent to $16.88.
Retail Sales
Retail sales rose the most in eight months in November, led by Abercrombie & Fitch Co. and J.C. Penney Co., and beat analysts' estimates as consumers gobbled up discounts, particularly during the Thanksgiving weekend.
Teen retailer Abercrombie had the second-biggest gain in the S&P 500, rallying 11 percent to $56.02. Same-store sales rose 22 percent, above the 6.4 percent average of analysts' estimates compiled by Retail Metrics Inc. J.C. Penney rose 2.3 percent to $34.47 as the third-largest U.S. department store chain boosted sales 9.2 percent, above a 3.3 percent projection.
Home Depot, the largest U.S. home-improvement retailer, rose the most in the Dow, advancing 5.5 percent to $33.36.
"Retail sales numbers in the U.S. are quite strong and that's a positive for stocks," said David Abella, a money manager at Rochdale Investment Management LLC in New York, which has $3 billion under management. "The news out of the U.S. seems to be slowly improving."
Overweight Financials
Financial stocks climbed 2.6 percent, the most among 10 industries in the S&P 500. Goldman Sachs upgraded the group to "overweight," the first positive recommendation since 2008, as strong economic growth, higher stock prices and a helpful interest rate environment will help financial services companies, the bank's U.S. portfolio strategy team wrote in a note to investors yesterday.
Bank of America, the largest U.S. lender, climbed 3.5 percent to $11.68, and JPMorgan Chase, the second-biggest U.S. bank by assets, rose 3 percent to $39.31. Marshall & Ilsley Corp. gained 12 percent, the most in the S&P 500, to $5.48.
Sprint Nextel Corp., the third-largest U.S. mobile phone carrier, gained 2.4 percent to $3.86. Clearwire Corp., the high- speed wireless network carrier 54 percent owned by Sprint, said it plans to sell at least $1.1 billion of debt after saying last month it may not have enough funding to keep operating. Clearwire tumbled 13 percent to $5.90.