Home Prices to Drop 10%, LibreMax's Lippmann Says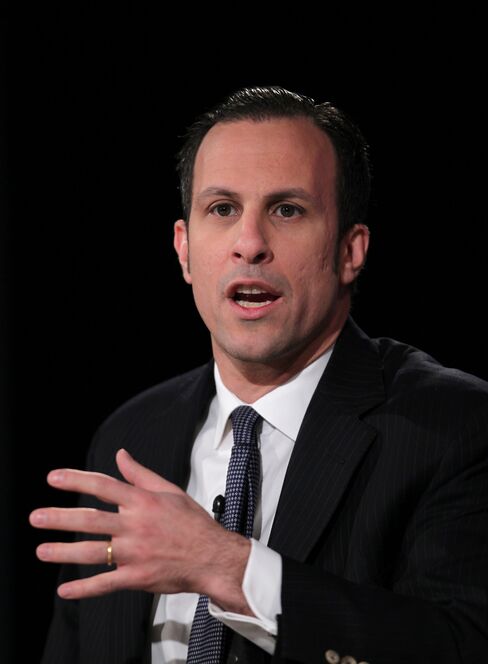 Dec. 2 (Bloomberg) -- U.S. home prices will drop an additional 10 percent, according to Greg Lippmann, a founder of hedge fund LibreMax Capital LLC and former Deutsche Bank AG trader who gained fame for his bets against subprime-mortgage securities.
While buyers of home-loan securities are anticipating the decline, investors in other markets aren't pricing in the potential drop, Lippmann said today at the Hedge Funds New York Conference hosted by Bloomberg Link. As a result, mortgage debt that has soared in price this year is still cheaper relative to high-yield, high-risk corporate bonds, he said.
"If housing prices go down 10 percent, the mortgage market is going to do fine because that's what is priced in," Lippmann said. "Broader markets aren't pricing in housing down another 10 percent."
Lippmann focused his hedge fund's buying on subprime-mortgage debt in October, its first month, according to an investor letter. He especially favors older bonds from 2002 and 2003 because the underlying borrowers still have equity in their homes. The fund gained about 1.67 percent in October as it invested 44.4 percent of its portfolio in bonds backed by subprime loans to borrowers with the worst credit.
The 41-year-old bond trader started New York-based LibreMax Capital, which oversees about $400 million of assets, with Fred Brettschneider, the former head of global markets in the Americas at Deutsche Bank. The two departed the German lender this year.
Homeowner Delinquencies
As homeowner delinquencies soared in 2007, Lippmann's team made almost $2 billion for Deutsche Bank wagering against subprime debt through credit-default swaps, according to "The Greatest Trade Ever" (Broadway Books) by Greg Zuckerman. The trader also battled others at his company to hold and expand the bets against residential real estate, according to the book and Michael Lewis's "The Big Short" (Norton/Allen Lane).
Home prices around 20 large U.S. cities fell almost 32 percent from their 2006 peak before bottoming in May 2009, according to an S&P/Case-Shiller index. The gauge dropped 0.8 percent in September from the prior month after adjusting for seasonal variations.
Home Sales Rebound
An index of pending home resales jumped a record 10 percent in October after dropping 1.8 percent in September, the National Association of Realtors said today in Washington. The median forecast in a Bloomberg News survey called for a 1 percent decrease. The group's data go back to 2001.
"The housing market clearly is in a recovery phase and will be uneven at times, but the improving job market and consequential boost to household formation will help the recovery process going into 2011," Lawrence Yun, NAR's chief economist, said in a statement. "But activity needs to improve further to reach healthy, sustainable levels."
At today's Bloomberg Link conference, Whitney Tilson, founder of the hedge fund T2 Partners LLC, called housing a "wildcard" that could disrupt an otherwise slow, steady economic recovery.
"The real problem is you have $500 billion of second liens held by the four big banks," he said. Those need to be written down so lenders can forgive a portion of the principal due on first mortgages and prevent foreclosure on the 11 million, or 20 percent, of mortgages in default or at serious risk, Tilson said.
Paulson, Bass
Lippmann was part of a group of Wall Street traders who created standardized default-swap contracts that made it easier for hedge funds including John Paulson's Paulson & Co. and Hayman Advisors LP to bet against housing. Paulson and Hayman, run by Kyle Bass, were among investors who later began buying mortgage bonds at beaten-down prices.
After the traders created the contracts, Deutsche Bank paid $429 million in January 2007 to buy MortgageIT, a home lender specializing in Alt-A mortgages. Those loans are a step up from subprime whose default rates have also climbed. The Frankfurt-based bank, which later shuttered the unit, has suffered $20.9 billion of writedowns and credit losses since that month, according to data compiled by Bloomberg.
Almost 41 percent of subprime mortgages packaged into bonds are at least 30 days delinquent, Bloomberg data show. Investors need to be prepared for a variety of responses by policymakers, from foreclosure moratoriums to new loan-modification programs, Lippmann said today.
Foreclosure Moratoriums
"When we're constructing our portfolio we're constantly looking for ways to hedge that governmental risk," he said. For instance, purchasing bonds that benefit from one type of plan and others that would gain from alternative proposals, he said.
There are few opportunities to make investments similar to the 2006 and 2007 bets against the subprime market, which offered potentially large gains at little cost, Lippmann said.
"It's something we're always on the look-out for," he said. "It would never be more than 10 percent of our books, but today it's less than 1 percent."
A Markit ABX index of credit-default swaps tied to 20 subprime-loan bonds rated AAA when created in the second half of 2006 has climbed almost 33 percent this year, according to administrator Markit Group Ltd. An increase generally indicates less pessimism about the value of subprime debt.
The index's levels are typically similar to the prices being paid for the underlying securities in cents on the dollar. The index rose to 56.08 yesterday after falling as low as 28.46 in April 2009.
High-yield, or junk, company bond prices, meanwhile, have risen 5.3 cents to 100.78 cents on the dollar this year, according to Bank of America Merrill Lynch index data. The debt, ranked below Baa3 by Moody's Investors Service and less than BBB- by Standard & Poor's, has climbed from 54.8 cents in December 2008.
To contact the reporters on this story: Jody Shenn in New York at jshenn@bloomberg.net; Erik Schatzker in New York at eschatzker@bloomberg.net
To contact the editors responsible for this story: Alan Goldstein at agoldstein5@bloomberg.net;