Spain Auctions EU2.5 Billion of Debt; Bonds Gain After Sale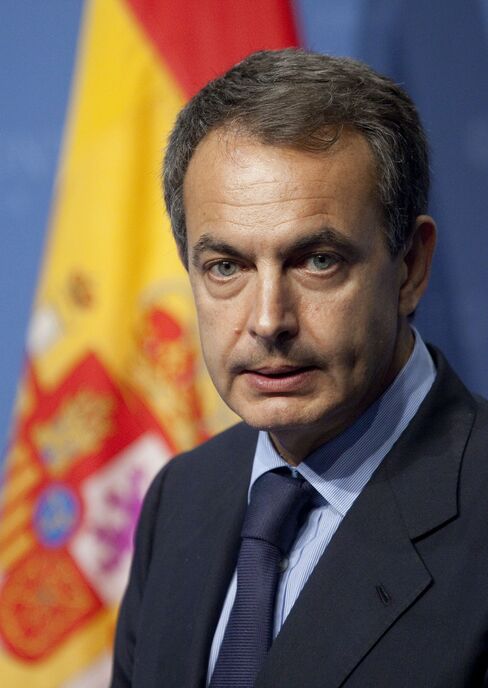 Spain sold 2.5 billion euros ($3.3 billion) of notes as a surge in yields bolstered demand in the country's first bond auction since Ireland's bailout. Bond prices rose after the sale.
The Treasury sold the securities due in October 2013 today at an average yield of 3.717 percent, Bank of Spain data showed today, compared with a yield of 2.527 percent at the last sale on Oct. 7 and below the 3.937 percent for the same bond in secondary markets before the auction. Demand was 2.27 times the amount sold, compared with a bid-to-cover of 2.16 at the October sale. The indicative range for the sale was 1.75 billion euros to 2.75 billion euros.
The auction is Spain's first since the Nov. 28 decision by European finance chief to bail out Ireland and open the way for bondholders to contribute to the cost of future rescues prompted the worst slump in Spanish bonds in the euro's lifetime. Faced with higher borrowing costs, Spain reduced the size of today's auction as Finance Minister Elena Salgado said the country was already financed to the end of the year.
"The bid to cover of 2.27 is a great relief," said Peter Chatwell, a fixed income strategist at Credit Agricole in London. "An auction as strong as this would have been inconceivable a few days ago, so let's hope the ECB meets expectations this afternoon."
The yield on the three-year note fell to 3.91 percent at 10:45 a.m. and the extra yield investors demand to hold Spanish 10-year debt rather than German equivalents declined to 238.4 basis points, compared with 250.9 basis points yesterday and an intraday euro-era high of 298 basis points on Nov. 30. The euro strengthened 0.3 percent to $1.318.
Spanish bonds rose for a second day on speculation the European Central Bank may take new measures to stem the sovereign debt crisis at its monthly meeting. ECB President Jean-Claude Trichet holds a news conference at 2:30 p.m. today in Frankfurt.
They also rallied after Prime Minister Jose Luis Rodriguez Zapatero stepped up his efforts to win over investors, saying the government will sell stakes in the state lottery and airport operator. The Socialist government will also let an extra jobless subsidy created last year to expire in February, he told lawmakers. The measures, which also include tax cuts for small and medium-sized companies, will be approved by the Cabinet tomorrow.