Rapper Eminem Leads Grammy Nominations With 10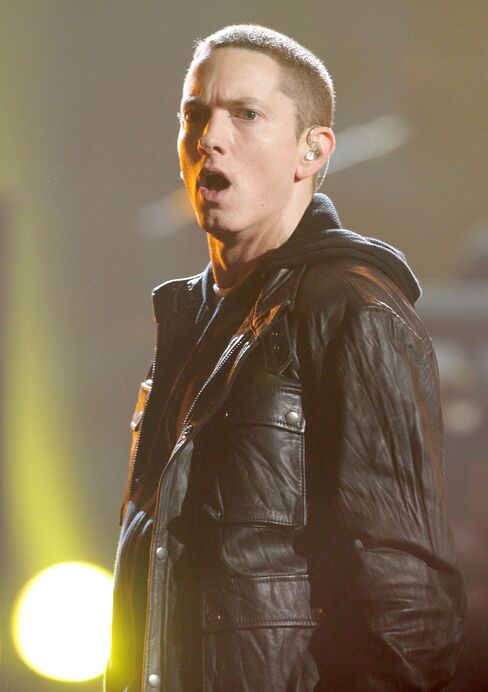 Eminem received 10 Grammy nominations, the most of any artist, including album of the year for "Recovery," which has sold more than 3 million copies.
The 38-year-old rapper, who records for Universal Music Group's Interscope Records, is also a finalist for best song of the year, record of the year and best rap solo performance, the Recording Academy announced yesterday on a CBS Corp. telecast.
Bruno Mars received seven nominations, including two in the record-of-the-year category. Mars, Katy Perry and Justin Bieber performed on the one-hour program, which was hosted by rapper and actor LL Cool J. Exposure from award shows like the Grammys can propel album sales, Laura Martin, an analyst with Needham & Co. in Pasadena, California, said in an interview.
"These big platforms still have a lot of value and drive sales through sampling and discovery," Martin said. "Being nominated or performing on one of these shows can sometimes be as good as actually winning."
The show's audience last night fell 20 percent to 5.1 million viewers compared with last year's program, which drew 6.3 million, New York-based CBS said today in an e-mailed statement, citing Nielsen Co. data. The awards will be handed out at the Grammy Awards show on Feb. 13, which will also air on CBS, the Recording Academy said in a statement.
Mars, the 25-year-old R&B performer, writer and producer who records for Warner Music Group Corp.'s Elektra label, was nominated in the record-of-the-year category for "Nothin' on You" with rapper B.o.B, and as part of the producing team for Cee Lo Green's "F*** You" -- also a song-of-the-year nominee. Record of the year recognizes a track's artists, engineers and producers, while song of the year credits songwriters.
Three artists received six nominations: pop singer Lady Gaga, hip-hop impresario Jay-Z, and country group Lady Antebellum.
Lady Gaga
Lady Gaga, whose given name is Stefani Germanotta, was nominated for album of the year for "The Fame Monster," and for best female pop vocal performance for "Bad Romance." The 24-year-old singer, signed to Vivendi SA's Universal Music, has sold 1.35 million copies of "The Fame Monster," released in November 2009, according to data from Nielsen Soundscan.
Jay-Z's collaboration with Alicia Keys for "Empire State of Mind" and Lady Antebellum's "Need You Now" were nominated for record of the year, along with "Love the Way You Lie," by Eminem featuring Rihanna, and the Cee Lo and B.o.B entries.
Eminem, born Marshall Mathers III, has won 11 Grammys, including best rap album for "Relapse" in 2009, 1999's "The Slim Shady LP" and "The Marshall Mathers LP" in 2000.
"Recovery," released in June, will compete for album of the year with "The Suburbs," from Arcade Fire, "Need You Now," "Fame Monster" and "Teenage Dream," from Katy Perry.
Teen Star
Bieber, the teen star who gained prominence on Google Inc.'s YouTube, was nominated for best new artist, along with the rapper Drake, rock bands Florence & the Machine and Mumford & Sons, and jazz artist Esperanza Spalding.
Artists who released albums between Sept. 1, 2009 and Sept. 30, 2010 are eligible for the 53rd annual Grammys. Ballots are due Jan. 12, when they will be tabulated ahead of the awards show, according to the Recording Academy.
NOMINEES IN TOP CATEGORIES:
ALBUM OF THE YEAR: * The Suburbs -- Arcade Fire * Recovery -- Eminem * Need You Now -- Lady Antebellum * The Fame Monster -- Lady Gaga * Teenage Dream -- Katy Perry
RECORD OF THE YEAR: * Nothin' On You -- B.o.B featuring Bruno Mars * Love the Way You Lie -- Eminem featuring Rihanna * F*** You -- Cee Lo Green * Empire State of Mind -- Jay-Z & Alicia Keys * Need You Now -- Lady Antebellum
SONG OF THE YEAR: * Beg Steal or Borrow -- Ray LaMontagne, songwriter (performed by Ray LaMontagne and the Pariah Dogs) * F*** You -- Cee Lo Green, Philip Lawrence & Bruno Mars, songwriters (performed by Cee Lo Green) * The House That Built Me -- Tom Douglas & Allen Shamblin, songwriters (performed by Miranda Lambert) * Love the Way You Lie -- Alexander Grant, Skylar Grey & Marshall Mathers, songwriters (performed by Eminem featuring Rihanna) * Need You Now -- Dave Haywood, Josh Kear, Charles Kelley & Hillary Scott, songwriters (performed by Lady Antebellum)
BEST NEW ARTIST: * Justin Bieber * Drake * Florence & the Machine * Mumford & Sons * Esperanza Spalding