Qatar to Stage 2022 World Cup, First Arab Host of Tournament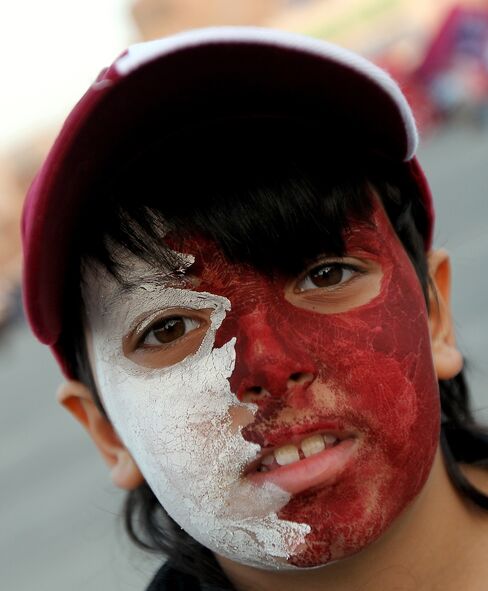 Qatar will host the 2022 World Cup, overcoming concerns about high temperatures and lack of infrastructure to become the first Arab country to hold the most-watched sporting event.
Soccer ruling body FIFA announced the decision in Zurich today. The U.S., Australia, Japan and South Korea were the unsuccessful candidates. Russia was chosen to host the 2018 edition. The U.S. estimates that the tournament is worth $5 billion to the hosts.
Qatar, projected by the International Monetary Fund to have the world's fastest-growing economy this year, plans to more than double the number of hotel rooms, build nine stadiums and refurbish three others and construct a rail and metro network for the tournament.
"It will probably be the fastest-growing economy in the world for a sustained period," said Akber Khan, a director at Al Rayan Investment in Doha. The World Cup "will significantly accelerate massive infrastructure building in Qatar."
Last month the gas-rich Persian Gulf state was the only candidate country that FIFA inspectors ranked "high" in overall operational risk, since it still needs to build most of its accommodation and facilities. The inspectors also noted that Qatar's summer temperatures could pose a health risk to players, officials and spectators.
Holder of the world's third-largest gas reserves, Qatar is using petroleum wealth to transform itself into a sports and cultural capital with plans to invest $100 billion on infrastructure projects in the next four years, Finance Minister Yousef Hussain Kamal said in June.
Building, High Temperatures
The country plans to spend $4 billion on the stadium construction and refurbishment program. With summer temperatures approaching 50 degrees Celsius (122 Fahrenheit), each facility will be designed with a solar-powered air-conditioning system.
The country plans to build a rail and metro network, costing more than $25 billion, in Doha and extending to cities outside the capital. It's also planning the longest bridge in the world to connect to the nearby island kingdom of Bahrain, and aims to open a new airport next year.
A new 200,000-population city called Lusail, north of the capital, is scheduled to be built over the next decade and will feature the stadium that hosts the World Cup final.
Last month, FIFA suspended executive committee members Amos Adamu from Nigeria and Tahiti's Reynald Temarii, which reduced the decision-making body to 22 members. London's Sunday Times said Oct. 17 that the pair indicated they would trade cash for their support. They weren't replaced before the vote on who hosts the two World Cups after Brazil in 2014.
FIFA also said it didn't find enough proof of a reported pact between the Spain/Portugal and Qatar bids.
Before it's here, it's on the Bloomberg Terminal.
LEARN MORE