Stocks Will Be Higher in Year, Birinyi, Cooperman Say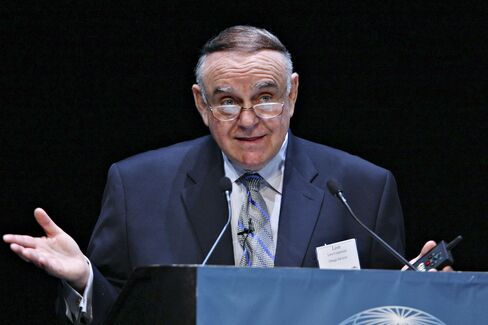 U.S. equities will advance about 9 percent during the next year because earnings are rising and valuations are below historical levels, according to money managers Leon Cooperman and Laszlo Birinyi.
"The economy's fine, the stock market's fine," Cooperman, who helps oversee more than $5 billion as chief executive officer of hedge fund Omega Advisors Inc., said at the "Hedge Funds New York" conference hosted by Bloomberg Link. "The stock market will be higher if we came back a year from now."
After an 81 percent rally in the Standard & Poor's 500 Index since a 12-year low in March 2009, Cooperman said equities are more attractive than bonds even as economic growth is curbed by debt repayments. His fund gained 54 percent in 2009 and is up about 19 percent so far for 2010, outperforming the benchmark for U.S. stocks in both years.
The S&P 500 has rebounded 19 percent from its 2010 low reached in July, as the Federal Reserve signaled a commitment to support the world's largest economy and more companies beat earnings estimates for a record sixth straight quarter. The benchmark gauge trades at a price-earnings ratio of 15.3, below the 20-year average of 20.6 in data compiled by Bloomberg.
Low Valuations
Birinyi, president and founder of Westport, Connecticut-based Birinyi Associates Inc., said the U.S. equity gauge will climb to 1,333 next year, and added that large-cap companies are good investments because of their cheap valuations.
"The opportunities to make money are significant," Biriyni, whose firm advised clients to buy stocks when the S&P 500 began rising in March 2009, said at today's conference.
The S&P 500 gained 1.3 percent to 1,221.53 at 4 p.m. today in New York, adding to the biggest rally in three months, as corporate sales beat estimates and European policy makers extended an emergency loan program.
Investors should put money in stocks instead of cash, government bonds or high-yield corporate bonds, which have lower-than-average yields, Cooperman said. The Fed has held the benchmark lending rate at a record low of zero to 0.25 percent since December 2008.
"To me, it's easy," he said. "Common stocks win by default." Cooperman said he'd short government bonds if the Fed hadn't started a second round of quantitative easing.
Rising Profits
Earnings are poised for their best annual performance since 1988, with analysts forecasting 37 percent growth this year. They estimate next year will see a 14 percent increase, according to projections compiled by Bloomberg News.
Since Fed Chairman Ben S. Bernanke's Aug. 27 speech, the S&P 500 has gained 15 percent. The Fed announced a plan last month to buy $600 billion in bonds through June to boost the economy, adding a second round of so-called quantitative easing since the financial crisis began in 2008.
Birinyi's forecast for the S&P 500 next year is "probably reasonable," said Cooperman, 67. The benchmark should reach 1,215 by the end of this year, according to the average forecast of 11 strategists surveyed by Bloomberg. Of those who have given 2011 estimates, the projection for next year is for the index to reach 1,337.
Before it's here, it's on the Bloomberg Terminal.
LEARN MORE