Israel Seeks Help From Abroad for Out-of-Control Fire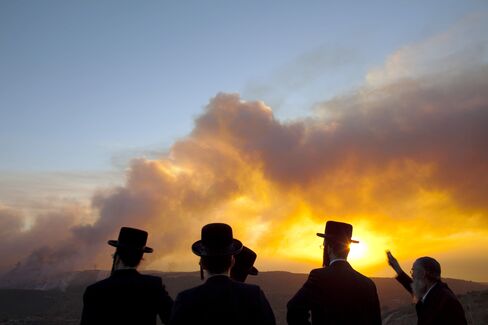 Israel called on its allies to send firefighting equipment as a forest blaze burned out of control near the port city of Haifa, killing about 40 people and forcing the departure of 12,000 people from northern towns and villages.
Greece, Spain, Croatia, Turkey, France, Russia, Azerbaijan, Cyprus, the U.K., Egypt and Romania said they would send aircraft, Prime Minister Benjamin Netanyahu's office said. All of Israel's firefighters have been mobilized, department spokesman Hezi Levi said on Army Radio, calling the blaze the worst in the country's history. The army dispatched firefighters, equipment and hundreds of soldiers.
"This is a disaster of unprecedented proportions," Netanyahu said. The Cabinet will meet today to discuss measures to deal with the blaze, he said.
U.S. President Barack Obama, at a White House ceremony to celebrate the Hanukkah holiday, began by "offering our deepest condolences to the families and loved ones" of the victims of the fire and pledged aid to help fight it.
The fire began around midday yesterday in the Carmel hills outside of Haifa, home to 266,000. The exceptionally dry summer created conditions that allowed the flames to spread quickly, said Salman Abu Rukun, an employee of the Israel Nature and National Parks Protection Authority. Shimon Koren, Israeli police northern district commander, said the possibility that negligence or arson started the blaze was being investigated.
Lack of Retardant
The fire department ran out of flame retardants yesterday after two months of fighting blazes, Levi said. Staff were flying to France to bring back more, he said.
"This reinforces the sense of vulnerability of a small country that doesn't have the resources to deal when something major like this happens," said Gerald Steinberg, a political scientist at Bar Ilan University outside Tel Aviv.
More than 12,000 people were asked to leave their homes on the southern outskirts of Haifa, police spokesman Micky Rosenfeld said by phone. A neighborhood in Haifa was also being evacuated, he said. The army cleared out of a base in the north, an army spokesman said by phone, speaking anonymously by regulation.
"I prefer that people not be at home or in bed for one night but enjoy the rest of their lives," Netanyahu said.
Foreign Assistance Needed
There is little chance of stopping the blaze without assistance from abroad, Levi said on Army Radio, describing the fire as the worst since Israel was founded in 1948.
"We have to get ready for a long fight and I am not talking about hours, I am talking about days," he said. "We were not prepared for such a large and cruel blaze. We never had such a fire of these proportions, so strong, with so many dead and wounded."
Netanyahu instructed his staff to request firefighting help from all of Israel's allies, according to a text message to journalists.
Most of the dead were caught in a bus carrying prison guards, Prison Authority spokesman Yaron Zamir said on Army Radio. The guards were on their way to help evacuate a prison endangered by the flames, Rosenfeld said.
"The flames engulfed the bus and those who tried to escape were burned alive," fireman Dudu Vanunu told Channel 2 television.
Television stations broadcast footage of the mangled, gray skeleton of the bus. Flames shooting above the tops of trees could be seen.
About 40 people were killed in the blaze, according to Moti Bukjin, spokesman for the Zaka rescue service, and Public Security Minister Yitzhak Aharonovitch.
Before it's here, it's on the Bloomberg Terminal.
LEARN MORE