European Exports, Investments Hold Back Expansion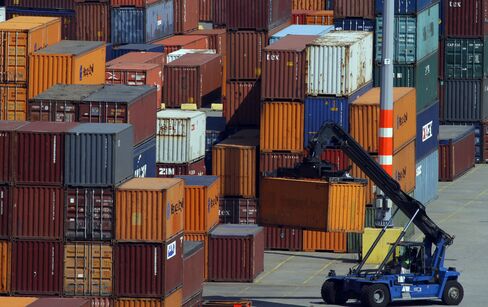 European export growth slowed and investment stagnated in the third quarter, countering a gain in consumer demand and curbing an economic expansion.
Exports from the 16-member euro region rose 1.9 percent from the second quarter, when they increased 4.3 percent, the European Union's statistics office in Luxembourg said today. Investment stalled after rising 1.7 percent in the second quarter, while spending growth by consumers accelerated to 0.3 percent from 0.2 percent. Gross-domestic-product growth eased to 0.4 percent from 1 percent.
Europe's economic expansion is cooling as authorities struggle to halt a sovereign-debt crisis, which forced the Irish government to seek external help last month. The European Central Bank, which will probably keep its benchmark interest rate unchanged at a record low today, is under pressure to aid governments' efforts to stem the turmoil.
There's some "moderate encouragement" that the recovery is becoming a "touch more broad-based," said Jonathan Loynes, chief European economist at Capital Economics Ltd. in London. "While the economy appears to be weathering the sovereign debt crisis reasonably well for now, there are still good reasons to be concerned about the outlook over the coming quarters."
The euro was little changed after the report, trading at $1.3184 at 12:05 p.m. in Frankfurt, from $1.3139 yesterday.
Divergence
Government-spending growth accelerated to 0.4 percent in the third quarter from 0.1 percent, today's report showed. Imports increased 1.7 percent, slowing from a 4.2 percent pace. There was no contribution to GDP from inventories after they added 0.4 percentage points in the previous three months.
From a year earlier, euro-area GDP rose 1.9 percent, after increasing a revised 2 percent in the second quarter. The statistics office had previously reported an annual GDP gain of 1.9 percent in the second quarter. A separate report showed producer-price inflation accelerated to 4.4 percent in October from 4.3 percent. In the month, prices rose 0.4 percent.
The GDP data adds to signs of increasing divergence within the euro area. German GDP increased 0.7 percent from the second quarter, when it surged a record 2.3 percent, while growth in France slowed to 0.4 percent from 0.7 percent. Italy's expansion eased to 0.2 percent from 0.5 percent.
In Spain, the economy stalled in the third quarter and Greece's economy contracted 1.1 percent. The statistics office didn't publish data for Ireland. Reports yesterday showed manufacturing strengthened in Germany and France in November, while it stagnated in Spain and shrank in Greece.
Turmoil
Ireland's 85 billion-euro ($112 billion) aid package has failed to quell market turmoil as investors shift attention to other nations. ECB President Jean-Claude Trichet, who holds a press conference at 2:30 p.m. in Frankfurt, said on Nov. 30 that observers tend to "underestimate the determination of governments" to restore euro-region stability.
The ECB may be "forced to increase its programs substantially" to help ease the debt crisis, said Juergen Michels, chief euro-region economist at Citigroup Inc. in London. "The existing measures are unlikely to be sufficient to solve the problems in the periphery," he said.
The ECB, which has purchased government bonds to fight the crisis and provides banks with unlimited liquidity into early 2011, will also publish new economic forecasts for this year and next after its meeting today.
Concern about governments' ability to push down mounting debts sparked an 8 percent drop by the euro against the dollar this year, helping to boost exports. Porsche SE, the maker of the 911 sports car, said on Nov. 24 that operating profit surged more than sevenfold. L'Oreal SA, the world's largest cosmetics maker, said on Oct. 21 that third-quarter sales jumped 15 percent, beating analyst estimates, partly on a weaker euro.
"The euro will be defended at all costs," said Jan Poser, chief economist at Bank Sarasin in Zurich. "Paradoxically, the weak euro will not lead to the failure of euroland, but will raise growth in core countries, which will help to pull the European periphery out of its debt hole."