Desire Falkland Oil Find May Fan U.K., Argentina Feud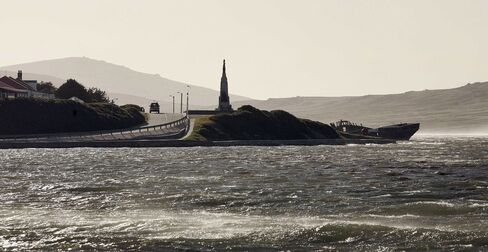 Desire Petroleum Plc, the U.K. energy explorer, said a well off the Falkland Islands made the region's second discovery this year, threatening to reignite a diplomatic dispute between the U.K. and Argentina.
In May, Rockhopper Exploration Plc made the first potentially commercial find around the South American islands 8,000 miles from the U.K. that Prime Minister Margaret Thatcher went to war to defend in 1982. Argentina still claims sovereignty and is protesting the drilling by forbidding vessels to load cargo at its ports, while the Falkland Islands has said no Argentine company will be given a license there.
"The more successes that happen, the greater the prize and the more that diplomatic tensions will rise," said Peter Hitchens, an analyst at Panmure Gordon & Co. in London. Desire's discovery "has proved up another play in the area and it could become a major hydrocarbon zone."
Desire shares jumped 26 percent after the company said drilling at the Rachel North well encountered 57 meters of net pay in multiple zones at a depth of 3,052 meters (10,000 feet). Desire will now complete logging and sampling to analyze its quality and significance, it said.
The shares closed at 132.25 pence in London. Rockhopper, which owns a 7.5 percent interest in the well, jumped 8 percent and Argos Resources Ltd., another explorer in the islands, climbed 9 percent.
'Highly Prospective'
"This discovery, combined with Rockhopper's Sea Lion discovery, confirms our belief that the eastern flank play fairway in the North Falkland Basin is highly prospective and that further oil fields will be discovered in this area," Stephen Phipps, chairman of Malvern, England-based Desire, said in a statement.
Desire's Rachel discovery may yield about 50 million barrels of recoverable oil, which would make it "borderline commercial," Panmure Gordon's Hitchens. "It's not a slam-dunk like we've seen with Rockhopper."
Speculation about new strikes, as well as several disappointing wells, have given Desire and Rockhopper the largest average daily price moves in the last 180 days among U.K.-traded companies valued at more than 100 million pounds ($156 million). The U.S. Geological Survey says the islands' waters may hold 4 billion barrels of oil.
Desire, Argos and Salisbury, England-based Rockhopper are focusing on the northern side of the islands, while Borders & Southern Petroleum Plc and Falkland Oil & Gas hold licenses in a different geological formation on the southern side.
More Drilling
Borders & Southern said this week that it signed a contract with Ocean Rig UDW Inc. to provide drilling rigs. Falkland Oil & Gas has plans drill two prospects early next year, subject to rig availability.
The summer drilling season in the Falklands runs from October to April. Desire plans to drill two more wells this year, and Rockhopper holds a 7.5 percent interest in both.
Diamond Offshore Drilling Inc., the largest U.S. deep-water oil driller, has offered Rockhopper the Ocean Guardian semi-submersible rig for three wells and possibly five extensions.
Before it's here, it's on the Bloomberg Terminal.
LEARN MORE