Oil Surges to Two-Year High as ECB Delays End of Stimulus Plan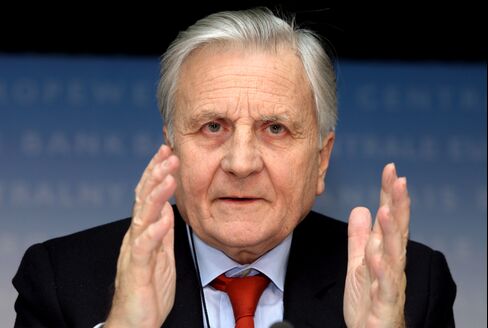 Dec. 2 (Bloomberg) -- Crude rose to a two-year high after European Central Bank President Jean-Claude Trichet said the bank will delay its withdrawal of stimulus measures and pending sales of existing U.S. homes jumped by a record amount.
Oil climbed 1.4 percent and the dollar dropped against the euro after Trichet said the ECB will keep offering banks as much cash as they want through the first quarter. The number of Americans signing contacts to buy previously owned homes increased 10 percent in October, the National Association of Realtors said today in Washington.
"The dollar's drop is giving the market support," said Peter Beutel, president of Cameron Hanover Inc., a trading-advisory company in New Canaan, Connecticut. "There's an inverse correlation between the dollar and oil, and we're seeing it at work today."
Crude oil for January delivery rose $1.25 to $88 a barrel on the New York Mercantile Exchange, the highest settlement since Oct. 8, 2008. Futures are up 15 percent from a year ago.
Brent crude oil for January settlement increased $1.82, or 2 percent, to end the session at $90.69 a barrel on the London-based ICE Futures Europe exchange. It was the highest close since Oct. 1, 2008.
The ECB will keep offering banks unlimited loans through the first quarter over periods of seven days, one month and three months. That marks a shift from last month, when Trichet said that the ECB could start limiting access to its funds.
'Uncertainty is Elevated'
"Uncertainty is elevated," Trichet told reporters after the ECB's Governing Council left its benchmark interest rate at 1 percent today. "We have tensions and we have to take them into account."
The Standard & Poor's 500 Index advanced 1.2 percent to 1,220.26 at 3:25 p.m. in New York and the Dow Jones Industrial Average climbed 0.9 percent to 11,356.51. The dollar declined 0.6 percent to $1.3216 per euro from $1.3139 yesterday. The Thomson Reuters/Jefferies CRB Index of 19 commodities increased 1 percent to 312.1, the highest level since Nov. 11.
"The dollar has been a major contributory factor and also some of the economic data," said Jason Schenker, president of Prestige Economics LLC, an Austin, Texas-based energy consultant. "We have non-farm payrolls out tomorrow, and that's going to be very important."
The number of applications for jobless benefits averaged 431,000 a week over the month ended Nov. 27, the lowest level since August 2008, Labor Department figures showed today in Washington. The department may report tomorrow that employers added 150,000 workers last month and the unemployment rate held at 9.6 percent, according to a Bloomberg News survey.
Retail Sales
U.S. November retail comparable store sales rose 5.3 percent versus a 3.5 percent estimate, Ken Perkins, president of Swampscott, Massachusetts-based Retail Metrics, said in an interview.
Oil "is being moved around by macro issues more than by supply and demand," said Adam Sieminski, chief energy economist at Deutsche Bank in Washington.
Along with the gain in oil gasoline surged to the highest level since May after stockpiles in the U.S. Northeast fell. Inventories along the East Coast declined 1.8 percent last week, an Energy Department report showed yesterday. Irving Oil Corp. said that it shut a unit at its Saint John refinery in New Brunswick, which supplies New York Harbor, the delivery point for the Nymex contract.
"The cash market in New York Harbor is trading at a premium to Nymex futures and pulling crude oil higher," said Hamza Khan, an analyst with Schork Group Inc., a consulting company in Villanova, Pennsylvania. "Today's rally actually has a fundamental basis."
Gasoline Rally
Gasoline for January delivery gained 5.49 cents, or 2.4 percent, to $2.3553 a gallon in New York, the highest settlement since May 3. Reformulated gasoline blendstock, or RBOB, for prompt delivery in New York Harbor rose 4.81 cents, or 2 percent, to $2.4185.
Crude oil supplies climbed 1.07 million barrels to 359.7 million in the week ended Nov. 26, the report showed. Stockpiles at Cushing, Oklahoma, the delivery point for New York futures, increased 910,000 barrels to 34.5 million.
Oil volume on the Nymex was 632,452 contracts as of 3:17 p.m. in electronic trading in New York. Volume totaled 621,347 contracts yesterday, 11 percent below the average of the past three months. Open interest was 1.36 million contracts.
To contact the reporter on this story: Mark Shenk in New York at mshenk1@bloomberg.net
To contact the editor responsible for this story: Dan Stets at dstets@bloomberg.net