Bridgestone Aims to Halve Rubber Use by 2020 on Record Prices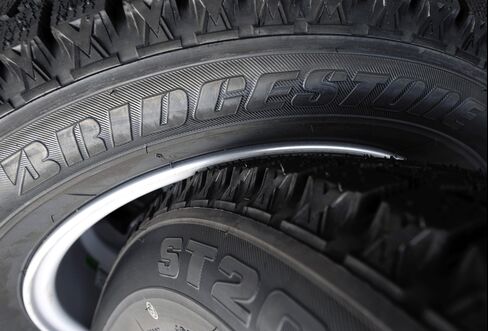 Dec. 2 (Bloomberg) -- Bridgestone Corp., the world's largest tiremaker, expects to cut rubber consumption by 50 percent in the next decade after prices more than quadrupled to a record from their 2008 low.
Technology being developed will halve use of natural and synthetic rubber in each Bridgestone tire without affecting product quality, Masayuki Ishii, general manager at the corporate communications division, said in an interview.
Bridgestone, Michelin & Cie. and Goodyear Tire & Rubber Co. are seeking to control costs after the price of rubber used in tires soared because of floods in Thailand, the top producer, and growing demand in China, the biggest user. Tokyo-based Bridgestone raised U.S. prices last month for the third time this year. The group may struggle to pass on costs in deflation-hit Japan, said Satoru Takada from research company TIW Inc.
"The company is moving in the right direction by reducing risks from raw materials as world auto demand keeps expanding, buoying prices," said analyst Takada in Tokyo. "Other tiremakers will probably follow suit," he said.
Michelin's full-year expenses will rise by 600 million euros to 650 million euros because of higher raw-material costs, the company said in October. Goodyear, the largest U.S. tiremaker, expects raw-material costs to jump 35 percent for the fourth quarter. Rich Kramer, the chief executive officer, said he is "aggressively pursuing" synthetic rubber options.
Usage Cut
Bridgestone's new technology will reduce the amount of all tire materials, including natural and synthetic rubber, incrementally over 10 years without cutting performance, Ishii said, declining to elaborate.
The company will use 1.77 million metric tons of natural and synthetic rubber for tire production this year, up 24 percent from 2009. Of the total, 1.23 million tons, or 69 percent, is for output overseas, he said.
"It's quite reasonable to cut the use of raw materials as they become expensive," Ishii said in Tokyo on Nov. 30. "Our company has the technological ability to realize that." Company President Shoshi Arakawa wants to achieve the 50 percent cut in less than 10 years, he said.
Natural rubber represented 28.9 percent of tire weight in Japan last year, while its synthetic rival accounted for 21.4 percent, according to the Japan Automobile Tyre Manufacturers Association. Bridgestone's use of natural rubber is larger than the industry average as it produces more heavy-vehicle tires, said public relations manager Kaoru Tomizawa.
Wider Deficit
Global consumption of natural rubber will outstrip supply by 313,000 tons this year, the most since 2006, Goldman Sachs Group Inc. predicted in a November report, revising its September outlook for an 82,000-ton deficit.
Goldman Sachs raised its price forecast to $4.40 per kilogram next year from $3.60, and to $4.60 per kilogram in 2012 from $3.80, the report said. Rubber for July delivery gained 0.9 percent to $4.405 a kilogram in Singapore today. The most-active contract climbed to a record $4.489 on Nov. 11, more than four times the low of $1 in December 2008.
"Supply is unlikely to grow substantially at this stage due to falling yields as trees age as well as the fact that many farmers are shifting from rubber into palm oil," Yuichiro Isayama and three other Goldman Sachs analysts said. "We're not expecting supply to increase by a significant degree until 2013-2014, when trees planted in 2006-2007 start to contribute."
China's Demand
Global tire shipments will keep increasing as economic expansion and income growth, especially in Asia, boosts vehicle sales, Bridgestone Director Yujiro Kanahara said in the same interview. World demand for passenger car tires may grow 20 percent by 2015 from last year, while demand for truck and bus tires will expand by 50 percent, he said.
Growth in China will be faster than other markets in the next five years with the company expecting an 80 percent expansion in tire demand, Kanahara said. India will grow at the second-fastest pace of 50 percent for passenger car tires.
China's passenger-car sales rose at the fastest pace in six months in October as government incentives for fuel-efficient cars boosted buying in the world's largest market. Wholesale deliveries of cars, sport-utility vehicles and multipurpose vehicles increased 27 percent from a year earlier to 1.2 million, according to the China Association of Automobile Manufacturers.
May-delivery rubber on the Tokyo Commodity Exchange gained 2.2 percent to 371.3 yen per kilogram ($4,416 a ton) at 1:50 p.m. local time. The price for the most-active contract reached a 30-year high of 383 yen on Nov. 11.
Bridgestone operates 47 tire plants worldwide. The company held a 16.2 percent share in the global tire market in 2009, followed by Michelin with 15.5 percent, according to Tire Business newspaper.
To contact the reporters on this story: Aya Takada in Tokyo at atakada2@bloomberg.net; Yasumasa Song in Tokyo at ysong9@bloomberg.net.
To contact the editor responsible for this story: James Poole at jpoole4@bloomberg.net