Asian Stocks Rise as U.S. Reports Boost Confidence in Recovery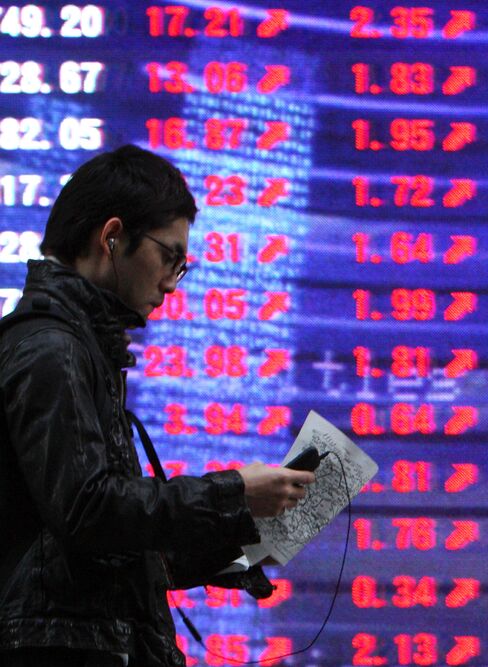 Asian stocks rose, with a regional benchmark index climbing the most in almost a month, after U.S. economic reports and speculation that Europe's debt crisis will be contained boosted confidence in a global recovery.
Canon Inc., a Japanese camera maker that derives about 80 percent of its revenue abroad, rose 2.5 percent in Tokyo after reports showed U.S. payrolls and manufacturing climbed. James Hardie Industries SE, the biggest seller of home siding in the U.S., jumped 6.2 percent in Sydney. BHP Billiton Ltd., the world's largest mining company, climbed 2.6 percent as oil and metal prices increased. Cnooc Ltd., China's biggest offshore oil producer, increased 3.2 percent in Hong Kong.
"The outlook for equities next year is optimistic as the macroeconomic picture is improving not just for the U.S. but also for China," said Michiya Tomita, Hong Kong-based fund manager for Mitsubishi UFJ Asset Management Co., which holds about $65 billion in assets. "The recent selling on concerns about monetary tightening in China and escalating tensions in the Korean peninsula seems excessive."
The MSCI Asia Pacific Index advanced 1.5 percent, the most since Nov. 4, to 131.73 as of 7:26 p.m. in Tokyo, with about four stocks rising for each that fell. The gauge is on course for its first weekly gain after declining for three straight weeks on concern China will boost anti-inflation measures and amid rising tensions between North and South Korea.
Australia's S&P/ASX 200 Index rose 2 percent, even after a government report showed that retail sales unexpectedly declined in October. Japan's Nikkei 225 Stock Average gained 1.8 percent, as the Finance Ministry said today in Tokyo today that Japanese companies increased spending for the first time in more than three years.
U.S. Data
Chinese power companies helped drive Hong Kong's Hang Seng Index and China's Shanghai Composite Index higher, while in Taipei, financial services and technology companies paced gains on Taiwan's Taiex Index.
Futures on the Standard & Poor's 500 Index climbed 0.4 percent today. The index surged yesterday in New York by 2.2 percent, the most since Sept. 1. A report from ADP Employer Services showed businesses added 93,000 workers to payrolls in November, more than the 70,000 expected by economists, based on the median of estimates compiled by Bloomberg.
Also in the U.S., the Institute for Supply Management said its factory index, a gauge of manufacturing, was little changed at 56.6 last month after a five-month high of 56.9 in October. A reading higher than 50 signals growth.
Debt Crisis
The Stoxx Europe 600 Index jumped 2 percent yesterday, the most since Sept. 1, amid speculation European Central Bank policy makers may step up measures to contain the region's government-debt crisis, and after a report yesterday showed China's manufacturing activity grew at the fastest pace in seven months in November.
"China's market has become more closely linked to the world economy," said Shen Nan, a strategist at Changjiang Securities Co. in Shanghai. "The improving U.S. data will help boost investors confidence and overall market performance."
Canon added 2.5 percent to 4,050 yen in Tokyo. Sony Corp., the Japanese maker of Bravia televisions that gets 70 percent of its sales abroad, rose 0.8 percent to 3,040. Honda Motor Co., a Japanese automaker that gets more than 40 percent of sales from North America, gained 1.8 percent to 3,135 yen.
The dollar appreciated to 84.40 yen last night in Tokyo, near the highest level since Sept. 27. A stronger dollar boosts the value of U.S. income at Japanese companies when converted into their home currency.
'Market Sentiment'
James Hardie jumped 6.2 percent to A$5.84 in Sydney, and Brambles Ltd., the world's biggest supplier of wooden pallets that gets about 45 percent of its sales from the America's, advanced 2.6 percent to A$7.02. Leighton Holdings Ltd., Australia's largest construction company, surged 3.4 percent to A$32.31 after its Theiss unit won a A$5.5 billion ($5.3 billion) contract to build and operate a coal mine for India's NTPC Ltd.
"We are seeing promising signs in the economy and market sentiment is improving globally," said Mitsushige Akino, who oversees about $450 million in assets in Tokyo at Ichiyoshi Investment Management Co. "Improving sentiment should boost money flow into risk assets."
The MSCI Asia Pacific Index increased 7.8 percent this year through yesterday, compared with gains of 8.2 percent by the S&P 500 and 5.2 percent by the Stoxx 600. Shares in the Asian benchmark were valued at 14.3 times estimated earnings on average at yesterday's close, compared with 14.2 times for the S&P 500 and 11.9 times for the Stoxx 600.
Material Stocks
A measure of material stocks tracked on the Asia Pacific gauge gained 1.9 percent after the London Metal Exchange Index of prices for six industrial metals including copper and aluminum climbed 2.6 percent yesterday, the most since Nov. 4.
BHP, also Australia's largest oil company, advanced 2.6 percent to A$44.33 in Sydney. Rio Tinto Group, the world's third-biggest mining company, climbed 2.3 percent to A$85.01. Woodside Petroleum Ltd., Australia's No. 2 oil and gas producer, gained 1.8 percent to A$42.05 after crude oil for January delivery jumped 3.1 percent to $86.75 a barrel in New York yesterday, the highest settlement price since Nov. 11. Cnooc gained 3.2 percent to HK$17.54 in Hong Kong.
Huaneng Power International Inc., China's largest electricity producer, rallied 6.8 percent to HK$4.42 in Hong Kong after China's state-run Xinhua News Agency said the government ordered a freeze in 2011 contract prices for coal used in power stations. Datang International Power Generation Co., the second biggest producer, gained 6.8 percent to HK$2.99.
Power Producers
Power-station coal prices under term contracts must be unchanged from 2010 levels, Xinhua reported yesterday, citing Cao Changqing, head of pricing at the National Development and Reform Commission. "Any form of price increase is not allowed," Cao was quoted as saying.
In Taipei, Wintek Corp. advanced 1.5 percent to NT$55 after the touch-panel maker said November revenue rose to NT$8.85 billion ($291 million) from NT$8.25 billion in October. Taiwan Semiconductor Manufacturing Co., the world's largest contract manufacturer of chips, increased 2.5 percent to NT$66.20 after chairman Morris Chang said he expects first-quarter sales to be stronger than the seasonal average.
First Financial Holding Co. led gains among the island's financial services companies, jumping 4.6 percent to NT$22.80 after Credit Suisse Group AG analysts wrote in a report today that they expect consumer banks to boost earnings next year.