Spain to Sell Stake in Lottery, Ax Jobless Benefit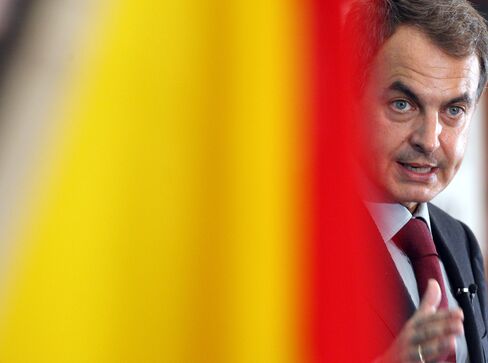 Spain stepped up efforts to fight contagion from Europe's debt crisis, saying it will sell stakes in its lottery and aiport-operating businesses to raise 14 billion euros ($18.3 billion) and ax a one-time jobless benefit.
The government, which said in January it had no plans to sell the lottery, will dispose of 30 percent of the company, Prime Minister Jose Luis Rodriguez Zapatero said in Parliament in Madrid today. It will also allow the Madrid and Barcelona airports to be privately managed and let investors buy as much as 49 percent of a new operating company, Aena-Aeropuertos. The sales will raise around 14 billion euros, said a government official who declined to be named in line with policy.
An extraordinary jobless payment of about 420 euros per month, which benefits about 200,000 people whose contributions-based unemployment pay has ended, will be allowed to expire in February, Zapatero said. The Socialist government introduced the measure in August 2009 amid a surge in unemployment, which was Europe's highest in October at 20.7 percent.
Spain is trying to distance itself from other so-called peripheral countries after Ireland's bailout pushed the extra yield on Spanish debt to the highest since the creation of the euro. The measures will help plug the third-largest budget deficit in the euro region, which was 11 percent of gross domestic product last year and which the government says it will cut to 6 percent in 2011 in an "unconditional" pledge.
'Unthinkable'
"We're seeing the government announcing things that, certainly a few months ago, it was unthinkable that they would announce," Banco Sabadell SA Chief Executive Officer Jaime Guardiola said at a news conference in Madrid today. "This is going to be the day-to-day reality of this country because of this external pressure."
Spain's Loterias y Apuestas del Estado had a net profit of 2.99 billion euros in 2009, up 3.5 percent from a year earlier, and channeled 2.92 billion euros to the Treasury, according to its annual report. Sales were 9.84 billion euros.
The privatization of 30 percent "initially" will be carried out as part of a new gaming law, Zapatero's office said in a statement. The government is in negotiations with the industry and regional governments with a view to drafting the bill by the end of the year that will regulate online gaming, said a finance ministry official who declined to be named.
"If Spain were to approve online gambling, that brand could be quite valuable, because they could cross-sell customers," said Karl Burns, a Shore Capital analyst in Liverpool, U.K. He estimates the stake could be worth 4.5 billion euros to 9 billion euros, based on the value of European online gambling companies.
'Whatever it Costs'
Zapatero, a Socialist union member who had made social policies a priority since coming to power in 2004, has said he will take whatever measures are necessary to pull Spain out of the worst crisis in six decades "whatever it costs."
His austerity program, which includes a 5 percent cut to public wages and the deepest budget cuts in at least 30 years, has eroded his popularity and his Socialist Party was defeated in regional elections in Catalonia on Nov. 28.
"It may improve the chances of the government meeting its deficit-reduction goal for 2011, but it seems unlikely to be enough to calm the market's fears," said Ben May, an economist at Capital Economics Ltd. in London.
Bond Reaction
Investors punished Europe's markets in the two days after Ireland became the second euro nation after Greece to get a European rescue package. Selling extended from Portugal to Italy and Belgium, while the euro fell to a 10-week low versus the dollar and yen yesterday.
The euro rose against the dollar today, trading at $1.3105 at 1:34 p.m. in London, amid speculation that the European Central Bank may signal its willingness after a meeting tomorrow to take steps to stem the crisis. The extra yield on Spanish 10-year bonds compared with German equivalents fell to 249 basis points today from 283 basis points yesterday.
The European Commission welcomed Spain's "new concrete measures," spokesman Amadeu Altafaj said in Brussels today.
The package of new measures to be approved at a cabinet meeting on Dec. 3 also reduces taxes for small companies, scraps compulsory contributions to chambers of commerce, makes it easier and quicker to form companies, and regulates the role of private job-placement agencies, the prime minister's office said in the statement.
Before it's here, it's on the Bloomberg Terminal.
LEARN MORE