U.S. Productivity Rises More Than Estimated Earlier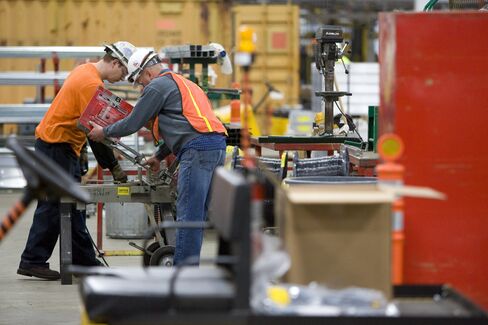 The productivity of U.S. workers rebounded more in the third quarter than previously estimated, showing companies were focused on controlling costs.
The measure of employee output per hour rose at a 2.3 percent annual rate, compared with the 1.9 percent initially calculated and a 1.8 percent drop in the previous three months, revised figures from the Labor Department showed today in Washington. Labor expenses fell.
Gains in payrolls and the workweek so far this quarter indicate companies are coming up against limits on how much more efficiency they can wring from current staff to meet rising sales. General Motors Co. is among businesses planning to boost employment in a bid to take advantage of a growing market.
"In the third quarter, companies were still trying to squeeze whatever they could out of their workforce, but it's pretty evident the current labor levels are about as tight as they come," said Russell Price, a senior economist at Ameriprise Financial Inc. in Detroit. "We're beginning to see better momentum in the economy."
Economists projected productivity would increase 2.3 percent, according to the median of 66 forecasts in a Bloomberg News survey. Estimates ranged from increases of 1.9 percent to 2.8 percent.
Companies boosted payrolls more than forecast in November, propelled by increased hiring at small businesses, separate data from a private report showed today.
Small Firms
Employment increased by 93,000, the most since November 2007, after a revised 82,000 rise in October that was almost double the initial estimate, according to ADP Employer Services. The median projection of 40 economists surveyed by Bloomberg News called for a 70,000 gain last month. Small firms added more workers than at any time since the recession began in December 2007.
Stock-index futures maintained gains and Treasuries fell after the reports. Futures on the Standard & Poor's 500 Index expiring this month rose 1.3 percent to 1,195 at 8:46 a.m. in New York. The yield on the 10-year Treasury note, which moves inversely to price, rose to 2.91 percent from 2.80 percent late yesterday.
Labor costs, adjusted for efficiency gains, fell at a 0.1 percent pace, the same as previously estimated, the Labor Department report showed. Costs were projected to fall 0.2 percent, according to the Bloomberg survey median. Expenses in the second quarter jumped 4.9, the most in almost two years, reflecting the Commerce Department's revised data on gross domestic product and personal income issued last week.
More Growth
The economy expanded at a 2.5 percent annual rate in July through September, more than the 2 percent initially calculated, the Commerce Department reported on Nov. 23.
Corporate profits rose 2.8 percent from the previous three months and have been up every quarter since the first three months of 2009, the GDP report showed. Wages and salaries jumped by $97.4 billion at an annual pace in the second quarter and $51.4 billion from July through September.
Hours worked climbed 1.7 percent from a year earlier, the biggest gain since 2006, today's report showed.
Among manufacturers, productivity rose at a 0.6 percent annual pace after rising 5.6 percent in the second three months of the year.
The economic recovery has spurred enough demand to support an increase in trucking shipments that may boost truck sales and production next year as companies replace the oldest fleet in at least 31 years.
Sales Improving
"We think both 2011 and 2012 will be years of significant growth in the North American heavy duty truck market," Eaton Corp. Chief Executive Officer Sandy Cutler said in a Nov. 11 interview. He didn't say whether the parts maker would increase its production.
Compared with the third quarter of 2009, productivity rose 2.5 percent. Efficiency has cooled since reaching a 6.3 percent year-over-year increase in the first quarter, the biggest since 1962, as growing sales prompted companies to hire and boost the workweek.
The Labor Department may report on Dec. 3 that the U.S. added 145,000 jobs in November and private firms expanded their workforce for an 11th straight month, according to economist forecasts in a Bloomberg survey.
General Motors will hire 1,000 engineers in Michigan to help expand the automakers' lineup of electric-drive vehicles, the maker of the Chevrolet Volt gasoline-electric car said yesterday. GM plans to sell 10,000 Volts next year and 45,000 in 2012.
The pace of job and employment growth will have to pick up further to bring down the unemployment rate, currently hovering near 10 percent. Economists surveyed by Bloomberg last month projected the jobless rate will average 9.3 percent next year, compared with 9.6 percent in 2010 and 9.3 percent in 2009.
Before it's here, it's on the Bloomberg Terminal.
LEARN MORE