U.S. Economy: Factories Expand, Companies Add Workers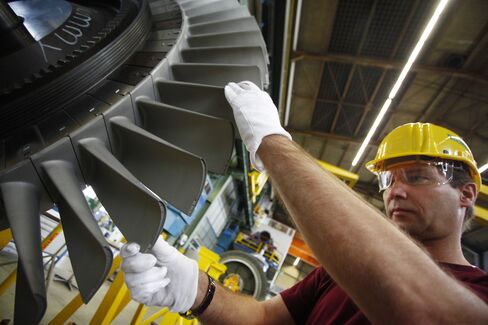 Dec. 1 (Bloomberg) -- Manufacturing in the U.S. expanded for a 16th consecutive month in November and companies increased payrolls, signs of growing confidence in the economic recovery.
The Institute for Supply Management said its factory index was little changed at 56.6 after a five-month high of 56.9 in October. A reading higher than 50 signals growth. Businesses added 93,000 workers to payrolls in November, the most in three years, according to ADP Employer Services.
Stocks rallied across the globe after reports showed industrial strength extending to China and Europe, spurring orders at companies such as Dow Chemical Co. Holiday sales gains indicate factories stand to benefit further from a pickup in consumer spending that would allow the recovery to become more broad-based.
"Businesses are starting to feel better about the outlook and so they're willing to spend more on investment as well as to hire," said Stephen Stanley, chief economist at Pierpont Securities LLC in Stamford, Connecticut. "We had strong growth early in the year, a little bit of a hiccup in the middle and now things are starting to come back again."
The Federal Reserve said today the economy gained strength in 10 of 12 districts as hiring improved, manufacturing expanded and retailers anticipated a stronger holiday shopping season. Five Fed banks, including Boston and San Francisco, said the economy grew "at a slight to modest" rate, while five others, including New York and Chicago, reported a "somewhat stronger pace of economic activity."
Survey Median
A factory index reading of 56.5 was forecast for November, according to the median projection in a Bloomberg News survey of 83 economists. Estimates for the Tempe, Arizona-based group's gauge ranged from 54 to 58.1. Figures from China and Europe showed similar strength.
In Europe, manufacturing expanded at the fastest pace in four months in November, led by Germany, the region's largest economy. A gauge of manufacturing in the 16-nation euro area rose to 55.3 from 54.6 the prior month, London-based Markit Economics said today.
China's manufacturing grew at a faster rate in November for a fourth straight month. The Purchasing Managers' Index rose to 55.2 from 54.7, China's logistics federation said on its website today.
Global Recovery
"Globally, the manufacturing sector continues to lead in most of these economies," Norbert Ore, chairman of the ISM factory survey, said in a conference call from Atlanta with reporters. "It apparently has the ability to continue for the foreseeable future."
U.S. stocks jumped, with the Standard & Poor's 500 Index gaining the most in three months. The S&P 500 increased 2.2 percent to 1,206.07 at the 4 p.m. close in New York. The benchmark 10-year Treasury note fell, pushing up the yield to 2.97 percent from 2.80 percent late yesterday.
The report from ADP Employer Services also showed the increase in October payrolls was almost double the initial estimate. Small companies in November added more workers than at any time since the last recession began in December 2007.
"There's just a feeling that maybe we've turned a corner" in the labor market, Joel Prakken, chairman of Macroeconomic Advisers LLC, which produces the figures with ADP, said in a conference call with reporters. "It looks to me as if hiring is beginning to pick up. I do expect these employment numbers to get firmer" in 2011, he said.
More Needed
Hiring may need to accelerate further to bring down an unemployment rate hovering near a 26-year high of 10.1 percent. A Labor Department report in two days will show companies added 155,000 workers last month, while the jobless rate held at 9.6 percent, according to the survey median.
As part of an effort to reach out to some of the nation's largest employers, President Barack Obama met with Wal-Mart Stores Inc. Chief Executive Officer Mike Duke at the White House on Nov. 29. The meeting is one of a series of sessions aimed at soliciting the views of companies, with the goal of spurring the recovery and adding jobs.
Dow Chemical, the world's second-biggest chemical company, said yesterday that fourth-quarter sales are matching those of the prior three months, led by demand for materials used in electronics.
'Going Gangbusters'
Electronics demand is "going gangbusters," and commodity plastics and chemical sales are still "strong," Bill Weideman, chief financial officer of the Midland, Michigan-based company, said in an investor presentation broadcast on the Internet. "Overall demand is very solid."
The ISM's measure of new orders index eased to 56.6 from 58.9, while the production index fell to 55, the lowest level since June 2009, from 62.7.
The employment gauge was little changed at 57.5 from 57.7, and the index of export orders dropped to 57 from 60.5.
The world's largest economy grew at a 2.5 percent annual pace from July through September, more than previously calculated, as Americans boosted their spending, the Commerce Department said last week. Consumer purchases, which account for 70 percent of the economy, rose at a 2.8 percent rate, the most since the final three months of 2006.
Holiday sales are stronger as well. The average shopper in the U.S. spent $365.34, or 6.4 percent more, over Thanksgiving weekend than last year as more people picked up jewelry and toys, the National Retail Federation said Nov. 28.
The recent gains in demand, from consumer spending to business investment, prompted economists at Goldman Sachs Group Inc. today to boost U.S. growth forecasts. The economy will expand 2.7 percent in 2011, up from the previous forecast of 2 percent, the group headed by Jan Hatzius in New York said in an e-mail.
A Commerce Department report today showed construction spending unexpectedly increased in October, lifted by the biggest gain in residential projects in six months. The 0.7 percent increase matched the previous months' gain.
To contact the reporter on this story: Bob Willis in Washington at bwillis@bloomberg.net; Timothy R. Homan in Washington at thoman1@bloomberg.net
To contact the editor responsible for this story: Christopher Wellisz at cwellisz@bloomberg.net