Insider-Trading Case Middleman Mined Taiwan for Tips, U.S. Says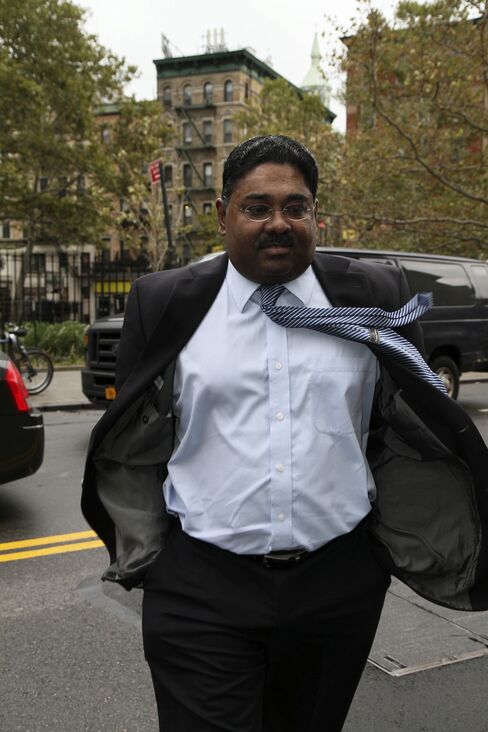 Don Chu spent years building technology contacts in his native Taiwan before a hedge fund manager with a history of insider trading secretly recorded him at the behest of the U.S. Federal Bureau of Investigation.
Chu, 56, a onetime employee at AT&T's Bell Laboratories, worked for Taiwanese firms including CyberTan Technology Inc. and Z-Com Inc. before joining Primary Global Research LLC. PGR connects investors with industry experts who provide insight into a specific market. One client was Spherix Capital LLC, a hedge fund where Richard Choo-Beng Lee used secret tips to trade stocks, according to Lee's guilty plea last year.
Lee helped the FBI tape Chu in a probe of insider trading by hedge funds including Galleon Group LLC, the first such case where wiretaps were used. Raj Rajaratnam, Galleon's co-founder, is the central figure in an investigation that has led to 14 guilty pleas, including Lee's. The tapes that Lee made, and other evidence, led to Chu's arrest Nov. 24 on charges he helped pass along inside data such as earnings estimates.
Chu, a naturalized U.S. citizen since 1987, helped employees of U.S. companies Broadcom Corp. and Sierra Wireless Inc. pass inside financial data in Taiwan to PGR clients and also helped Atheros Communications Inc. workers leak confidential information, according to an FBI complaint. He worked at PGR for seven years and was its "bridge to Asia experts and data sources," according to the company. PGR fired him after his arrest. He'd been set to fly Nov. 28 to Taiwan.
"If I was a company insider that did business with Chu, I'd expect to be contacted by the FBI," said Stuart Slotnick, a white-collar criminal defense lawyer at Pittsburgh's Buchanan Ingersoll & Rooney PC who isn't involved in the investigation.
U.S. Crackdown
The U.S. crackdown on insider trading since the arrest of Rajaratnam a year ago has targeted hedge fund executives and corporate officials. The ex-Galleon chief has denied wrongdoing and faces trial next month in Manhattan federal court. Prosecutors said he earned millions of dollars by trading on secret inside tips. Lee's partner at San Jose, California-based Spherix, Ali Far, also pleaded guilty in the Galleon probe.
That investigation, originally based on two connected insider trading rings, has expanded with the Chu arrest to a third phase involving expert-network firms such as PGR. Dan Charnas, a spokesman for Mountain View, California-based PGR, and Chu's attorney James DeVita declined to comment.
C.L. "Dave" Liu "maintains PGR's highest level relationships in Taiwan and China" and serves on the boards of technology companies, according to the company's 2009 posting. Michael Fu, the chief technology officer, "has extensive technical and managerial expertise in the semiconductor and electronic design automation industries," according to the posting.
Bell Labs
Before joining the networking firm, Chu spent more than 10 years at Bell Labs and helped start "numerous" companies, including Z-Com, a Hsinchu, Taiwan-based wireless equipment maker, according to his company biography from 2009.
Z-Com's founder and chief executive officer, John Shieh, said he hired Chu around 1998 as vice president of product development. The two had met in the mid-1980s when they worked at Bell Labs, Shieh said in an interview. Chu stayed at Z-Com for about three years before returning to the U.S. to have surgery for a stomach problem, according to Shieh.
PGR's description of Chu as having started Z-Com was incorrect, said Shieh, who founded the company in 1995. Z-Com had 139 workers at the end of June, according to data compiled by Bloomberg.
"I was his boss," Shieh said. "He accomplished the things that I asked him to do in product development."
Surprised
Shieh said he was surprised to learn of Chu's arrest.
"He came back to Taiwan and was doing some consulting," he said. "He was involved in market information."
Chu also served as chief technology officer and senior vice president of AboCom Systems Inc., and chief technology officer and U.S. general manager of CyberTan, according to a PGR biography on its website. Both firms are based in Hsinchu.
"He was very nice and a gentleman," said AboCom spokeswoman Candy Chou. She said she was "a bit surprised" at the arrest of Chu, who she said worked at the company for about a year until 2006 or 2007. CyberTan spokeswoman Lynn Kuo said Chu worked at the company for "a few months" and left by 2005. Kuo said the company no longer has business ties to Chu.
Primary Global described itself in a February 2010 statement as "a leading independent investment research firm providing institutional money managers and analysts with market intelligence through a global network of industry experts."
Specialties
The sectors it covers are technology, health care, financial services, media and Internet, real estate, alternative energy, retail, and energy and industrials.
Some of its co-founders have worked at U.S. and Taiwanese companies. PGR Chief Executive Officer Unni Narayanan held "key management positions" at Intel Corp. and spent "several years" at IBM Corp., according to a 2009 website posting by PGR.
Amy Kircos, a spokesman for Santa Clara, California-based Intel, and IBM spokesman Ari Fishkind, didn't have immediate comments.
Liu, a former faculty member at the Massachusetts Institute of Technology in Cambridge and the University of Illinois at Urbana-Champaign, agreed to Narayanan's request in 2003 to list him on Primary Global's website as a consultant to "lend him some so-called reputation," Liu said in an interview.
Liu said he did "nothing, honestly nothing," for PGR for the few years he remained listed as a consultant. Liu, Fu and Narayanan aren't accused of any wrongdoing.
Narayanan was one of Liu's students at the University of Illinois during the 1990s. The two haven't been in contact for "quite a while," Liu said. He added that he drew a "token" salary from Primary Global for a few years before ending the relationship two years ago.
Taiwan Chip Designer
Liu is an independent director of United Microelectronics Corp., the world's second-largest contract maker of chips, Powerchip Semiconductor Corp., Taiwan's largest memory-chip maker, and Mediatek Inc., Taiwan's largest chip designer. Liu said he didn't want to help PGR in improper ways.
"I know my reputation, and I am extremely, extremely careful about what I say and what I do," Liu said. "That's exactly the reason I would not want to talk much."
The criminal complaint against Chu said Lee and his co- workers at Spherix Capital worked with PGR since late 2008. PGR's consultants at public companies gave inside information to the hedge fund, according to the government.
'Market-Moving Events'
"There is probable cause to believe that Chu promotes the firm's consultation services by arranging for firm consultants to provide material, nonpublic information regarding certain public companies' releases of significant financial information or other market-moving events," according to federal prosecutors.
Chu is charged with one count of conspiracy to commit securities fraud and one count of conspiracy to commit wire fraud. He faces as long as 25 years in prison if convicted of wire-fraud conspiracy. He was released on a $1 million personal recognizance bond and ordered to surrender his passport.
Chu and his wife, Elinor, bought a home in Somerset, New Jersey, in 2008 for $445,000, according to public real estate records. They took out a $356,000 mortgage. At PGR, Chu earned $6,000 a month and the firm covered his expenses, according to the complaint.
Lee already knew Chu when he began cooperating in the expanding Galleon probe in April 2009 at the behest of FBI Special Agent B.J. Kang. Chu e-mailed inside information on June 19, 2009, to Lee about projected second-quarter earnings at Atheros, the government said in court papers.
Chu allegedly left a voice-mail for Lee about Atheros's earnings on July 14, 2009, a week before the company was supposed to release its second-quarter results.
Wi-Fi Networks
Atheros, based in Santa Clara, California, sells chips used in Wi-Fi networks that provide short-range wireless Internet connections. It also makes semiconductors for Bluetooth wireless networks and chips used in global-positioning system, or GPS, equipment. Greg Wood, a spokesman for Atheros, said the company "will cooperate fully in any government investigation."
On July 21, 2009, Lee got earnings information about an unidentified technology company traded on the New York Stock Exchange that was supposed to release its second-quarter earnings that day, according to the complaint. The company was Advanced Micro Devices Inc., the Wall Street Journal reported.
"It's a matter of public record that we announced our earnings on that date," said Mike Silverman, a spokesman for AMD. "It would be inappropriate for us to comment on what appears to be an ongoing investigation. If we were to receive any inquiries, we would of course cooperate with any investigation."
CC-1
The inside information came from an individual referred to in court papers as CC-1, who was paid $200,000 by PGR from January 2008 to last March, according to U.S. prosecutors.
In a meeting with Lee on Aug. 4, 2009, Chu allegedly said his best Broadcom contact was a director-level employee in charge of China. Lee told Chu that CC-1 gave him second-quarter numbers, and "it's like on the spot," the U.S. said.
Chu responded: "On the spot. All depends on the person. It, some guys willing to talk, some are not," the U.S. said in court papers.
Lee asked if "you guys" were "nervous," and Chu said, according to the complaint: "I'm nervous."
He then warned that Lee should be careful because some calls were recorded. Chu cautioned Lee about the U.S. Securities and Exchange Commission, saying the agency had become "too strong."
"In Asia, the SEC can't do too much there," he said.
Broadcom
Irvine, California-based Broadcom, the biggest maker of chips for television set-top boxes, said it has been in contact with the U.S. government and is cooperating with an insider-trading investigation.
Bill Blanning, a spokesman for Broadcom, said in an e-mailed statement that none of the employees referred to in the Chu criminal complaint are executive officers at the company.
Kang, the FBI agent, met with Chu on Nov. 21, the U.S. said.
Chu told Kang that during meetings in Taiwan, a Sierra Wireless employee gave inside financial data to hedge fund clients, according to the complaint. Sharlene Myers, a spokeswoman for the Richmond, British Columbia-based company, said the employee referred to "is not a director or officer of Sierra" and that the company intends to cooperate with the U.S.
Chu also claimed that a Broadcom employee met with the founder of a New York-based hedge fund and disclosed inside financial data, the government said.
"Certain hedge funds" asked PGR consultants about their companies' earnings data before their release, prosecutors said in the complaint, adding that some of Chu's contacts in Taiwan provide revenue numbers to hedge funds.
"Some firm consultants will talk about their companies' revenue numbers," according to the complaint. "Some do not."
The case is U.S. v. Chu, 10-Mag-2625, U.S. District Court, Southern District of New York (Manhattan).
Before it's here, it's on the Bloomberg Terminal.
LEARN MORE