Ecopetrol Record Bond Sale Sparks Colombia TES Selloff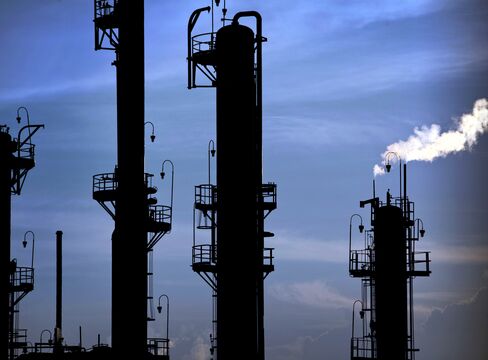 Ecopetrol SA's record local bond sale sparked the biggest slump in Colombian bonds in two years as investors pared government debt holdings to free up cash for the state-run oil company's offering.
Colombia's peso-denominated debt lost 2 percent in November, double the 1 percent decline in emerging-market local government debt, according to JPMorgan Chase & Co's GBI-EM Broad Index. The selloff, the worst since a 3.3 percent slide in October 2008, breaks an eight-month rally that drove yields on the government's benchmark bonds due in 2020, known as TES, to a record low of 6.97 percent on Nov. 8.
Ecopetrol's sale today of 1 trillion pesos ($514 million) of inflation-linked bonds lured investors seeking higher-yielding alternatives to government debt as the economy picks up, said Felipe Gaviria, chief investment officer at ING Pensiones y Cesantias. Ecopetrol's seven-year debt yielded 330 basis points above inflation. Government bonds of similar maturity, known as TES-UVR, yield 315 basis points above inflation.
"Corporate bonds have become competition" for government debt, Gaviria, said in a telephone interview from Bogota before the debt sale results were announced. "We've had a large amount of corporate debt sales in a short period. If you want to buy corporate bonds, you have little choice but to sell TES."
Debt Yields
Ecopetrol, based in Bogota, sold five-year securities to yield 2.8 percentage points above inflation, Chief Executive Officer Javier Gutierrez told reporters today in Bogota. The oil producer also sold 10- and 30-year debt to yield 3.94 and 4.9 percentage points above inflation, respectively, he said. Investor demand for the securities totaled 3.01 trillion pesos.
The offering will help push Colombian corporate debt sales this year to 13.1 trillion pesos, almost matching last year's record 13.4 trillion pesos, according to Bogota-based Alianza Valores.
Yields on the government's fixed-rate bonds due in 2020 rose 59 basis points, or 0.59 percentage point, in November to 7.59 percent after declining 204 basis points over the previous eight months as the central bank cut the benchmark lending rate to a record 3 percent to bolster growth. The bonds' price fell 4.84 centavos in the month to 122.652 centavos per peso.
The yield fell nine basis points today to 7.50 percent at 2:36 p.m. New York time. The Colombian peso rose 0.6 percent to 1,932.50 per U.S. dollar from 1,944.15 yesterday.
Grupo Aval Sale
Fixed-rate government securities have also underperformed on speculation heavier-than-normal rains in the South American country will fuel inflation by damaging crops and driving up food prices. Economists forecast annual inflation quickened to a 13-month high of 2.5 percent in November, according to the median estimate of 13 analysts surveyed by Bloomberg.
Finance Minister Juan Carlos Echeverry said as recently as Nov. 19 that he expects annual inflation to end this year close to 2 percent and hold at that level in 2011. Consumer prices rose 2.3 percent in the 12 months through October, within the central bank's target of 2 percent to 4 percent.
Colombian government bonds also fell last month as concern the sovereign debt crisis is spreading in Europe eroded demand for emerging-market debt.
Correval SA and Valores Bancolombia SA managed the Ecopetrol sale. The 1 trillion pesos sold surpasses the previous Colombian record of 750 billion pesos by Grupo Aval Acciones y Valores SA, the nation's biggest financial holding company, in December 2009.
Investment Plan
Ecopetrol is turning to the local debt market for the first time since 1998 to help finance record investment amid rising oil demand in China, Gutierrez said in an interview in New York last month.
Ecopetrol plans to invest more than $80 billion through 2020 to finance exploration projects in Colombia and expansion in neighboring Peru and Brazil. The company is seeking to boost output to 1 million barrels a day by 2015 from 632,000 barrels a day in the third quarter.
Expectations of rising crude prices as well as Ecopetrol's plan to raise production make the bonds attractive, said Daniel Lozano, an analyst at Medellin-based brokerage Serfinco SA.
Moody's Investors Service rates Ecopetrol Baa2, the second-lowest investment grade rating. Standard & Poor's rates Ecopetrol BB+, one level below investment grade. Both Moody's and S&P rate Colombia's foreign debt one level below investment grade with a positive outlook.
'Not Much Upside'
More than 60 percent of the corporate bond sales this year are from companies in the financial industry, according to Lozano. Banks will benefit from the expanding economy as demand for loans rises, Lozano said. He predicts the economy will grow 4.4 percent this year after expanding 0.8 percent last year.
Banco de Occidente SA issued 360 billion pesos of securities last week, including five-year debt to yield 3.15 percentage points above inflation, while Banco Davivienda SA, Colombia's third-biggest bank, sold 500 billion pesos of bonds in October including five-year bonds to yield 3.14 percentage points above inflation.
ING's Gaviria said the pension fund, the country's fifth biggest, has sold some TES to "make room" for the Ecopetrol sale and planned on buying the securities if prices were attractive. Gaviria's pension funds managed 11.3 trillion pesos as of August, including 3.9 trillion pesos of TES bonds, according to the most recent data published by the financial regulator.
"There's not much upside on TES," Gaviria said. "You get real returns, and inflation is apparently under control, but that's about it."
Before it's here, it's on the Bloomberg Terminal.
LEARN MORE