Doctors, Hospitals to Get Antitrust Advice From U.S.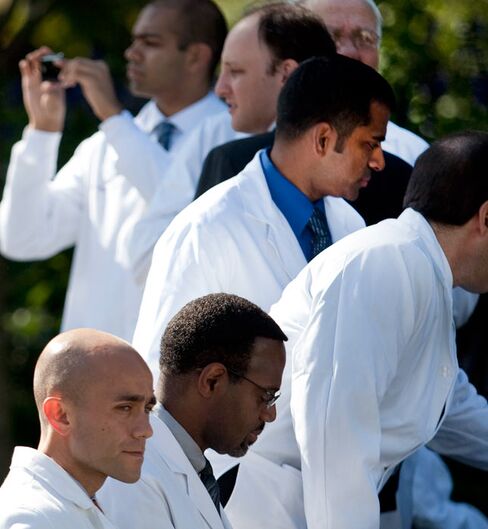 The U.S. Justice Department said it will ease the transition under the new federal health-care law for doctors and hospitals by helping them avoid antitrust violations when they form professional organizations.
The department will provide an "expedited" review of proposed accountable care organizations, or ACOs, under the new law, Sharis Pozen, chief of staff of the department's antitrust division, told a House judiciary subcommittee in Washington today.
"The department intends to offer whatever guidance and clarity may be needed to ensure that providers pursue beneficial integrated ACOs without running afoul of the antitrust laws," she said.
Doctors and hospital organizations, including the American Medical Association, the American Hospital Association and Premier Inc., a Charlotte, North Carolina-based group purchaser of medical supplies and a consultant for hospitals, have been pressing for quicker reviews.
Accountable care organizations are a centerpiece of the health-care overhaul passed by Congress this year. They could save Medicare at least $4.9 billion through 2019, according to the Congressional Budget Office.
The Justice Department and the Federal Trade Commission must determine whether the proposed alliances of doctors and hospitals, designed to cut costs, will stifle competition or promote price-fixing.
Updating Guidance
The last federal guidance on physician organizations was issued 14 years ago. While the FTC is open to revising the guidelines, recent agency letters and speeches have helped clarify antitrust law in a way that is "well-understood," said Richard Feinstein, director of the FTC Bureau of Competition.
David Balto, senior fellow at the Washington-based Center for American Progress, which promotes Democratic policies, said the guidelines are out of date and hurt doctors.
"The guidelines have been interpreted in a fashion that puts the thumb on the scale in favor of insurers and against providers," Balto said in written testimony.
Some lawmakers said they are concerned that physician and hospital groups have received more antitrust scrutiny from federal regulators than insurers.
Doctor Shortage
"If we allow the status quo to continue, we risk a doctor shortage as physicians are driven out of their specialties," said Democratic Representative Hank Johnson of Georgia, the Judiciary subcommittee's chairman.
House Judiciary Committee Chairman John Conyers, a Michigan Democrat, said 95 percent of U.S. health insurance markets are considered "highly concentrated" by the American Medical Association.
Conyers criticized the Justice Department for taking only three antitrust enforcement actions this year, in light of the more than 400 health-care mergers in the past 10 years.
"You keep citing these three lousy cases as a proof you're on the job," Conyers told Pozen.
Arthur Lerner, who was scheduled to appear on behalf of America's Health Insurance Plans, with 1,300 members, said antitrust laws don't favor the industry improperly.
"Antitrust enforcement should not be and has not been for or against health insurance companies or physicians or hospitals or any industry," Lerner, a partner at the Washington-based Crowell & Moring law firm, said in a written statement.
Before it's here, it's on the Bloomberg Terminal.
LEARN MORE