Credit Agricole Said to Plan Investment Bank Changes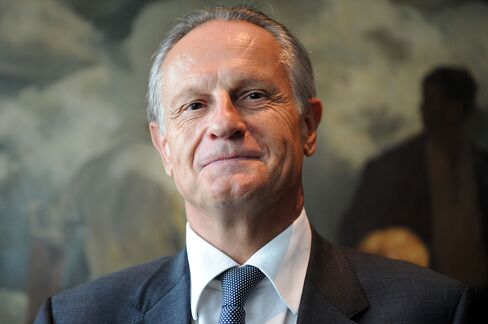 Credit Agricole SA, France's third-largest bank by market value, is planning changes in senior management at its corporate- and investment-banking unit, two people with knowledge of the matter said.
Patrick Valroff, chief executive officer of the division since 2008, may step down as Credit Agricole CEO Jean-Paul Chifflet shuffles the leadership nine months after taking the top job, said the people, who declined to be identified because the matter is confidential. Jean-Yves Hocher, 55, Credit Agricole's deputy CEO overseeing the investment bank, insurance and asset management, is a candidate to replace Valroff, one person said.
Valroff, 61, may move to a different role at the division, they said. Alain Massiera, deputy CEO of the unit, and Gilles de Dumast, head of coverage and investment banking and a member of the Credit Agricole CIB executive committee, may also change roles, the people said.
Valroff took over the unit from Marc Litzler following subprime-related losses, and helped return it to profit.
Credit Agricole will make a statement relating to its corporate- and investment-banking unit later today, a Paris- based spokeswoman said by phone. She declined to comment on possible management changes at the division. A spokeswoman at the investment bank also declined to comment.