China Manufacturing Growth Accelerates, Surveys Show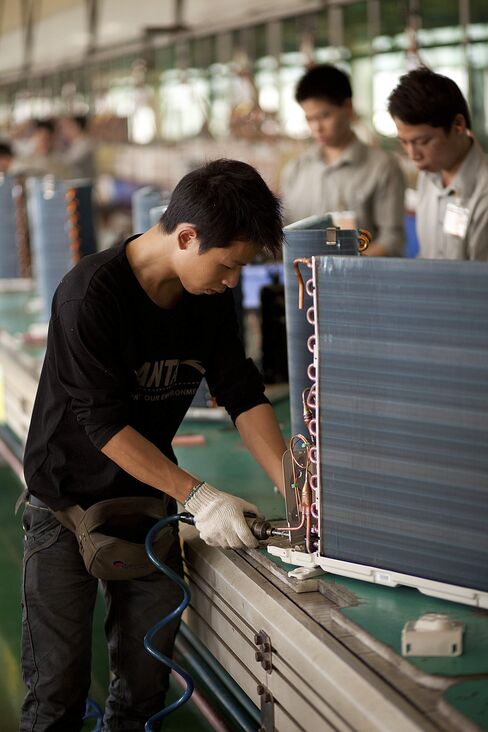 China's manufacturing grew at a faster pace for a fourth straight month in November, indicating the economy can withstand higher interest rates as price pressures escalate.
The Purchasing Managers' Index rose to 55.2 from 54.7 in October, China's logistics federation said on its website today. That was more than the 54.8 median estimate of 14 economists surveyed by Bloomberg News. A PMI released by HSBC Holdings Plc also jumped.
Today's reports showed input prices surging, reinforcing the case for the central bank to boost borrowing costs again after it lagged behind counterparts from Malaysia to South Korea. Concern that monetary tightening will hamper corporate profit growth spurred an 8 percent sell-off in China's benchmark stock index in the past month.
"The risk of a sharp growth deceleration has abated, but all signs are suggesting that inflation may surprise on the upside," said Tao Dong, a Credit Suisse AG economist in Hong Kong. He called input-price data "alarming."
The logistics federation's PMI showed the strongest reading in seven months, while the measure released by HSBC and Markit Economics was at an eight-month high of 55.3.
The Shanghai Composite Index closed 0.1 percent higher, rising for the first day in four.
Strength in Asia
The Chinese picture of stronger manufacturing and climbing prices was repeated across Asia in reports released today by HSBC and Markit for India, South Korea and Taiwan.
India needs to keep tightening monetary policy, HSBC economist Leif Eskesen said, commenting on PMI data showing the nation's fastest manufacturing growth in six months. Taiwan had its first expansion in four months and South Korea, too, switched from a contraction.
In contrast, an Australian measure slid, a report by the Australian Industry Group and PricewaterhouseCoopers showed today. In the U.S., manufacturing growth likely slipped from a five-month high, according to economists' median estimate ahead of today's release of the Institute for Supply Management's factory index.
The Chinese reports bolstered economists' forecasts for higher rates. Credit Suisse said today that an increase is likely to come around Dec. 13, when the government will announce the latest price data.
Surging Prices
In October, the Chinese central bank pushed the one-year lending rate to 5.56 percent, the first increase since 2007. In comparison, South Korea has moved twice this year, Malaysia three times and India six.
Ben Simpfendorfer, an economist for Royal Bank of Scotland Plc, said that rising inventories shown in today's data may signal that companies will end restocking, easing producer-price pressures and causing a "modest" slowdown in economic growth in the first quarter.
The logistics federation's index of input costs rose to 73.5, the highest level since June 2008. The HSBC report showed that manufacturers increased output prices by the most since data began in 2004.
Cement prices have climbed to a record, the state-run China Daily reported today. Consumer prices may have climbed 4.8 percent in November after October's 4.4 percent gain, which was the biggest in 25 months, according to China International Capital Corp.
Slowing Growth
McDonald's Corp., the world's largest restaurant chain, increased prices in China on Nov. 17 to offset rising costs. Kweichow Moutai Co., China's biggest liquor maker by market value, may raise prices by as much as 24 percent this month, according to a report by Shenyin & Wanguo Securities Co.
Zhang Liqun, a senior researcher at the State Council's Development Research Center, said that while PMI data shows an "improved economic climate," the nation's expansion will continue to moderate. Leaders meeting in Beijing later this month to set economic policy will gauge the risk of the debt crisis in Europe, China's biggest market, cutting export demand.
Bank of America-Merrill Lynch said today's data supported its forecasts for the Chinese economy to expand at a 9.3 percent annual pace this quarter and 10.3 percent for the full year. Goldman Sachs Group Inc. said export orders and "continued strength" in credit and money-supply growth even after tightening measures may have bolstered both PMIs.
Wen's Campaign
Premier Wen Jiabao announced Nov. 17 a package of measures to counter inflation, from the threat of price caps for "daily necessities" to pledges to maintain the food supply by selling state reserves. Chinese futures for commodities including cotton, sugar, rice and natural rubber have climbed to records in the past two months.
The government's campaign to rein in money supply and cool prices also included two reserve-ratio increases for lenders last month, which drained cash from the financial system.
At the same time, the central bank has limited increases in the yuan that could help to counter inflation. While officials allowed appreciation of about 1.8 percent against the dollar in September, since then gains have been about 0.3 percent.
Nomura Holdings Inc. said this week that China is in "a solid growth phase" even as inflation concerns rise. Citigroup Inc. said that while inflation, mainly driven by food and global commodity costs, is "a critical policy worry," the economy is not overheating as it did in 2007-08.
Cotton, Steel
The National Development and Reform Commission said yesterday that nationwide price controls aren't needed yet.
In the PMI surveys, purchasing managers cited price gains in agricultural goods, cotton and raw materials including fuel and steel. Spot prices of power-station coal at Qinhuangdao port, a Chinese benchmark, rose to a two-year high this week.
Manufacturing growth accelerated even amid a diesel shortage and shutdowns at steelmakers and aluminum smelters as a result of a government energy-efficiency campaign. Officials are also trying to cool the real-estate market.
Economic growth slowed to a 9.6 percent annual pace in the third quarter from 11.9 percent in the first three months of this year. Even as the expansion moderates, China is set to overtake Japan this year to become the world's second-biggest economy.
The government-backed PMI, released by the Beijing-based China Federation of Logistics and Purchasing and the National Bureau of Statistics, covers more than 820 companies in 20 industries, including energy, metallurgy, textiles, automobiles and electronics. The HSBC survey covers more than 430 firms.
Before it's here, it's on the Bloomberg Terminal.
LEARN MORE