Bank of America, Wells Fargo Led Fed's TAF Borrowing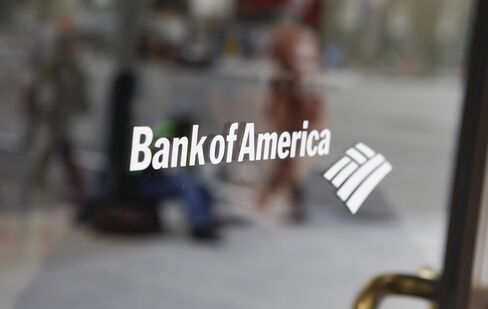 Dec. 1 (Bloomberg) -- Bank of America Corp. and Wells Fargo & Co. were among the top borrowers from the Term Auction Facility, one of the Federal Reserve's first and longest-lasting efforts to combat the financial crisis.
Bank of America had three loans for $15 billion each outstanding from the facility as of Jan. 15, 2009, while Wells Fargo had three loans for $15 billion each on Feb. 26, 2009, according to documents released today by the Fed to comply with orders from Congress to identify recipients of emergency aid.
Fed Chairman Ben S. Bernanke created the TAF in December 2007 to let banks obtain cheaper funding without risking the stigma of loans from the central bank's discount window. Under the program, banks bid for Fed loans at a rate determined through auctions. Borrowing peaked at $493.1 billion in March 2009 and began declining until the TAF closed in April 2010.
Because the program lent to banks, the Fed didn't invoke an emergency legal clause allowing borrowing by non-banks in "unusual and exigent circumstances." The central bank used the provision in 2008 to set up loan facilities for investment banks, money-market mutual funds and corporations.
"The funding and guarantee programs were an example of a successful government initiative at no taxpayer expense," said Robert Stickler, a spokesman for Charlotte, North Carolina-based Bank of America. "The programs enabled the U.S. financial system to continue to operate, preventing a recession from becoming much more severe."
Wells Fargo spokeswoman Mary Eshet declined to comment.
The Fed announced the TAF after the London interbank offered rate, or Libor, for one-month loans rose to 5.25 percent in December 2007 from 4.66 percent the prior month, even after the Fed reduced its benchmark short-term rate to 4.5 percent from 5.25 percent.
The initial TAF loans carried an interest rate of 4.65 percent. TAF started with loans maturing in 28 days; from August 2008 through October 2009, the Fed also offered 84-day loans through auctions. The TAF data disclosed by the Fed included a total of 4,214 transactions.
Societe Generale
Banks with headquarters outside the U.S. were among the first to begin using the facility in December 2007 and were also among its heaviest borrowers. These included the U.S. affiliates of banks such as Manama, Bahrain-based Arab Banking Corp., Madrid-based Banco Santander SA, and Paris-based Societe Generale SA. Beginning on June 18, 2009, Barclays Bank Plc had two loans totaling $23.45 billion outstanding.
Citigroup Inc. and JPMorgan Chase & Co. also availed themselves of the TAF. Citigroup's Citibank NA subsidiary had three loans under the facility totaling $20 billion on Jan. 15, 2009. JPMorgan's JPMorgan Chase Bank NA had two loans totaling $25 billion on Feb. 26, 2009.
In a footnote, the Fed reported that for two loans, the borrowers did not have adequate collateral on the day the loan settled. "The Federal Reserve worked with all relevant parties to obtain adequate collateral and to guard against any recurrence of similar problems," the report said. The loans were repaid.
To contact the reporter on this story: Scott Lanman in Washington at slanman@bloomberg.net; Joshua Zumbrun in Washington at jzumbrun@bloomberg.net.
To contact the editor responsible for this story: Christopher Wellisz at cwellisz@bloomberg.net