Boeing Sees More 'Adding Than Subtracting' for Defense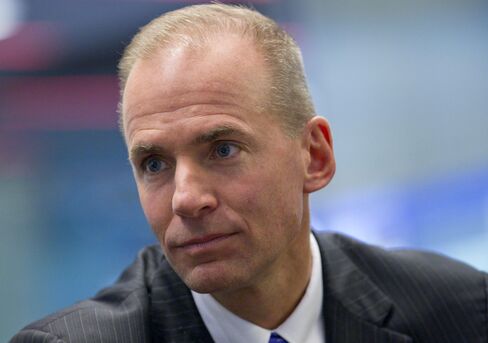 Boeing Co., the second-biggest defense contractor, plans to grow through smaller acquisitions in new industries and by boosting international sales, even as U.S. military spending declines.
"I'd like to build out additional capacities and get more balance," Dennis Muilenburg, president of the company's defense unit, said in an interview today at Bloomberg's headquarters in New York. "It's more about adding than subtracting."
Boeing Defense Systems has bought 10 companies in three years to expand in unmanned systems; intelligence, surveillance and reconnaissance; computer networks; and logistics services. Chicago-based Boeing will stick with that strategy rather than seeking to join with a similar-sized rival because mergers in the past two decades have shrunk the industry, Muilenburg said.
"I don't see large-scale consolidation," he said. "In some cases our customers are left with a single or two suppliers at the prime level. Even in the second and third tier, the number of competitors is dwindling."
Boeing is second only to Lockheed Martin Corp. in military sales, with $33.7 billion in 2009 revenue, compared with $34.1 billion for the company's commercial-airplanes business.
The company will have to look to countries such as India for sales growth as U.S. military spending will be unchanged or even drop slightly over the next five years, Muilenburg said. Foreign contracts make up about 18 percent of Boeing's defense sales and will grow to 25 percent in five years, he said.
'Extended' Decline
A decline in U.S. defense budgets may persist "for an extended period of time given the history of decade-long cycles," Noah Poponak, a Goldman Sachs Group Inc. analyst in New York, wrote yesterday in a note to clients.
With the Pentagon pushing contractors to take on more risk in the form of fixed-price orders, defense companies' profit margins may also decline, wrote Poponak, who has a buy rating on Boeing.
Annual sales growth will exceed 10 percent in cyber-security, the focus of about half of Boeing's recent purchases, Muilenburg said. He said he would continue to look for "selective, niche" takeover targets.
"Our focus on the acquisition side has been on how we can execute our business strategy and provide capabilities that fill out that strategy," Muilenburg said.
Delays on Boeing's 787 Dreamliner, which is almost three years behind schedule, isn't affecting the defense unit's ability to expand through acquisitions, Muilenburg said. Defense acquisitions help the company, and corporate support has been "rock solid," he said.
Boeing rose $1.95, or 3.1 percent, to $65.72 at 4:15 p.m. in New York Stock Exchange composite trading. The shares have gained 21 percent this year.
Before it's here, it's on the Bloomberg Terminal.
LEARN MORE