Real Reversing Biggest Slump Since May on Rates: Brazil Credit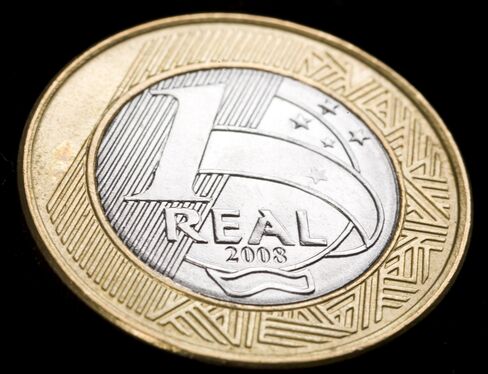 The Brazilian real's biggest slide since May is unlikely to last as Standard Chartered Bank and Wells Fargo & Co. say the prospect of higher interest rates will help bolster the currency in December.
The real dropped 1 percent in November, the most since sinking 4.5 percent in May, to 1.7151 per U.S. dollar as concern the debt crisis in Europe is spreading prompted investors to shun emerging-market assets. The slump pared the real's advance this year to 1.7 percent, less than the gains for currencies in Colombia, Mexico, Chile and Peru, according to data compiled by Bloomberg.
Standard Chartered, the most accurate real forecaster in the third quarter, and Wells Fargo predict the currency may gain 1.1 percent against the dollar to end the year at 1.7 as the central bank prepares to raise borrowing costs to curb inflation. Yields on rate futures suggest traders expect central bank officials will begin boosting the benchmark rate as soon as the next meeting on Dec. 8 and bring it to about 12.5 percent by the end of 2011 from 10.75 percent.
"There are expectations of hiking," said Douglas Smith, chief economist for the Americas for Standard Chartered in New York. "People will rush right in. Things are getting more attractive."
Inflation
The real will rebound next month as Alexandre Tombini, President-elect Dilma Rousseff's pick to head the central bank, seeks to slow annual consumer price increases that reached a five-month high of 5.2 percent, according to Aryam Vazquez, an economist with Wells Fargo in New York. Tombini, 46, who served as a central bank board member since 2005, will replace Henrique Meirelles, 65.
The Brazilian currency is trading at "reasonable" levels but if necessary the government will take additional steps to stem the currency appreciation, Finance Minister Guido Mantega said today in an interview in Brasilia.
"I won't say the result is satisfactory, but it is reasonable," Mantega said. "The currency war has reached a truce now because of the worsening of Europe's problems. If needed, Brazil will do more."
The extra yield investors demand to own Brazilian government dollar bonds instead of U.S. Treasuries widened 5 basis points, or 0.05 percentage point, to 197 at 2:37 p.m. New York time, according to JPMorgan Chase & Co.'s EMBI+ index.
The yield on the overnight interest-rate futures contract due in January 2012 fell 6 basis points to 11.99 percent.
The cost of protecting Brazilian bonds against default for five years was little changed at 117 yesterday, according to CMA. Credit-default swaps pay the buyer face value in exchange for the underlying securities or the cash equivalent should a government or company fail to adhere to its debt agreements.
Benchmark Rate
Central bankers have held the benchmark rate unchanged since July after boosting it 200 basis points over a four-month period to cool the fastest expansion in more than two decades. Latin America's biggest economy will expand 7.6 percent this year after shrinking 0.2 percent in 2009, according to the median forecast in a central bank survey of economists published Nov. 29.
By contrast, the U.S. economy, the world's largest, will expand 2.7 percent this year, according to a Bloomberg survey of 62 economists.
Foreign investors, seeking an alternative to near-zero interest rates in the U.S., Europe and Japan, have poured money into Brazil's fixed-income market, helping spark a two-year, 36 percent rally in the real.
'Global Recovery'
"The shape of the global recovery and tepid growth concerns will make the real more attractive, especially with the central bank expected to raise the rates in 2011," said Wells Fargo's Vazquez. "All these factors will remain supportive."
President Luiz Inacio Lula da Silva tripled a tax on foreign investors' purchases of fixed-income assets in October after the real's rally helped push the country's 12-month current-account deficit to a record $48 billion.
Rousseff, who kept Mantega at his post, said last week she will continue her predecessor's economic policies.
The real's decline this month "has to do with the intervention itself and the perception that it could continue as Mantega will remain in the post," Zeina Latif, a senior economist at RBS Securities Inc. in Sao Paulo, said in a telephone interview. "He was the person responsible for the intervention of the government in the foreign-exchange market."
RBS forecasts the real will end the year at 1.70.
Ireland
The real also slumped in November as Ireland became the second European country to seek financial assistance this year after securing an 85 billion-euro ($110.6 billion) aid package. Greece received a bailout six months ago.
"Don't think it's a Brazil-specific story," said Standard Chartered's Smith. "Markets are volatile all over."
The real rose 0.3 percent today.
The currency will end the year at 1.7, according to the median forecast of 18 analysts surveyed by Bloomberg.
"We're not noticing a big change in investors rethinking putting money into Brazil," Paul Biszko, an emerging-markets strategist at Royal Bank of Canada in Toronto, said in a telephone interview. "That's not something that we expect anytime soon. We expect the factors supporting a stronger currency to remain in place."
Before it's here, it's on the Bloomberg Terminal.
LEARN MORE