Swaps Jump Most in 3 Years on Inflation, Inflows: China Credit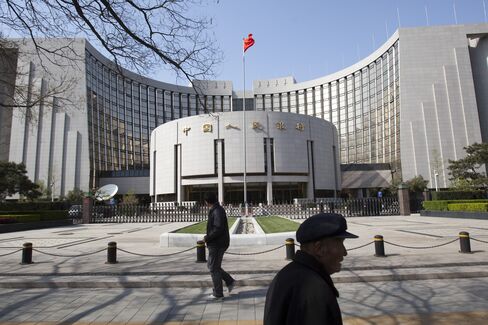 China's interest-rate swaps jumped the most in three years last month on speculation the central bank will raise borrowing costs further to rein in the fastest inflation since 2008 as foreign capital surges into the nation.
Two-year contracts that exchange the central bank's one-year deposit rate for a fixed payment climbed 58 basis points to 3.4 percent, the biggest monthly advance since April 2007, according to data compiled by Bloomberg. Over the past two months Standard Chartered Plc and Credit Agricole SA doubled projections for the number of increases in the deposit rate by mid-2011 to four.
The People's Bank of China raised lenders' reserve requirements for the fifth time this year on Nov. 19, a month after increasing its benchmark interest rate for the first time since 2007. Consumer prices in October were 4.4 percent higher than a year earlier, while Chinese banks' yuan positions stemming from sales of foreign-exchange surged the most in 30 months, official figures show.
"This round of inflation has been mainly caused by surging food prices, and hot-money inflows may fuel expectations for further price growth," said Simon Song, a China rates strategist at JPMorgan Chase & Co. in Shanghai. "The swap rates imply at least three rate increases in one year's time."
Buyers of China's two-year swaps receive the deposit rate for one year, after which the floating payment is reset for the second year. Because the floating rate under the swap is now at 2.5 percent, a 3.4 percent level indicates the deposit rate will be about 4.3 percent in December 2011. The swap rate reached 3.44 percent on Nov. 26, the highest level since October 2008.
Rate Increases
Inflation may have accelerated to 4.8 percent in November, analysts at China International Capital Corp. said in a report this week. The rate may average 5.5 percent in 2011, up from an estimated 3.2 percent this year, Standard Chartered analysts led by Stephen Green wrote in a Nov. 18 report.
The yield on China's benchmark 10-year bonds increased 3.1 basis points last month to 4.01 percent, according to data compiled by Bloomberg. Brazil's climbed 64 basis points to 12.54 percent, and India's fell 15 basis points to 7.99 percent. A basis point is 0.01 percentage point.
The People's Bank of China raised its benchmark one-year lending rate by a quarter-percentage point on Oct. 19 to 5.56 percent and the deposit rate by the same amount, to 2.5 percent. Standard Chartered forecast one more increase for this year, and three in the first half of 2011. The U.K. lender also predicted Chinese banks' reserve-requirement ratios will be boosted by 50 basis points as many as five times.
Yuan Appreciation
China's central bank should make clear that it's shifting to a "prudent" monetary policy and allow further yuan appreciation to combat inflation, Sheng Songcheng, head of the monetary authority's statistics department, wrote in a commentary in yesterday's Financial News.
The need for tightening is building as China's promotion of the yuan as an alternative to the dollar in international trade and finance, coupled with forecasts for appreciation, fans overseas demand for the currency and spurs inflows. The yuan has strengthened 2.4 percent to 6.6670 per dollar since a two-year peg ended on June 19, and 12-month non-deliverable forwards reflect bets for a 1.8 gain in the coming year.
The central bank bought 519 billion yuan of foreign exchange from local lenders in October, 79 percent more than the previous month and the most since April 2008, according to data released Nov. 26. Bill sales may be increased to soak up inflows, Ma Delun, a deputy governor, said at a Nov. 29 briefing.
Deposits, Trade
Yuan deposits in Hong Kong jumped by a record 67.8 billion yuan ($10 billion) in October to 217.1 billion yuan, the city's monetary authority said yesterday. International trade transactions settled in yuan totaled a record 126.5 billion yuan in the third quarter, 160 percent more than in the previous three months, official figures show. China's finance ministry said yesterday a sale of 5 billion yuan of its debt in Hong Kong attracted orders for 10 times the amount offered.
"Yuan appreciation and interest-rate increases will lure more foreign capital into China, which will make reserve ratio increases unavoidable," said Jiang Chao, a Shanghai-based analyst at Guotai Junan Securities Co., the nation's largest brokerage by revenue. He forecast borrowing costs will be raised three more times by mid-2011.
One-year interest-rate swaps based on the floating seven-day repurchase rate jumped a record 83 basis points last month to 3.18 percent. That's the biggest increase in Bloomberg data going back to May 2006.
'Tightening Mode'
The seven-day repurchase rate, which measures lending costs between banks, surged 1.28 percentage points last month, the most since Bloomberg started tracking the daily fixing from the National Interbank Funding Center in 2003. The rate jumped 63 basis points yesterday to 3.31 percent, the highest level since October 2008.
"Definitely we are in a liquidity tightening mode," said Pin Ru Tan, a Singapore-based strategist at Royal Bank of Scotland Plc. "Swaps are being driven by expectations about hikes in both interest rates and the reserve-requirement ratio. There isn't much room for the swaps to rise further."
Chinese government dollar bond risk rose in November, credit-default swaps show. Five-year contracts on the nation's debt gained 11 basis points to 71, according to CMA prices. The contracts pay the buyer face value in exchange for the underlying securities or the cash equivalent should a government or company fail to adhere to debt agreements.