Carrefour Falls in Paris After Cutting Profit Forecast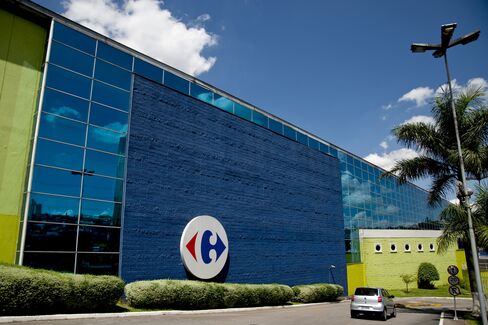 Carrefour SA, the world's second-largest retailer, fell the most in almost two years in Paris trading after cutting its profit forecast and saying Brazilian writedowns will be more than three times higher than expected.
So-called activity contribution, a measure of operating profit, will be about 3 billion euros ($3.9 billion) in 2010, the Paris-based company said late yesterday, trimming an earlier forecast by about 130 million euros. One-time charges in Brazil will be 550 million euros, up from an October estimate of 180 million euros, and will now be taken as non-operating income.
The forecast revision is the second in two months from Carrefour, which has predicted higher sales and profit through 2015 as it upgrades western European superstores. Lars Olofsson, who joined as chief executive officer last year, aims to win more customers in Europe by cutting prices, offering more of the retailer's own products and boosting discounts and advertising.
"This is a blow to credibility," Dave McCarthy, an analyst at Evolution Securities in London, wrote in a note. "While we still believe that management are taking the correct actions in restructuring the business, results are unlikely until later in 2011 at the earliest." McCarthy cut his recommendation on Carrefour to "neutral" from "buy" and lowered his price target to 35 euros a share from 48 euros.
Carrefour dropped as much as 3.53 euros, or 10 percent, to 31.33 euros, the steepest intraday decline since Dec. 18, 2008. The stock traded at 32.30 euros as of 1:57 p.m.
2013, 2015 Targets Unaffected
The retailer's targets for 2013 and 2015 won't be affected by "earlier mismanagement" in Brazil, Olofsson said on a conference call yesterday. Carrefour aims to lift activity contribution to 5.2 billion euros in 2013 and 6.4 billion euros in 2015, compared with 2.7 billion euros in 2009, the CEO said in September.
"We now believe it unlikely that the market will buy into 2013 and 2015 guidance until tangible improvement is seen in reported numbers," Evolution's McCarthy wrote.
The reduction in the profit outlook stemmed from weak sales at Brazilian superstores, a worse-than-expected performance in France since September and adverse economic conditions in Italy, Greece and Spain, Chief Financial Officer Pierre Bouchut said on yesterday's call. The measure of operating profit was also cut by 50 million euros after the sale of Thai operations last month.
Brazilian Charges
Carrefour replaced its management in Brazil and hired KPMG LLP in October to audit its operations there after a poor performance of the unit's superstores. The retailer has also commissioned a separate investigation to identify who may be responsible for the need to make accounting changes that include adjustments to inventory and asset depreciation at the unit.
"We are confident that we can fix the situation rapidly to come back to a sustainable, profitable earnings situation in Brazil," Bouchut said.
The Brazilian charges are made up of 110 million euros of depreciation and inventory adjustments; 280 million euros of provisions for labor and tax litigation; 35 million euros of unrecoverable supplier rebates; 75 million euros of asset depreciation; and 50 million euros of other accounting adjustments, Bouchut said.
French Market Share
Carrefour has lost market share in France since September after competitors opened more stores, while price deflation "is evidently pressing margins," Olofsson said yesterday. On a so-called like-for-like basis, the retailer is gaining market share and considerable cost reductions mean "we should be able to grow our margins in 2010 compared to 2009 in France," he said.
"An increasingly competitive environment in France, as well as economic weakness in Europe cited by the company suggest Carrefour may struggle to retain the benefit of its cost-cutting initiatives," Christopher Hogbin, an analyst at Sanford C. Bernstein in London, wrote today in a report. He maintained his "market perform" rating on the stock and lowered his price target to 36 euros a share from 40 euros.
Before it's here, it's on the Bloomberg Terminal.
LEARN MORE