Deutsche Bank CEO Says Mistrust of Spain Unjustified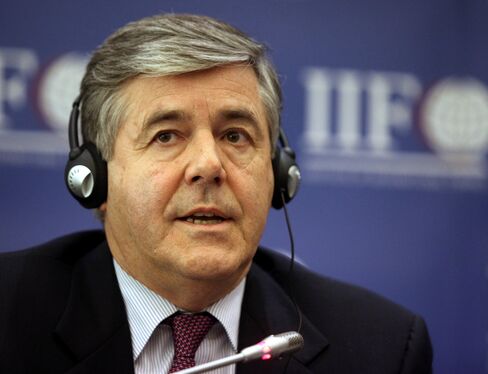 Investors' mistrust of Spain is unjustified and problems in the banking industry are "manageable," Deutsche Bank AG Chief Executive Officer Josef Ackermann said, as Europe's debt crisis intensified.
The fundamental economic data "in no way justifies the apparent mistrust that exists in the case of Spain, though not only there," Ackermann, who also heads the Institute of International Finance, a global industry group with more than 400 members, said yesterday in response to a request by Bloomberg News. "Spain can deal with its problems by itself."
Ireland's agreement to an 85 billion-euro ($111 billion) bailout by the European Union and International Monetary Fund hasn't allayed concern the bloc's sovereign-debt crisis will spread to Portugal and Spain. The EU and IMF established a 750 billion-euro fund in May after Greece's near-default threatened the survival of the euro.
"The trouble is the markets can create their own problems, whether there is any justification or not," said Peter Thorne, a London-based analyst at Helvea Ltd. "The role of a banker is to be calm and cool and downplay problems."
Spanish and Italian government bonds fell yesterday, driving the extra yield investors demand to hold the securities instead of German bunds to euro-era records. The cost of insuring debt for Spain, Italy, Portugal and Ireland surged to records yesterday, stocks and the euro slid.
'Dynamic Economy'
Spain "has a diversified, dynamic economy and the government deficit is relatively moderate," Ackermann said. "The decisive economic reforms and a restructuring of public-sector financial institutions can soon return the country to a growth course."
Ackermann, 62, has run Germany's largest bank for eight years and led the Frankfurt-based company through the financial crisis without a government bailout. In the depths of the credit crunch in 2008, he counseled German Chancellor Angela Merkel on the rescue of property lender Hypo Real Estate Holding AG.
Deutsche Bank had net exposure of about 1 billion euros to Spanish central and local government debt as of March 31, the company said in a July 27 presentation. That compares to 3.6 billion euros in Spanish sovereign exposure at Commerzbank AG, Germany's second-biggest bank, at the end of May and 2.7 billion euros at Hypo Real Estate in June.
Spain Risks
Deutsche Bank had about 300 retail branches and 2,400 employees in Iberia in 2009, and had gross exposure to Spain of 20.6 billion euros and net exposure of 7.5 billion euros, including net sovereign exposure after collateral and hedging, at the end of March of this year, according to a June presentation. These figures include the corporate and investment bank, consumer business and asset and wealth management.
German banks' total claims on Spain totaled about $182 billion at the end of June, the most among European banks, according to figures from the Bank for International Settlements in Basel, Switzerland.
Anxiety over Spain's ability to bring down the euro- region's third-highest budget deficit has driven up financing costs for the country's lenders already battered by rising bad loans and falling revenue. The country's central bank is forcing local savings banks into cost-saving mergers after rising losses amid the property crash.
In Spain, "the problems in the banking sector are manageable," Ackermann said yesterday.
The Swiss native told reporters at a conference in Berlin last week that Europe must stand up for the euro and prove wrong those betting against the currency's survival.
"It's about sending a message to investors around the world that Europe will fight for the euro and Europe will fight for the future of Europe," Ackermann said on Nov. 25. "Everyone who thinks they need to build up a position that contradicts that will need to pay the price."
Before it's here, it's on the Bloomberg Terminal.
LEARN MORE